What is the right amount of water to feed him? Did she overdrink again? I think I should not have bought a plastic bowl- calm down and relax! I can understand how you are feeling right now because I have been in this position before.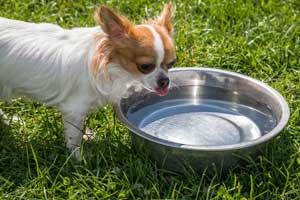 If you're in a hurry, check out our top choice K&H PET PRODUCTS See the latest pricing on Amazon.
Keeping a check on the amount your buddy drinks every day is difficult because sometimes you can never be too sure about it. However, if it is your first time keeping a furry friend at your home, do not fret because I have compiled a list of the best outdoor water bowls for dogs.
It may look like a simple grocery item to you, but you have to put in some thought before purchasing a water bowl for your dog. If you are a bit unsure about what key points you should keep in mind to get the best water bowl for your pup, you can read my detailed buying guide below.
Best OUTDOOR WATER BOWLS FOR DOGS – Buyer's Guide
WHAT IS THE BEST MATERIAL FOR WATER BOWLS?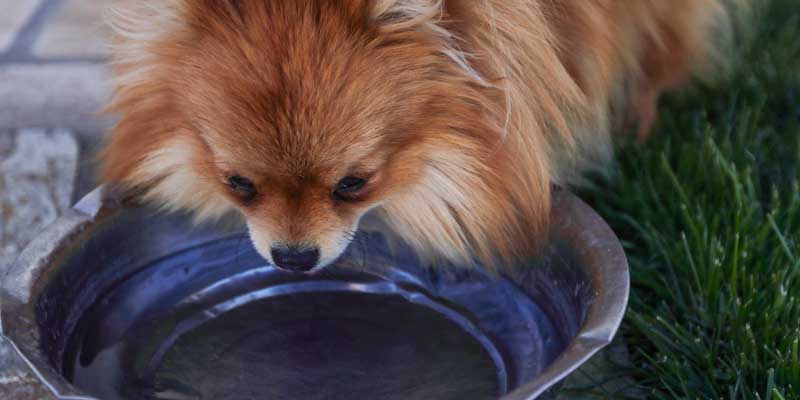 The type of material used to make the product matters! I know that cute, colorful designs may seem attractive, but they might not be safe to use for your dog. You should not compromise quality and safety over these petty things.
What should I buy then? Many people ask me that question, and there is a simple way to go about it. The most commonly purchased water bowls for dogs are either made up of stainless steel, plastic, and ceramic. I will rank all these materials from the best to the worst, with detailed explanations and reasons.
• STAINLESS STEEL OUTDOOR WATER BOWLS
Most vets and I would strongly recommend you to buy stainless steel water bowls for your dog. They are durable and corrosion-resistant; moreover, you do not have to worry about your dog chewing off the sides and ingesting them.
In addition to this, if you do not have time to scrub dirty water bowls, I would suggest that you buy them because they are easy to clean. Just place them in the dishwasher, and after one round, they will come out spick and span! They also do not release toxic chemicals that may adversely affect the health of your dog.
• PLASTIC OUTDOOR WATER BOWLS
Many people often buy plastic water bowls because they are available in different sizes, colors, and are inexpensive. However, most vets do not recommend using plastic water bowls. When they are warmed or boiled, they may release toxic chemicals, which can adversely affect their health.
Other than that, you have to make sure that your plastic bowls are super clean. If you do not wash them regularly, plastic bowls may breed bacteria on them. Nevertheless, if you do not find stainless steel water bowls, you can get a plastic bowl for your pet, but you have to be careful before purchasing one.
Please make sure that the plastic bowel you are buying is BPA-Free; it is a chemical that can have harmful effects on both dogs and humans, and it may cause cancer. I would suggest that you buy plastic products on our list as they are BPA-Free, and the materials used have been approved by health organizations. Moreover, if your dog is a heavy chewer – I would not recommend you to buy plastic bowls at all!
• CERAMIC OUTDOOR WATER BOWLS
Let me tell you something – ceramic water bowls have more disadvantages than advantages. Some ceramic bowls may have colorful designs, and they may look nice, but trust me when I say this – they can negatively impact the health of your pet, and they can cause you a lot of damage as well.
Ceramic bowls are fragile, and if your dog is an aggressive eater who loves moving their bowls as they eat – in that case, they might tip over and break into pieces and may hurt you or your pet. Also, I do not think I have to talk about the mess you have to clean up after that?
Moreover, these bowls may also have cracks on their surface, invisible to the naked human eye. Those spaces may become breeding grounds for bacterial organisms that may infect your dog.
Nevertheless, if you want to buy a ceramic bowl, please make sure that the paint on the bowls is lead-free and clean them properly every time before you use them. If your dog does not have aggressive eating habits, these types of bowls might be right for them. I would suggest you buy a ceramic bowl with a rubber ring at the bottom, just in case, to avoid any mess.
However, I would stick to my word and recommend that you buy plastic or stainless steel bowls – to ensure safety and ease for both the pet and the owner.
WHAT IS THE BEST SIZE AND SHAPE OF WATER BOWLS FOR DOGS?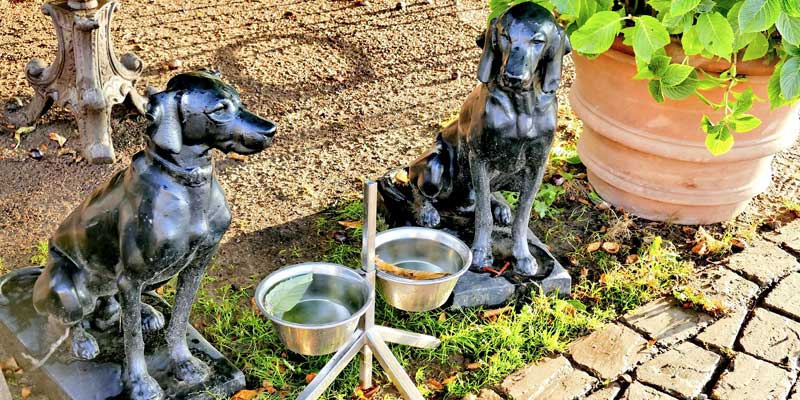 If you bought a pet for the first time, you probably did not think about this before. I accidentally got a water bowl for my pet, which was small for my pet. My buddy had a long snout, and the water bowl was not deep enough, so that made it difficult for him to eat.
The size and shape of the water bowl depend on multiple factors, so read this section thoroughly. Some of the factors that you need to keep in mind before purchasing a water bowl are as follows:
The breed of your dog
Do you own an adult or young dog?
The length of the snout of your dog
The size and weight of your pet dogs.
The amount of water he or she drinks every day.
The number of dogs in a household also determines the size of the water bowls.
For all of you who have dogs who tend to be thirsty, or large furry animals, or you have multiple dogs in your household – then you should get a large water bowl for them. As stated before, if your dog has a longer snout, then you should purchase a deep water bowl. You can also purchase water bowls that one with a stand for dogs with a tall height.
QUICK OVERVIEW
Best  water bowls for dogs at a glance
K&H PET PRODUCTS

BEST THERMAL BOWL

Material: Plastic and stainless steel
Features: Thermostatically controlled, BPA-Free, and energy efficient

View at Amazon

CTIL-FELIX

BEST ALTERNATIVE

Material: Stainless steel
Features: Corrosion resistant, dishwasher safe, and non-slip bottom

View at Amazon

EASY-CLEAN WATER BOWL

PREMIUM OPTION

Material: Plastic
Features: Water autofill

View at Amazon
View at Chewy

VAN NESS

BEST VALUE

Material: Plastic
Features: USFDA approved

View at Amazon

MLIFE

CHEAPEST

Material: Stainless steel
Features: Easy to clean

View at Amazon
BEST OUTDOOR WATER BOWLS FOR DOGS IN 2021 – REVIEWS
1. K&H PET PRODUCTS (BEST THERMAL WATER BOWL FOR DOGS)
Material: Plastic and stainless steel | Features: Thermostatically control, BPA-Free, and energy efficient
During winters, the surrounding temperature may freeze the liquid in the water bowl; you have to clean and refill it again because you cannot let your buddy drink that. You have to make sure that the water you are feeding your dog is at the right temperature.
Look like you are facing difficulty in getting to the right temperature? Voila! This thermostatically K&H controlled water bowl is the best solution to this problem. The water bowl is made from BPA-free plastic and wrapped in stainless steel.
Moreover, the bowl contains safely sealed electronics inside, so you do not have to worry about safety hazards. What is best is that this thermal water bowl uses 25 Watts only, and it turns off once the water has reached the right temperature – very energy–efficient, right?
The only downside to this product is that it is expensive, and the cord that comes with the product may not be very long. However, this product comes with some useful features, and I would strongly recommend you to buy it.
PROS
Thermostatically controlled water bowl
Energy-efficient
BPA-Plastic free
CONS
A bit costly
The cord is not that long (5.5 inches)
2. CTIL-FELIX (THE BEST ALTERNATIVE WATER BOWL FOR DOGS)
Material: Stainless steel | Features: Corrosion resistant, dishwasher safe, and non-slip bottom
Sometimes, your buddy can become over-enthusiastic when he looks at food and water. He or she may have this sudden urge to knock the bowl over and spill its contents on your carpets and kitchen floors. If you want to put an end to hours of cleaning spills and refilling, you can get the CTIL-FELIX stainless steel water bowl.
This stainless steel water bowl has a non-slip bottom ring that prevents the bowl from sliding and slipping.
Moreover, the stainless steel bowl; is resistant to corrosion and meets the food-safe grade. Also, because it is a durable, sturdy water bowl, it can withstand heavy chewing. Plus, this is also an alternative for plastic water bowls.
Other than that, when your dog has drunk his liquid, you can put it in the dishwasher to clean. A plus point is that this water bowl is easy to clean and is safe to use in dishwashers, and saves your time by reducing the amount of cleaning you used to do.  On the other hand, the product is expensive to buy.
PROS
Easy to clean
Non-slip stainless steel water bowl
Meets the food-safe grade
Highly-durable
CONS
3. EASY-CLEAN (BEST AUTO FILL WATER BOWL FOR DOGS)
Material: Plastic | Features: Water autofill
It seems like you are looking for an automatic water bowl for your dog because you want to save precious time and not waste it refilling and scrubbing dirty water bowls. Purchase this product now – you can thank me later.
For multi-dog households, this product will of the best use for them. The product comes with an installation kit that may include a float valve that helps to fill up the bowl automatically. A poly-tube also comes with it, which is reliable and leak-free. However, please be extremely careful when you fit in the pipe, as wrong installations may cause it to leak and block the flow of water towards the bowl.
Even though the product comes with some premium features, it comes with a higher price, and if you do not want to purchase something that fancy and costly – read on.
PROS
Automatic water bowl
Easy to clean
Automatically fills the water bowl.
CONS
Difficult to install
Most Expensive
4. VAN NESS (BEST VALUE OUTDOOR WATER BOWL FOR LARGE DOGS)
Material: Plastic | Features: USFDA approved
Got a large, furry companion sitting right next to you while you are reading this? The size of this outdoor water bowl is ideal for large dogs. Moreover, it can hold up to 106 ounces of water, enough to keep your dog hydrated every day. However, this water bowl is also available in two smaller sizes of 52 and 20 ounces.
USFDA (United States Food and Drug Administration) has also approved the materials used to manufacture the product, so it is safe for use.
However, the material is not durable and deforms on heavy chewing. The water bowl is also a bit expensive because it is just a simple plastic bowl without extra special features.  Despite this, if you are looking to buy a valuable product that is good to use – then this one is for you.
PROS
The size is ideal for a large dog.
USFDA approved
CONS
Not very durable
Canines can chew the plastic off, and that can be harmful
5. MLIFE (BEST CHEAPEST STAINLESS STELL WATER BOWL FOR DOGS)
Material: Stainless steel | Features: Easy to clean
Finally, for all those people searching for a cheap water bowl with decent features to buy – this section is for you guys. The MLIFE stainless steel bowl is a best-selling choice for its reasonable price, but other than that, it also comes with a few handy features.
First of all, the water bowl is the best alternative to plastic bowls -wrapped in stainless steel and can withstand heavy chewing. They also come in different sizes – 8 ounces, 16 ounces, 26 ounces, 40 ounces – so it can hold enough water to feed dogs of every size.
The water bowl has a rubber ring attached to its bottom and prevents the bowl from slipping while your pet eats. Moreover, cleaning these stainless steel water bowls is a breeze! However, you have to remove the rubber ring before you put it in the dishwasher.
The only problem with this product is that after some time, the water bowl may lose its durability and become rusted. However, it is still a safe, easy to clean alternative to purchase and use at your home.
PROS
Made from stainless steel, so it is safe to use.
Available in different sizes
Non-slip water bowl
Easy to clean
CONS
It may lose its durability after some time.
Might not resistant to rust
BEST WATER BOWL FOR DOGS OUTDOOR IN 2021
In the end, the best outdoor water bowls are those that have the best material, size, shape, and can hold enough drinking water for the day. Some water bowls for dogs may come with decent features that can avoid spills, automatically fill the bowl with water or keep the water at an optimum temperature. These additional yet useful features will make your life easier!