Owning a dog brings joy and fulfillment only they can provide, but it also comes with responsibilities. It is much like taking care of a child. Safety is a significant consideration when caring for one, especially for puppies. The majority of homes are designed solely for people. Homes are not designed to accommodate the needs of pets. This means your house has many parts that are potentially dangerous to your dog. One of which is the stairs. Stairs can be a fatal space for dogs. It is essential to provide the support and safety they need.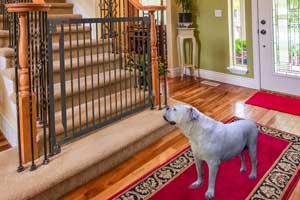 If you're in a hurry, check out  our top choice CARLSON See the latest pricing on Amazon
Spindles and balconies may be safe enough for adults, kids, and toddlers but not for puppies and small-breed dogs. Long and high staircases are big threats to their well-being. Renovating your home to cater to your dog's safety is expensive, so you must find other ways. One way to remedy that is to attach a stair gate to keep them from falling or get into any kind of accident.
Stair gates have multiple uses, mainly safety and containment. Protection for puppies who are not yet big and strong enough to navigate the stairs, and containment to prevent dogs from going up and down the stairs, falling off balconies, or getting into dangerous parts of the house. Untrained puppies and misbehaved dogs can also wreak havoc on your home, so gates are a great way to keep them from getting into trouble and causing damage to your property. The best stair gate for dogs is the easiest way to restrain them from getting into other rooms and spaces. It is a useful training tool for discipline.
Best Stair Gates for Dogs in 2022 – Buyer's Guide
Factors to Consider When Buying a Stair Gate for Dogs
You must get pet barriers that will meet your dog's needs, match your home design and your requirements. You have to consider your dog's behavior, height, strength, and even weight. For aesthetics, you also want to consider matching the design, material, and color of the stair gate to your home design. Your convenience and that of your family is important too. Getting the right stair gate can be an excellent long term investment if you choose wisely.
Finding the right stair gate could not just mean safety for your pet; it can also give you, the pet owner and homeowner, peace of mind. Whatever purpose you intend to use the stair gate for, here are essential factors you want to consider before buying one for your dog.
Weight and Durability
For puppies and smaller breeds of dogs like a chihuahua or toy poodle, a lightweight stair gate will suffice. Just make sure that the slats are closer together and the mesh is finer so they cannot poke their heads through. If you have larger and stronger breeds like bulldogs, German Shepherds, or Labradors, go for a sturdier, more heavyweight kind so it can withstand them, pushing it aside and breaking through it. As for the slat and the mesh, they will not require finer ones because their heads are larger. You can forego the meshing feature for bigger dogs.
Height
For beagles, terriers, chihuahuas, cocker spaniels, and other smaller breeds, the gate need not be too high. A knee-high gate where adults can easily go over with opening the gate is a good height. For St. bernards, german shepherds, golden retrievers, and other larger breeds, a much higher fence may be required. A hip or waist-high stair gate is a good height, especially for dogs that can jump real high. Getting the right height is important because if your pets can jump through the gate, you are putting them in harm's way, possibly a fatal one. The popular, family-friendly dogs are usually active and playful. That means they run around, jump, chew, and bump into things, including your stair gate.
Larger breeds of dogs are more agile and can easily jump over obstacles. Make sure you get the right measurements when buying your gate.
Free-Standing or Hinged
A free-standing stair gate may sound ideal because you can keep it and store it away anytime you need to without any fuss, but it is only sufficient for small puppies and smaller breeds of dogs. Bigger puppies and larger breeds can easily push through it without much effort. This can be very dangerous for your pets. Labradors, for example, are very strong and playful; they can push your free-standing barriers easily. This can lead to them falling down the stairs or off your balconies. A durable gate that is securely attached to the walls provides strong obstacles that will not give way easily to keep your dogs safe.
Material
Stair gates come in various shapes and sizes. They are made from different materials too, but the most commonly used ones are plastic, wood, metal, and a combination of plastic and mesh.
✔ Plastic – plastic is lightweight and easy to install. This is ideal for small puppies and smaller breeds like teacup-sized dogs. If your dog is a chewer, plastic is not a practical choice.
✔ Plastic and mesh – this is a good combination to contain smaller breeds of dogs that are not strong enough to push the gate aside.
✔ Wood – wood is sustainable and a sturdy option for a stair barrier. It is durable and can last longer, especially when hinged to the wall. However, if you have a chewer like a labrador, a Jack Russell, or a golden retriever, your wooden stair gate is bound to be chewed profusely.
✔ Metal – a metal stair gate is a perfect choice if you have large breed dogs because it is strong and durable. It is also a great option if your pets are chewers.
Ease of Operation
Convenience should be a big factor when choosing the right stair gate for your dogs. It may be a barrier meant to contain your dogs, but you and your loved ones at home will have to navigate through it as well. Make sure that it is easy to open, latch and unlatch, especially if you have kids or operate a busy household. Just imagine going through a complicated barrier during the morning rush when you have coffee, meals, and kids to prepare. You don't need any more complications in your life!
A stair gate for dogs becomes part of your home. Make sure you choose one that is convenient for everyone under your roof – dogs and humans alike.
Dimensions
Make sure you measure the stairs and the walls you will mount them to. Get the right dimensions before shopping around. Save time and money by getting the right measurements that will fit the space it is intended for.
Design
The design may not be your top priority in getting a stair gate but imagine having to look at it every day. You might as well get one that is functional and easy on the eyes too. Look for a stair gate that will match your practical requirements at the same time, will blend with your home aesthetics. There are many barriers in the market today that are both pretty and functional.
Frequently Asked Questions
When is the best time to buy a stair gate for my dog?
The main reason you install a stair gate for your dogs is to keep them from going up and down the stairs and to avoid accidents. It is recommended that as soon as you get a puppy or a new dog, you install a stair gate right away. Puppies have a hard time navigating stairs and are not yet strong enough and trained to go up and down the stairs safely. Gates are also a good tool to contain a newly acquired pet to help them adjust to their new environment. Keeping them contained in a smaller space will make them feel safe.
How long do I need to keep the stair gate up?
As soon as you feel that your dog can safely navigate the stairs, you can remove the barrier. Another reason for putting up stair gates is to prevent your dogs from getting to other parts of your house where they are not allowed. As long as you do not want to give your dogs access to those parts of your house, the stair gate stays. You can keep the stair gate up until you do not need it anymore.
How often do I need to update or replace my stair gate?
It is crucial to take note of all the important considerations we mentioned above so you can choose the right stair gate that will last for a long time. As long as the stair gate functions and serves its purpose, there is no need for replacements. You only replace or upgrade when there are damages or when your dog outgrows or outsmarts it. Consider it as one of your furniture or home fixtures. Repairs and replacements are done only when needed.
Can I reuse or move the stair gate?
If you often travel and require your doggy barrier with you, a free-standing stair gate is a practical option because you can carry it around and bring it with you wherever you go. Hinged stair gates can also be removed and reused if you move to another place. When choosing a product, you also have to consider your personal needs.
What if I have other pets, like cats?
For multiple-pet households, there are stair gates that have a mini walk-through door that your cats can go through, but your larger dogs can't. Other barriers have special features that can accommodate other pets. Most dog barriers can apply to other four-legged animals too, big or small.
Is there a stair gate that can contain both small and large dogs?
Yes, there are pet barriers that can work for small to large dogs. Choose a gate that is tall enough for your large dogs not to jump over with slats that are closer together so that your smaller ones cannot walk through them. Some gates include meshing in the design to prevent smaller pets from getting through.
Are there cheaper options that are high-quality?
Yes, there are high-quality stair gates that are affordable and budget-friendly. You will find that our list of the top 5 best stair gates for dogs is cost-effective. There are many other options to choose from. Make sure that you do your research and due diligence before settling for a final product. Price is a big factor in choosing a good stair gate, but it should not be the only consideration. The safety of your dog should always come first.
QUICK OVERVIEW
Best stair gate for pets at a glance
CARLSON

RECOMMENDED

Features: Pressure mount, small pet door, adjustable


View at Amazon
RICHELL

PREMIUM QUALITY

Features: Expandable, automatically lock


View at Amazon
CARLSON

BEST ALTERNATIVE

Features: Extra-wide, pressure mount, small pet door

View at Amazon
PETMAKER

BEST VALUE

Features: Foldable, lightweight, no installation required

View at Amazon
CAMTOA

CHEAPEST

Features: Easy to install, lightweight, portable

View at Amazon
OTTOLIVES

Features: Pressure mount, adjustable, automatic closing

View at Amazon
Best Stair Gate for Dogs in 2022 – Reviews
1. Carlson (Best Stair Gate for Dogs With Pressure Mount)
Features: Pressure mount, small pet door, adjustable
Carlson walk-through pet gate will not disappoint you. An elegant metal frame with cherry wood accents and a black finish. This stair gate can fit wide openings 30.5 inches up to 33.5 inches wide. It stands 30 inches tall, perfect for medium to large breeds of dogs.
It is sturdy and durable and can keep your agile dogs from jumping over. It has a 10 x 7 small pet door feature to allow your smaller pets to go in and out at your discretion. It has a pressure mount feature, so it is effortless to install.
PROS
● Safe and convenient
● Quick and easy to install
● Multi-purpose
● stops active and agile dogs from jumping over
● Non-toxic and chew-proof
● Gentle on the walls
CONS
● Does not fit on narrow stairs or openings
2. Richell (Premium Quality Stair Gate for Pet With Expandable Design)
Features: Expandable, automatically lock
This small brown pet gate is durable and can expand up to 47.2 inches wide. It is perfect for wide stairways and walkways. Its hardwood material makes it ideal to use for stairways because it is sturdy and reliable. It is ideal for small breeds of dogs.
It has an upper and lower locking system that helps keep your pets confined in the space safely. Designed for the safety of your pet, the Richelle Expandable Walk-Thru Pet Gate is also very convenient for the people in your home. Its wide gates allow for an easy and hassle-free passage for you and your family.
PROS
● Quick and easy to install
● Sturdy and non-slip tension mount
● The wire slats are close together
● Sturdy and durable
● Opens in both directions
CONS
● Ideal only for smaller dogs
● Not for jumpers
3. Carlson (Another Great Alternative Stair Gate for Dogs)
Features: Extra-wide, pressure mount, small pet door
This walk-through pet gate is very durable and is ideal for medium to large breeds of dogs. It is made of chew-proof steel that is non-toxic and lead-free, so it is safe for your dogs and other pets.
It is built to last, so you get the bang for your buck. It is convenient, functional, and pretty to look at too! It installs quickly and comes with a pressure mount kit and a wall mount kit. It can be installed in stairways 29 inches up to 36.5 inches wide and 30.5 inches tall. It has an 8 x 8 patented small pet door, so your smaller pets like cats can pass through without any hassle. It has safety lock features for your dog's protection and wall mounts for a sturdier setup. This gate is popular for many dog owners today.
PROS
Quick and easy to install
Adjustable and gentle on the walls
Comes with a lockable pet door design
Sturdy and non-slip tension mount
Comes with a safety locking feature
Safe for both children and pets
Functional and stylish
CONS
4. PETMAKER (Best Value Foldable Pet Gate for Stair)
Features: Foldable, lightweight, no installation required
This is a free-standing, lightweight, and foldable 3-panel wooden barrier perfect for small to medium breeds of dogs. It is wide enough to block your stairway and keep your pets contained safely.
It also comes in neutral gray color, so it can blend well with any home interior design. It is practical, functional, and stylish. It comes in three sizes: 54″ x 24," 72″ x 24," and 54″ x 32." It is mainly made of hardwood with metal hinges, which makes the gate strong, durable, and safe for your pets.
PROS
● No installation is required
● Convenient and portable
● Folds away quickly
● High and sturdy
● Functional and sturdy
● Gentle on the walls
CONS
● Not ideal for larger dogs.
5. CAMTOA (Cheapest Fabric Mesh Gate for Dogs)
Features: Easy to install, lightweight, portable
The CAMTOA Magic Gate is an extra-wide portable folding mesh safety gate that can extend up to 40.4 inches wide and 29.5 inches tall. It is made of a high quality thick retractable mesh gate intended for small breeds of dogs. It comes with stretchable poles and sticky hooks that allow for a quick and easy installation.
This magic gate is not only convenient, but it can also blend well with your interior. The best thing about this pet gate is you do not need tools for a complicated setup. The gate comes with adhesive hooks, a simple installation guide, and everything you need for an easy and quick installation.
PROS
● Durable and practical
● can withstand abuse from small pets
● Easy to install
● Lightweight and portable
● Saves space
● Can also be used as an infant gate
CONS
● Ideal for small breeds of dogs only
● Not for chewers and jumpers
6. OTTOLIVES (Another Durable Metal Gate for Dogs in 2022)
Features: Pressure mount, adjustable, automatic closing
This black metal pet gate is an extra-wide walk-through gate that works not only for stairs but also for doorways and other parts of your home.
It can work as a baby barrier too. It has a pressure mount feature that stretches from 27 inches to 40 inches wide and 29.9 inches tall. Installation is easy and requires no drilling or complicated tools. The product comes with a seven (7) inches wide extension kit, which includes two (2) U-bolts, three (3) anti-collision grooves, and four (4) wall protectors.
PROS
● Quick and easy to install
● Can fit in wide stairways
● Features an automatic closing function
● Opens in both directions
● Strong and durable
● Can easily be removed and stored away
CONS
● Only comes in one color – black
Top Rated Stair Gate for Dog Protection in 2022
There is no one-size-fits-all solution when it comes to the safety of your dogs. The best stair gate for your dog is one that caters to all its needs, safety requirements, its behavior, and many other factors unique to your dog and the design of your home. Your budget can even play an important role. Each dog is unique. No one knows your dog better than you, so you are the best person to decide which product fits best for your fur baby.
Caring for a dog is a long-term commitment. That means you are responsible for providing the best care, including safety. Installing a stair gate may require a certain cost, but that is part of being a responsible pet owner. The well being of your dog should be a top priority. Your convenience should come in a close second.