Dogs, just like human beings, can also get anxious. This anxiety can be due to fear, loud noises like fireworks, traveling, or being around other pets. Stress is also common in dogs that have been abandoned or abused. If you can determine the cause of the anxiety, you will be in a better position to help your furry companion.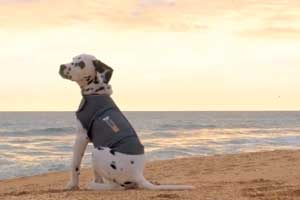 If you're in a hurry, check out our top choice COZYVEST, See the latest pricing on Amazon
There are different remedies you can try to calm down your dog. Some natural remedies include CBD oil, music, and aromatherapy. If you want a more accessible option to reduce your dog's anxiety, you can try anxiety wraps.
Anxiety wraps are garments that help to keep your dog calm when they get too nervous or agitated. Different designs cover the torso with neck holes, while others are wraps to place on your dog easily. The compression offers your puppy reassurance, which is soothing even during times of high stress. You can also put these anxiety wraps on them for long periods to keep them calm. If you're looking for the best anxiety wrap for your dog to keep him calm, this post might help you.
Best Stress Relief Calming Coat for Dogs
Factors to Consider When Buying Anxiety Wraps for Dogs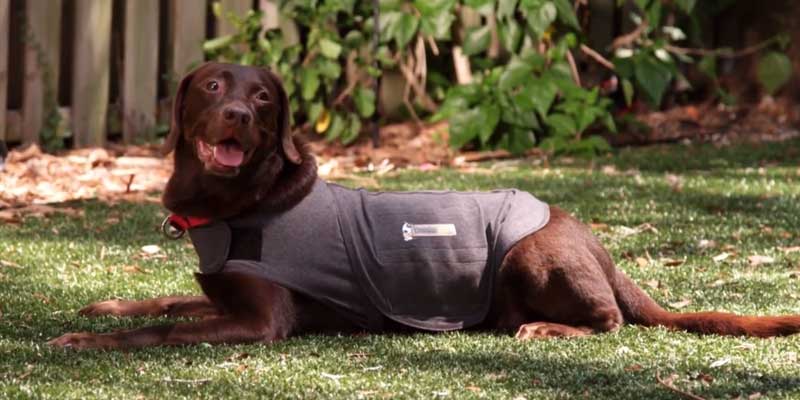 Choosing the right anxiety wrap for your dog is crucial because it can be a long term solution to helping them deal with their anxiety. Understanding your dog's behavior and cause of anxiety can help you choose the most effective vest for calming your dog. Here are more factors you can consider when buying anxiety wraps for your dog.
Right Fit
You can get the most comfortable dog anxiety wrap that your dog will enjoy with the right measurements. The anxiety wrap should not be too tight or too loose to be ineffective. If it is too tight, it might cause more stress to your dog. Knowing how heavy your dog is will help you make a more informed decision.
There are weighted vests that come in different sizes according to your dog's breed and weight. Other anxiety wraps feature velcro straps to fit your dog better and keep them wrapped for longer periods. You can have the anxiety wrap on them the whole day, even outdoors.
Material
You should pay attention to your dog's anxiety wrap material because it can determine the effect on your dog. Most dog anxiety wraps are made of polyester because it is more durable. Polyester can withstand daily wear and tear while still giving your dog enough flexibility.
Anxiety wraps made of cotton are also popular because of how soft and comfortable they are for your furry friend. A mix of these materials offers durability and comfort for your dog. Your dog will stay positive as long as they have a soft anxiety wrap when they feel anxious.
Cleaning and Maintenance 
After selecting the right materials for your dog's anxiety wrap, you need to be able to maintain it properly. You would have a different cleaning method if you selected a cotton wrap than if you chose nylon anxiety wrap. With every anxiety wrap you purchase, you should follow the manufacturer's instructions to avoid ruining the product. You can choose machine washable anxiety wraps to make cleaning easier even when they go playing. This simpler method will save you some time so that you are focused on helping your dog.
Frequently Asked Questions
How long should your dog wear an anxiety wrap?
First of all, you should take your dog away from whatever is causing their anxiety. As soon as you place it on their torso, your dog will start feeling calmer. Your dog can wear it for hours, even during the night. You can start with smaller periods and increase gradually over time. The anxiety wrap is safe to wear to keep your dog calm.
Do anxiety wraps work for dogs?
Although there isn't much data supporting the effectiveness of anxiety wraps, pet owners have noticed a reduction in anxiety when the dogs wear the wrap. Anxiety wraps for dogs help with different causes of anxiety, like loud noises. Your pet will be noticeably stressed-free and more positive while wearing the wrap.
How else can you calm your dog when they get anxious?
You can use an anxiety wrap to help soothe your dog when they are too stressed. You can combine an anxiety wrap with a massage or music therapy to keep your dog calmer throughout the anxiety attack. Physical contact can also help your dog feel better in a short amount of time.
Where should I rub a dog to calm them down?
If you are looking to calm your pet down due to increased anxiety, you can try slow petting. You should avoid touching the top of your dog's head, ears, or legs and put your hand where your dog loves to be touched. With gentle movements and light scratching, your dog will slowly relax much easier.
QUICK OVERVIEW
Best anxiety wrap for dogs at a glance
Best Anxiety Wraps for Dogs – Our Recommendations
1. Cozyvest (Best Relaxing Anxiety Wrap for Dogs)
Available Sizes: XS-XXL | Colors: 2
This CozyVest is the ideal anxiety vest if you need to calm your dog during noisy events like fireworks display and thunder. The CozyVest applies comforting pressure on your puppy to keep them calm and reduce their anxiety and stress. It will keep your dog drug free and relaxed without having to use other forms of medication either.
This anxiety wrap appeals to your dog's different senses to better keep them calm. It will soothe their fears with just the right amount of pressure. The music player and essential oil scent you get with this vest will keep your dog occupied and distracted from their stress. You don't require any training, and with the instructions available, this vest is simple to use to calm your dog. Moreover, it is machine washable to keep clean during all seasons.
PROS
It is made with soft and breathable fabric
It contains a speaker with relaxing sounds
Anti-anxiety and stress relieving vest
Machine Washable
CONS
It does not work for all dogs
2. ThunderShirt Classic (Best Anxiety Jacket With Instant Calming Effect)
Available Sizes: S-XL | Colors: 1
This Thundershirt classic dog wrap is suitable for additional calming power to keep your furry friend chilling. This anxiety wrap design applies the needed pressure onto your dog to calm them when they are overexcited or afraid.
The thunder shirt is effective to use during travel and outdoor visits. Car rides can be uncomfortable for dogs, but if you notice signs like whining, drooling, and pacing, getting them an anxiety wrap could help. This anxiety vest will make the ride much more enjoyable for both of you. You no longer have to rely on medication or training to soothe your pet.
It can help your dog with panting, digging, shaking, and hiding, which are some of the symptoms of fear and anxiety. For pet parents who have experienced their dog having nightmares, this vest can keep them calm throughout the night and as they sleep. Dogs suffering from separation anxiety have also found this vest calming while their parents are away.
PROS
Ease separation anxiety.
Easy to use
Comfortable for your dog
No training is required
Ideal for small and large dogs
CONS
Need more than one try to work
3. American Kennel Club (Most Comfortable Anxiety Wrap for Dogs)
Available Sizes: XS-L | Colors: 2
With the AKC Nait-anxiety dog wrap, your dog can keep calm while feeling comfortable in quality cotton fabric. This anti-anxiety coat is a drug-free alternative to help deal with your dog's anxiety and ease their fears. The cotton fabric is smooth and durable to last you and your dog a long time. You will have an easy time putting it on your dog and getting him out of it.
Dogs come in different shapes and sizes that this anxiety wrap considers in the design. This anxiety wrap can work well when you are taking your puppy to the vet. With this vest, it doesn't have to be stressful or uncomfortable for them. Symptoms of anxiety can also occur during thunderstorms, so it can be wise to have this coat around the next time it rains. The peaceful effect can completely change the behavior of your dog and help them with separation anxiety,
PROS
Easy to put on the dog
Smooth cotton fabric
Machine washable
Safe and drug-free solution
Stress-relieving dog coat
CONS
Wrong sizing can harm the dog
4. Mellow Shirt (Most Easy-to-Use Anxiety Wrap to Calm Dogs)
Available Sizes: XS-XL | Colors: 6
The Mellow anxiety wrap is machine washable and comes in a radiant orchid color. It is smooth, and your dog will feel like being swaddled when wearing the vest. Use it for dogs who have barking problems, travel anxiety, and are scared of thunderstorms. The fabric of this anxiety wrap is lightweight and breathable; therefore it ensures flexibility.
With a hook-and-loop closure, it will be easier to put it on your dog even when he fusses. All you have to do is wrap him and go. The small size vest fits almost all dogs weighing between 15 and 25 pounds. This coat is carefully designed without any floppy flaps. It also doesn't have neck holes or complicated straps for fastening. You can put it on your dog immediately when he starts feeling anxious.
PROS
Soft and breathable fabric
Lightweight and flexible
No training required
Suitable for fear and anxiety
CONS
Minimum weight of 15 pounds
5. ThunderShirt Sport (Most Versatile Anxiety Jacket for Dogs)
Available Sizes: XXS- XXL | Colors: 2
This anxiety wrap for dogs from Thundershirt is available in different sizes for various dog breeds. This vest provides the calm that your pet needs during events like thunderstorms, fireworks displays, or when they are outdoors. For pet parents who have dogs that suffer from anxiety, stress, and fear, this is an ideal solution for many environmental triggers that your dog might face. It is comfortable enough that they can take naps during a storm or loud noises.
The calming effect is a natural remedy to soothe your dog instead of opting for heavy medication or other extreme measures. With this wrap on, your puppy will be able to enjoy different activities with you, like traveling and going on adventures. If you work all day and cannot spend time with your dog, this vest can keep them calm as they wait for you. It is a proven remedy that helps with separation anxiety.
PROS
Easy to use wrap
Comfortable and soft
Breathable and flexible fabric
Durable material
CONS
6. ThunderShirt Polo (Best Vet-Recommended Anxiety Jacket for Dogs)
Available Sizes: XXS – XXL | Colors: 3
This thundershirt anxiety jacket is proven to help calm dogs during any situation. It is the original dog wrap to ease your dog's anxiety during stressful times effectively. The design of this jacket applies gentle pressure to your dog so that they can calm down. It is a drug-free option for pet parents who want to provide relief to their dogs.
For pet parents of rescue dogs who are undergoing separation anxiety, this jacket could be the solution. It is also affordable and easy to use, even on rowdy puppies. This functional solution eases your pet's anxiety during firework displays, thunderstorms, vet visits, and traveling for adventures.
PROS
No training required
Affordable
Easy to use
Soft and breathable fabric
Drug-free calming option
CONS
  It does not work for all dogs
Best Anxiety Jacket for Dogs in 2022
Dog anxiety is very common today, so finding a way to soothe your dog can benefit both of you. Some symptoms of pet anxiety can include panting, shaking, and whining. For pet parents with dogs suffering from different forms of anxiety, getting them an anxiety wrap can help. Most of the anxiety wraps are to work for long hours so they can sleep peacefully. These vests apply pressure onto your dog, which gives them a calming effect they need when anxious.
With these tips, you will be able to select the best anxiety wrap for your puppy to keep them calm for hours. It helps with separation anxiety, fear, and commission induced anxiety. The right size and measurement should be comfortable for your dog with breathable fabric. Choose one of these quality anxiety wraps, and your dog will be calmer and stress-free without needing medication. It will make traveling more fun for the both of you too.