Sleeping with your canine can reduce stress, maximize comfort, and enhance sleep quality; according to a survey, 55% of dog owners share their bed with at least one dog. However, there is a problem, our usual bedding isn't ideal for dog torture and hair, and it requires some protection. That's why you're looking for the best duvet covers for dog hair in 2022. You have found the right page because, in this article, we will discuss durable, washable, and hair-resistant dog bedding that can help you to enjoy calming and peaceful nights with your pets. So let's get started!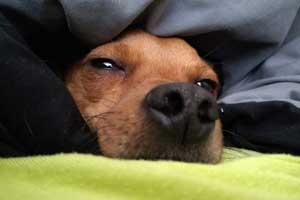 If you're in a hurry, check out our top choice DREAMING WAPITI. See the latest pricing on Amazon.
Best Duvet and Pillow Covers for Dog hair in 2022
Along with the pet hair, there are many other problems that you might face when sleeping with a dog, such as vomiting or accidents, which can ruin your expensive bedding. Therefore, as you're purchasing duvet covers for protection, you might also need to consider a waterproof blanket or throw to save your mattresses. The best part about throw is that they are cheap and also add some style to your bedding. Here are our recommendations for the best throw blankets you can purchase with duvet covers.
Now, let's talk about our main topic, duvet covers for dogs. So, which type of fabric is the best for repelling dog hair when buying a duvet or pillow covers?
How to choose the best duvet cover for dogs?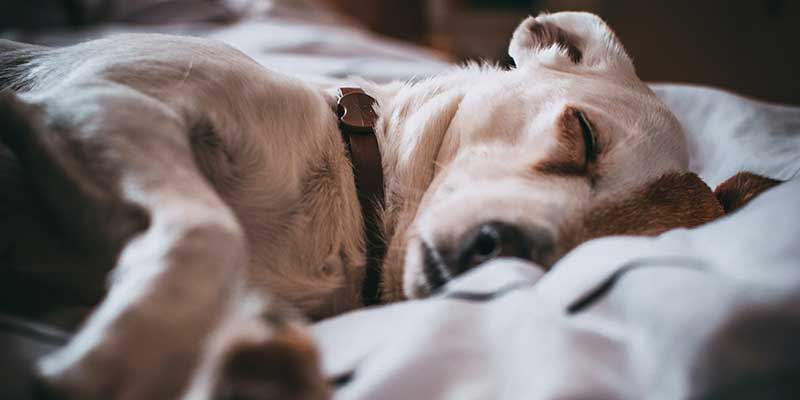 Choosing the right type of fabric is one of the best ways to deal with dog hair as it's not about just bedding; it's valid for the sofa or other upholstery items as well.
First of all, avoid heavily textured fabrics: It's quite easy for hairs to be stuck inside the threads. For example, velvet, brocade, or velour these fabrics are just magnet for pet hair. Apart from that, some synthetics such as nylon are also a problem for dog hair as they attract them with static cling.
Leather is considered the best upholstery covering for repelling dog hair as they can't enter inside. You can easily wipe the dog hair from a leather covering, but it's not an ideal material for a duvet cover.
Microfiber is another great fabric for consideration, and there are lots of duvet cover available with it. Microfibers with a tight weave don't allow loose hair to stick on the surface, and they are quite easy to clean. You can use a cloth to wipe them off; also, they are vacuum cleaner compatible.
Silk or silk blend fabric is slippery in nature; therefore, it's considered a good option for dealing with dog hair. White silk helps repel hair, while a silk blend probably will be a cost-effective and much durable option. When choosing a silk duvet cover for dog hair, make sure it's durable enough as well. Moreover, pattern or texture design help camouflage the hairs.
It would help if you also consider thread count; a higher thread count is useful for dog bedding. Moreover, it makes the fabric soft and durable. Here thread count means how many horizontal and vertical threads are in per inch of fabric; it usually ranges between 200 – 1000.
These are some considerations that can help you choose the best duvet cover to deal with dog hairs. Now take a look at our hand-picked recommendations.
QUICK OVERVIEW
Best duvet cover for dogs at a glance
DREAMING WAPITI

BEST  MICROFIBER

Material: Microfiber
Available Sizes: Twin, Queen, and King

View at Amazon

NESTLBEDDING

BEST  ALTERNATIVE

Material: Microfiber
Available Sizes: All

View at Amazon

SORMAG

BEST  COTTON

Material: Cotton
Available Sizes: All

View at Amazon

BRANDREAM

PREMIUM COTTON

Material: Cotton
Available Sizes: All

View at Amazon

ELLESILK

BEST  SILK

Material: Silk
Available Sizes: All

View at Amazon

BEDSURE

BEST VALUE

Material: Microfiber
Available Sizes: All

View at Amazon

AMAZONBASICS

CHEAPEST

Material: Microfiber
Available Sizes: All

View at Amazon
Best Comforter/Duvet/Blanket Covers for Dog hair – Reviews
1. Dreaming Wapiti (Best Microfiber Duvet Cover for Dogs)
If you're looking for bedding sets for your dog hair, dreaming Wapiti might be a great option. This product is made of microfiber; therefore, it doesn't allow hair to stick on the surface, and you can easily wipe them off.
There are six beautiful colors available, and it's available in different sizes as well. The best thing about this product is, it's fade resistant and hypoallergic. This duvet cover set is quite comfortable, soft, and durable; your dog will love it.
Along with a zipper design, this cover comes with corner ties that can hold your comforter more firmly. Dreaming Wapiti bedding set is ideal for machine wash and doesn't require much care. Overall, for this lower price, it's a fantastic deal.
2. NestlBedding (Best Alternative Microfiber Duvet Cover for Pet)
NestBedding is another choice if you're looking for a more affordable duvet cover set for your pooch. This Microfiber bedding set is available in tons of colors; you will probably find the perfect match for your bedroom.
This product is stain, shrink, fade, and wrinkle-resistant, so you don't need to worry about anything. Moreover, it's a machine-washable fabric.
NestBedding duvet cover is super soft, lightweight, breathable, and ensures maximum comfort. You can choose your desired size, whether you're looking for twin, full, king, queen, or California king.
Altogether, if you want to snuggle up with your pet in bed, you can consider this cover set. This product is offering great value for money.
3. SORMAG (Best Cotton Duvet Cover for Dogs)
Made from natural fibers, the SORMAG duvet cover is an even more great option if you can spend a bit more. This product is made of 800 thread count cotton; therefore, it doesn't hold the dog hair and can be cleaned easily. Moreover, you're getting more color and size options than the previous microfiber bedding set.
Whether we talk about the durability, looks, or comfort SORMAG duvet cover set won't let you down. This bedding set is ultra-soft and comes with zipper closure and corner ties as well.
This cotton bedding set price is slightly higher than the previous product, but it's worth spending.
4. Brandream (Premium Quality Cotton Duvet Cover Set for Dogs)
If you can spend a bit more, Brandream is the best cotton bedding cover set, which comes with an 800-thread count. This bed set is ultra silky soft, hypoallergenic, and breathable and ensures a richer sleeping experience. Moreover, durability is also very impressive; it's certainly ideal for dogs' parents.
This bedding set comprises 100% Egyptian cotton with sateen-wave bed linen that provides a luxury look to your bedroom. Brandream bedding set is available in several colors and sizes, and you can pick as per your requirements.
This bedding set made of natural fibers is slightly costly, but while considering the quality is justified.
5. ElleSilk (Best Silk Duvet Cover for Dogs)
Silk is naturally slippery, and it also copes with the loose hairs fantastically; however, it's an expensive choice.
If you're looking for a premium option, ElleSilk is offering a 100% silk duvet cover that can enhance your bedroom's look. This product is available in several seductive colors along with evergreen white and black.
Along with repelling hair, the great thing about silk is that it has strong fibers than has great tensile strength, making it ideal for dogs.
This product comprises the highest grade 6A long 100% Mulberry silk, and it's hypoallergenic. ElleSilk is undoubtedly a terrific option if you want to share the bed with your fido; however, it's costly.
6. Bedsure (Best Value Duvet Cover for Dogs)
Compared to the other microfiber bedding on this list, Bedsure offers premium quality without a higher price. It's available in several colors and sizes, and you can choose as per your requirements.
This bedding set is made of 100GSM washed microfiber, ensures superior durability, and provides the utmost comfort. It's a hypoallergenic fabric that keeps your body fresh and restful.
You're getting corner tiles and zipper closure design that secure your duvet, quilt, and comforter in a precise way. The product is machine washable as well.
7. AmazonBasics (Cheap and Best Duvet Cover Set for Pet)
AmazonBasics duvet cover set is the most affordable option in 2022, and the quality is also quite good. The product is available in different sizes, colors, and patterns.
This duvet cover set is also made of microfiber material, and it's a lightweight fabric that provides exceptional softness and comfort. You can wash this fabric in a machine, and it's wrinkle-resistant as well.
Overall, while considering the price, you're getting more than you're paying for.
Best Cover Bedding set for Dogs in 2022