All dog parents know how important it is to have a dog couch cover. If you have a dog, you probably know how much they enjoy spending time napping on the couch or snuggling up next to you while you watch tv. Dogs are adorable, but they can also be destructive, so you need to protect your furniture. You don't have to try to keep them off the couch. Get a sectional couch cover, and you will never have to worry about scratches, too much hair in the seats, or other accidents.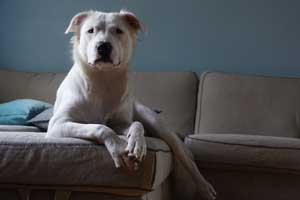 If you're in a hurry, check out our top choice OSTEPDECOR, See the latest pricing on Amazon.
You need to find a specific type of couch cover with sectional sofas due to all the movable parts. It would be best if you got couch covers that are adjustable and suited for L-sectional, Chaise sectional, or Bumper Chaise Sectional seats.
The best couch covers are durable, water-resistant, and come in various materials for you to choose from according to your preference. In this article, we have listed the five best sectional couch covers for dogs to protect seats. Moreover, you'll also know what you need to consider before purchasing.
Best Dog-Proof Sectional Couch Cover in 2022
Factors to consider before buying a sectional couch cover for dogs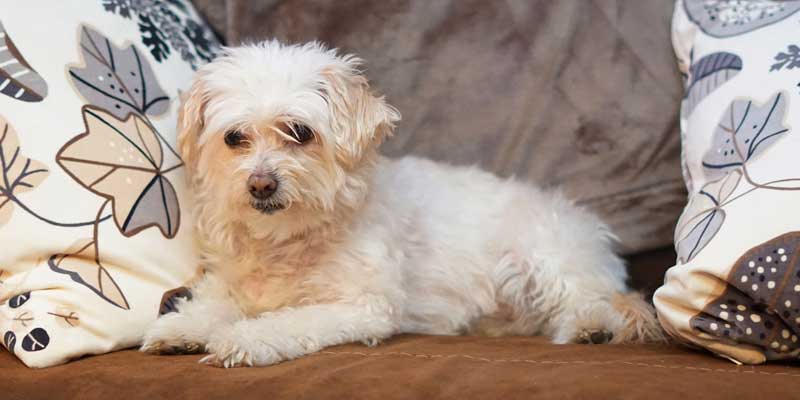 From the size of the sectional couch cover to the type of material you choose, it should be durable enough to protect your seat all day. With sectional couch covers, you need to select those precisely fit sectional sofas. They will not fit your regular and more traditional sofas. Here are some other factors to look at before getting the perfect sectional couch cover for you.
Separation
Sectional sofas are not your regular type of furniture where you might need one slipcover, and you are done. Sectional couches have movable parts that can be put aside as individual pieces. Most sectional couch covers are available in set-pieces, so you can decide which ones you need.
Size
Size always matters. You don't want the couch cover to be too small or too large because it will be uncomfortable for you. The sectional cover should fit just right on your furniture at home. To achieve this, get the right measurements for different areas of the sectional sofa. These include the backrest, base, heigh of the couch, and all the arms to make a better decision before you decide.
Fabric Material
Choose a couch cover with thick and soft fabric to be comfortable all day. For dogs that love spending time on the sofa, you need to get durable material. If it is too thin, it will not protect from scratches and accidents your dog may cause. Getting tough fabric also doesn't mean you should compromise your comfort when relaxing on the couch. Find good quality material, and both you and your dog will be comfortable.
Appearance
Couches play an essential role in the aesthetic look of your home. Whether it will be in the living room or dining room, it has to blend with the color and theme you want. Getting the couch cover's ideal design and color will make you want to spend all your time on the couch. You can also get more than one couch cover when you need to change up your style while still protecting it from your dog.
Frequently Asked Questions
Do dogs chew on leather couches?
Getting a leather couch in your home is an excellent choice because they are tougher than furniture with softer materials. Leather furniture is very thick and tough, so their claws won't puncture the leather surface. This type of fabric is also easy to maintain and comes in various colors.
Do dogs ruin couches?
Yes, they do. As much fun as having a dog is, they can't help but damage some of your items, including your furniture. They might end up scratching it with their claws or causing accidents like spills on the sofa.
How do I stop my dog from peeing on the couch?
If this is happening too many times, you will have to do something immediately before your whole house starts to stink. The first line of defense is to get couch covers for your sofa while you work on training your pet not to pee on the couch. There are water-resistant couch covers that will protect from such accidents.
What is the most durable fabric for a couch?
If you are looking for a good-quality couch that will last long and withstand damage from your dog, get a microfiber couch. The ultra-fine fibers ensure it lasts long. Canvas fabric, leather, and cotton fabric are also good and durable choices for couch material. With proper care, you can stay with these couches for years.
How do I protect my dog from sectionals?
To keep your furniture intact even after hours of having your dog there, you need to cover the furniture. You can use blankets, clothes, and throws, but the best option would be to get couch covers. They are made specifically to prevent accidents like pee and other damages on your couch.
Do they make couch covers for sectionals?
Yes. There are covers made specifically for different sectionals like L-shapes sofa, corner sectionals, and reversible couches. You can get non-slip covers and elastic stretch sofa covers.
QUICK OVERVIEW
Best sectional sofa covers for dogs at a glance
OSTEPDECO

CHEW-RESISTANT

Features: Quilted, spill & stain-resistant, and durable
View at Amazon

TEWENE

MOST VERSATILE

Features: Soft, high-density, anti-slip, and stain & spill-resistant
View at Amazon

FLOPPY EARS DESIGN

WIDE COVERAGE

Features: Long-lasting, wider coverage, and easy to clean
View at Amazon

EASY-GOING SOFA

WATER-RESISTANT

Features: Easy clean, durable, and water resistant
View at Amazon

CHUN YI

SOFT AND STRETCHABLE

Features: Breathable, comfortable, non-slip, and easy to clean
View at Amazon
Best Sectional Couch Cover for Dogs – REVIEWS
1. Ostepdecor (Best Sectional Cover for Fabric and Leather Couches)
Features: Quilted, spill & stain-resistant, and durable
This velvet sofa cover is made of tough leather fabric and comes in the color brown. The OstepDecor sectional covers are available in pieces and not in a whole set that can be difficult to place. These nice-looking seat covers are smooth and do not readily collect your pet's hair and fur. This cover helps keep your couch clean all the time.
It is ideal for adjustable sectional sofas and suitable for all seasons. This sofa is much simpler to set up, and it can go well with leather furniture or fabric furniture. This heavy and thick quilted couch cover will stay in place for your satisfaction. Easily clean this couch cover when you need to in the machine.
PROS
The heavy and quilted cover is smooth and comfortable to sit on.
It is versatile to use on different sectionals like L shaped sofas.
This protector is spill and stain resistant to keep your furniture clean and safe.
The material is thick and durable to withstand attacks from your pets.
CONS
It is not waterproof, so you have to wipe off spills immediately before they get to the seat.
Some parts of the sectional cover can keep slipping off.
2. Tewene (Most Versatile Sectional Couch Cover in 2022)
Features: Soft, high-density, anti-slip, and stain & spill-resistant
With this anti-slip cover, you can protect your couch from your pets all the time. The Tewene sofa cover is as smooth as velvet and created with high-quality fabric which doesn't easily collect fur or pet hair. The corner stitching is exquisite to keep the cover from slipping and keep it on the couch firmly after washing.
You will have an easy time installing and taking care of this cover no matter how destructive your dog is. It easily goes well on fabric and leather sectional furniture. You also do not need any accessories to set it up on your sectional sofa. It is machine-washable, so you can throw it into the machine when it's dirty. They are suitable for all seasons and can double as a baby play mat or bedroom rug.
PROS
This couch cover is soft and comfortable due to the soft filling.
It includes high-density reinforcement with fine stitches to make it more durable.
The anti-slip silicone properties help this couch cover stay in place.
This sofa cover works well on leather and fabric furniture.
The couch cover offers sofa protection from stains, hair, food, and spills.
CONS
The cover can keep on slipping if not appropriately placed.
It is not waterproof, so you should clean the spills as quickly as you can.
3. Floppy Ears Design (Best Microfiber Sectional Couch Cover with Wide Coverage)
Features: Long-lasting, wider coverage, and easy to clean
The Floppy Ears couch cover is 100% polyester with faux suede to cover and protect your entire couch from your dog. It is suitable for sectional sofas, and the suede fabric is tough yet soft enough to feel comfortable. This cover is durable to withstand daily wear and tear while offering.
This couch will trap fur and dust but quickly shake it out. Just position it over your sectional sofa and tuck it in between the cushions, and your couch is ready to sit on. Your dog will love sleeping on this comfortable couch cover all day. Maintaining the quality of this coverage is simple because you can machine-wash and dry it quickly.
PROS
It is a simple and easy way to keep your couch clean and free of fur.
The couch cover looks as good as new even after washing.
This couch cover is high quality with durable and long-lasting material.
It offers wider coverage for your sofa compared to other couch covers.
CONS
For homes with pets, the cover tends to slip when they paw on it.
This cover may not be suitable for staying in place on leather sofas.
4. Easy-Going (Best Water-Resistant Sofa Cover for Dogs in 2022)
Features: Easy clean, durable, and water-resistant
Get this water-resistant sectional cover and say goodbye to messy spills from your dog. The  Easy-Going slipcover is reversible to use in different ways with elegant quilted texture for you to enjoy. The thick microfibre will also ensure it lasts a long time.
If you select the right measurements, it will fit your seat flawlessly. It is suitable for L-shaped sectional sofa left and L-shaped sofa right. The six foam pipes available with this couch cover help prevent sliding and are placed between the seats. These pipes will ensure the cover stays in place even when your dog is on the couch all day. It protects against spills, stains, and wears and tear.
PROS
You can easily maintain this couch cover because it is machine washable and dries quickly.
It is suitable for protecting your sectional sofas from pet damage like scratches.
You can use foam pipes to keep the sectional couch cover in place.
It is a high-quality and durable material for protecting your furniture.
This couch cover is water-resistant to protect from slips.
CONS
The only sizes available are large and small.
5. CHUN YI (Best Stretch and Soft Sectional Couch Cover for Dogs)
Features: Breathable, comfortable, non-slip, and easy to clean
With many colors to choose from, you will have fun changing up the style of your sofa whenever you feel like it. The Chun YI sectional couch cover is a blend of polyester and spandex. It suits left chaise lounge sofas with elastic fabric that stretches while fitting onto your sofa snuggly. If you want to change up the design of your L-shaped sectional sofa while still protecting it from spills, this is the best one to get.
The cover is perfectly fit for sectional sofas with armrests and chaise sections. If you place it properly, it won't shift or slip no matter how you are sit. The elastic bands will ensure it fits perfectly into each section of your couch. This cover will give your sofa and living room that fresh feel you are looking for too.
PROS
This high-quality sofa cover is breathable and comfortable to sit on.
The elastic bands offer a better fit for your furniture and prevent it from slipping.
It is flexible and stretchable to cover more of your sectional sofa better.
They also come with free non-slip foam strips to keep the cover in place.
It is easy to maintain and clean this sofa cover when it gets dirty.
CONS
The setup directions can be too complicated.
Best Dog-Proof Sectional Couch Cover in 2022
When choosing the best sectional couch cover, you need to consider your sofa's size, the cover fabric materials, and the design that will blend with your home theme. You should choose the toughest material that will protect the sofa from your dog's scratches and attacks. Pet parents know how important these covers are so that you don't keep on replacing furniture too frequently.
Getting the best sectional couch cover isn't as simple as getting covers for traditional seats. However, with these considerations, you will find the best fit to protect your furniture from your pet. They should be water-resistant with durable fabric to last longer too. You don't have to sacrifice your comfort or the happiness of your dog either.