7 Best Garbage Cans for Dog Poop in 2022 – Keep Your Home Fresh
Not a substitute for professional veterinary help. Learn more,
When you purchase through links on our site, as an Amazon and Chewy Associate I earn from qualifying purchases. Learn more.
Dog waste could be noxious to humans as its single gram can contain 23 million fecal coliform bacteria. This can lead to diarrhea, cramps, intestinal illness, or even serious kidney disorders. If you're a dog owner, then you must have a dedicated garbage can for your dog.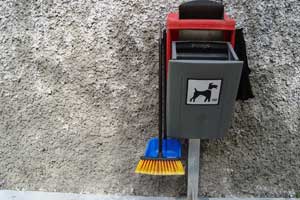 Using the kitchen bin or bathroom trash for dumping dog's waste is an unhygienic habit. In this article, we will discuss the best garbage can for dog poop of 2022 and how to choose one.
Best Garbage Can for Dog Waste in 2022
There are several types of garbage cans available in the market, so choosing the best might be tricky. Here are some tips that might help you choose a perfect trash can for your pet waste.
Material: Usually, most people prefer to put the garbage cans outside the home; that's why considering the material quality is crucial. Choosing a material that withstands harsh weather would be helpful, like stainless steel or higher density substance.
Size: It's very straightforward; if you have a large dog breed then you will need a bigger trash can as it will produce more poop in a day.
Lid Opening: Foot pedal is a basic feature of a garbage can; it's a hygienic and convenient way. You don't need to touch it repeatedly before each use. Nowadays, some manufacturers are offering a sensor-based lid, which is an even more interesting technology. You don't even need to press the pedal; the lid will be automatically opened and closed; however, it will be a bit expensive than usual trash cans.
Odor Control: To control odor, the lid of a garbage can should be shut tightly; it's quite a basic consideration. The tight lid won't let the smell out and keep your home clean and fresh. Some smart waste cans come with an odor control system that comprises carbon filters to neutralize the smell.
Now, check out our recommendations for the best trash cans for dog waste in 2022.
Best trash cans for dogs at a glance
Features: Activated carbon filter, discrete bags storage, and UV resistant material
Ideal for:  Outdoor, indoor
 
Features: Activated carbon filter, sensor-based lid, and stainless steel body
Ideal for: indoor
 
Features: Charcoal filter, bags storage, and UV resistant material
Ideal for:  Outdoor, indoor
Features: Durable resin, large capacity
Ideal for:  Outdoor
Features: Attractive colors, and portable
Ideal for:  Outdoor, indoor
Features: Commercial grade aluminum, bags storage with lock, and sign board
Ideal for:  Outdoor
Features: Seven-layer refill cartridge, lock handle
Ideal for: Indoor
Best Trash Can for Dog Poop in 2022 – Reviews
1. PawPail (Best Garbage Can for Dog Poop in 2022)
PawPail pet waste station is one of the best options, which offers everything you need to manage your dog waste. This trash can is made of commercial quality material, so it's weather and UV resistant. You can also put it outdoor, and it will last longer.
The best thing about this trash can is that it can efficiently control the odor, thanks to its patented DualVent technology and activated carbon air filter that is fitted inside. Additionally, it has discrete bag storage inside the lid that can hold up to 200 bags.
In the package, you're getting a large roll of 200 leak-proof dog poop bags that lasts three months, and it comes with 1 air filter. This garbage is undoubtedly expensive, but while considering its features, it's totally conceivable.
An efficient odor control system
Premium build quality, ideal for outdoor
Comes with bag storage
2. iTouchless (Best Touchless Trash Can with Odor Control)
If you're looking for something modern and stylish trash can for your dog poop, you can consider iTouchless. This waste container is 100% touchless and hygienic. It can automatically open the lid itself as per your hand movement and close it later. The body is made of stainless steel, which looks stylish and ensures a longer life.
This device can be powered by 4D size batteries or an AC adapter; however, you need to purchase them separately. iTouchless waste station comes with odor control technology that can curb the smell precisely. 
As compared to the previous waste container, iTouchless is available at a lower price, which is the icing on the cake. Overall, Another interesting thing about this device is, your dog can't open it.
Durable stainless steel body
Sensor-based lid opening feature
Odor control with activated carbon filter
Good price
Available in several sizes
3. PetFusion (Cheaper Alternative Waste Station)
PetFusion is another viable option available at an even lower price. This waste station is portable and lightweight, ideal for on-the-go use.
This waste station has an inner basket that promotes direct scooping and eliminates the use of one bag each time. This container has a UV-resistant coating; therefore, it's perfect for outdoor use. 
It comes with a locking handle, silicone gasket, and no-toxic charcoal filter for odor control. Moreover, it has a universal bag holder. Overall, PetFusion is offering pretty decent features for a lower price, and it might be a good option for dog poop.
Portable and lightweight
Good odor control
Attractive and clever design
Low price
4. Suncast (Best Value Waste for Dog Poop in 2022)
Suncast trash can is made of durable resin that provides protection against harsh weather conditions and restricts fading. This waste container comes with an attractive wicker design that makes it perfect for outdoor decor.
Suncast waste container has a pretty decent storage capacity ideal for patios, backyards, or decks. It's a pretty simple and long-lasting garbage can available at a lovely price.
However, it doesn't offer any carbon filter, but its lid closes very tightly and efficiently controls odor. Overall, it's a value for money product.
A highly durable resin that lasts longer
Perfect for outdoor
Large capacity
Value for money
5. Brabantia (Cheapest and Simple Waste Bin for Dogs)
If you don't want to spend much on a garbage can, you can try out this Brabantia. This waste bin is pretty simple and easy to use.
You can put this container on the floor or mount it on the wall. Moreover, it's available in several beautiful colors and sizes. Due to the precise fitting lid, this waste bin could be an ideal choice for dog poop as it won't let the smell out.
Available in beautiful colors
Wall mountable
Simple and elegant design
Lower price
A less effective in controlling odor
6. Zero Waste USA (Best Professional Waste Station for Dogs)
If you're looking for a waste station kit for your HOA or yard, Zero Waste USA could be a viable option. This kit includes a sign, a waste can with a lid, post, and locking dispenser. Moreover, it comes with 400 dog waste bags, and 50 can liners.
This is a professional grade product made of high strength aluminum; therefore, it will last longer. Whether we talk about the bin or bag dispenser, the quality is amazing; however, it is expensive.
Professional grade quality
Complete kit 
Bag dispenser with lock
7. Litter Genie (Best Waste Disposal System with Great Odor Control)
If you want to put waste can inside the home, odor control would be a priority for you. You can check out the Litter Genie waste disposal system.
This waste bin comes with an innovative seven-layer refill cartridge that can control odor and germs amazingly. Comparatively, this product is cheaper and provides true value for money.
A great odor and germs control system
Affordable price
Perfect for small spaces and homes
Quality could have been better
Best Trash Cans for Dog's Poop in 2022
Thank you very much for visiting this site! Did you find this article helpful, or have any questions? Please feel free to comment below; we will get back to you shortly.
Medical Disclaimer: The contents of the Two Dog Zoo website, such as text, graphics, images, and other material contained on this site ("Content") are for informational purposes only. The Content is not intended to be a substitute for professional veterinarian advice, diagnosis, or treatment. Always seek the advice of your veterinarian with any questions you may have regarding the medical condition of your pet. Never disregard professional advice or delay in seeking it because of something you have read on this website!
Two Dog Zoo is supported by its audience. When you purchase through links on our site, as an Amazon and Chewy Associate I earn from qualifying purchases. Learn more.