Water is an essential component of our body, and its deficiency or excess can lead to several diseases. Just like us, dogs also need an adequate amount of water to function their body properly.
You should regularly clean and fill the water bowl of your dog. If your dog isn't drinking enough water from the bowl, there are several types of gadgets such as a water fountain available that can make your work easier.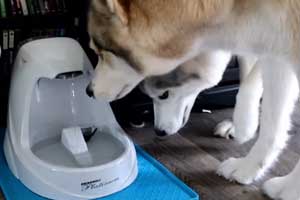 If you're in a hurry, check out our top choice PETSAFE. See the latest pricing on Amazon / Chewy.
Water fountains are a source of clean and running water that encourages your pet to drink more water. This post will discuss the best water fountain for large dogs and how to choose a good one. So let's get started!
Best Water Fountain for Big Dogs in 2022
According to PetMD, in general, your dog should drink 1 ounce of water (1/8 of a cup) per pound of body weight each day.
For example, if your dog's weight is 80 pound, then:
The recommended water amount = 80 x 1 = 80 ounces (around 2365 ml)
Several other factors affect the water requirement, such as diet, exercise, and health. Unless your vet recommends, you shouldn't worry about measuring the exact amount of water for your pet. Just make sure your pooch has plenty of fresh and clean water every day
How to choose the best water fountain for large dogs?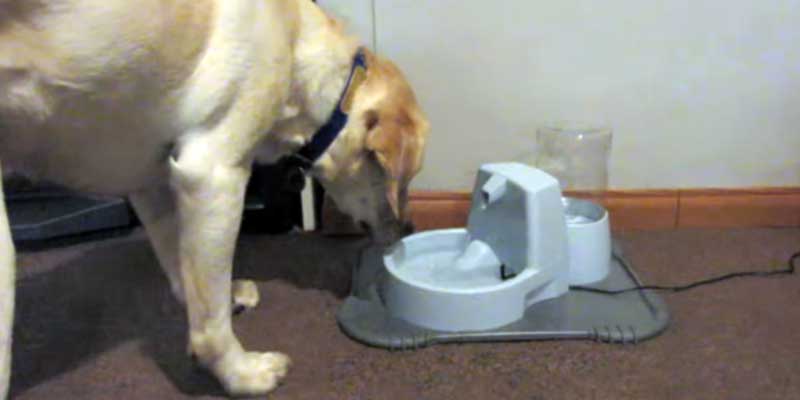 The first crucial thing when choosing a water fountain for big dogs is capacity.
Capacity: you should choose a higher capacity fountain, so you don't need to worry about filling it daily. Moreover, it will come in handy if you have more than one animal at home.
Ease of cleaning: a water fountain with a simple design and fewer smaller parts makes cleaning easier. You can also check out whether it's dishwasher safe or not?
Material: ceramic and stainless steel materials are a better option as they reduce the hard-water buildup; however, they are a bit costly.
Shape and size: it depends on your dog's size, whether you want a taller or shorter fountain. A pet with a mobility issue will be good with a shorter fountain.
Water filtration and cost: you should check how well a water fountain filters the water, how frequently its filters need to be replaced, and how much does it cost to replace?
Durability: you should consider the longevity of the fountain as some break down easily. Also, consider, are they easily repairable?
While considering these factors, we have listed some top-rated water fountains for large dogs. So, let's check them out.
QUICK OVERVIEW
Best water fountains for dogs at a glance
PETSAFE

RECOMMENDED

Capacity: 7.5L
Features: Adjustable flow, silent operation, and dishwasher safe

View at Amazon
View at Chewy

CATIT

BEST VALUE

Capacity: 3L
Features: 3 different water flow settings, level indicator, and LED nightlight

View at Amazon
View at Chewy

ZEUS

CHEAPEST

Capacity: 6L
Features: easy to clean, and elevated design

View at Amazon

DOG MATE

BEST ALTERNATIVE

Capacity: 6L
Features: silent operation, multistage drinking, and dishwasher safe

View at Amazon
View at Chewy

COOLERDOG

PREMIUM QUALITY

Capacity: 6L
Features: Quiet pump, removes tartar, wire cover, and dishwasher safe

View at Amazon

PETSAFE

GRAVITY BASED

Capacity: 9.4L
Features: Stainless steel bowl, easy to clean, BPA free

View at Amazon
View at Chewy
Best Water Fountain for Large Dogs in 2022 – Reviews
1. PetSafe (Best Water Fountain for Large Dogs in 2022)
PetSafe water fountain comes with a large water capacity, which is ideal for big dogs or multiple pets. You can customize the water flow as per your requirements.
For the waterfall, there is a ramp; therefore, it provides a silent operation. The best thing about this product is that it doesn't have hard-to-reach crevices that make it easy to clean. PetSafe water fountain is top-rack dishwasher safe.
With carbon filter technology, this device serves fresh and odorless water to your pooch. Moreover, with the 2-Gallon (7.5L) capacity, you don't need to fill it daily. The free-falling stream of this fountain entices your pet to drink more.
Overall, the PetSafe water fountain is probably the best option if you're looking for a fresh and clean water source for your finicky dog.
PROS
Large capacity
Silent operation
Carbon filter removes bad tastes and odor
Available in an even bigger capacity
CONS
2. Catit (Best Value Water Fountain for Big Dogs)
Catit water fountain comes with an appealing design that can insist your mischievous dog drink more water. The water capacity is 3 liters, which is enough for a whole day for most dogs. However, if you have multiple pets, then you can check our other recommendations.
The best thing about this water fountain is, it comes at a reasonable price. If we talk about filtration, this device is backed with triple-action technology which delivers pure water.
This water fountain has 3 water flow settings that are useful for picky drinkers. Additionally, this device has an LED nightlight water level indicator.
Overall, if you're looking for an affordable water fountain for your large dog, Catit might a viable option.
PROS
Triple action water filtration
Reasonable price
Three water flow settings
CONS
Slightly low water capacity
3. Zeus (Cheapest Water Fountain for Big Dogs in 2022)
Zeus water fountain is offering 6 liters of larger capacity, which is perfect for larger dogs. The best thing about this fountain is, it's offering triple action filtration at the lowest price.
This water fountain provides a recirculating water flow that ensures pure and freshwater for your dog. The elevated bowl design is quite helpful for older dogs or dogs with arthritis.
If you're looking for a simple water fountain for your big dog and don't want to spend more, Zeus might be a good option.
PROS
Cheapest
Triple filtration technology
Easy to clean design
CONS
Build quality isn't excellent
4. Dog Mate (Great Alternative Water Fountain for Dogs)
Dog Mate water fountain supports up to 6 liters capacity, ideal for multiple pets at home. This machine doesn't produce any noise, which is a good feature.
It works on polymer-carbon filter technology for water purification, and replacement cartridges are available. Moreover, its motor doesn't require higher voltage.
The cable length is quite long; you can place this water fountain as per your requirements. Overall, while considering the price and features, this product is another good option for large dogs.
PROS
Decent water capacity
Excellent water filtration
Good price
Quiet operation
CONS
Replacement cartridges are costly
5. CoolerDog (Premium Quality Water Fountain for Big Dogs)
Unlike other water fountains, CoolerDog not only provides fresh & clean water but also reduces plaque & tartar off your dog teeth. Its water filters slowly release an enzyme that helps to fight bad breath as well.
The 3-phase water filtration technology provides odor-free and freshwater for your pooch. This device is made of semi-transparent material that shows the water level.
CoolerDog water fountain is dishwasher-safe, and it's made of BPA free plastic. The best thing, it comes with an electrical wire cover to protect your pet from chewing.
CoolerDog water fountain offers a larger water capacity, great water filtration, and cable safety, which makes it a fantastic option. However, it's a bit costly than its rivals.
PROS
Excellent water filtration
Larger water capacity
Electrical wire cover for safety
Improves dog teeth and breath health
CONS
6. PetSafe (Best Gravity Water Station for Large Dogs)
If you're worried about electrical motors and wires, then PetSafe might be the right option for you. This water station is available in different sizes.
The design is easy to disassemble and clean, and it's dishwasher safe as well. It's featuring a stainless steel water bowl for more hygiene. Moreover, other body parts are made of durable BPA free plastic.
The operation is simple and easy to use; you don't require electricity to make it work; however, you need to replace its filters from time to time to maintain the water quality.
This product's price is also reasonable even for its large size, which is ideal for multiple pets.
PROS
Available in different sizes
Stainless steel bowl for hygiene
Durable BPA free plastic
Affordable price
Easy to clean
CONS
Might not engaging as water fountains
Top Rated Water Fountains and Bowl for Dogs in 2022