Every morning, you probably wake up and enjoy a few hours with your furry friend before you have to run errands or go to work. Do you know that look dogs give you when you are about to leave them for hours on end? Yes, that sad puppy look is because they know they won't see you for a while.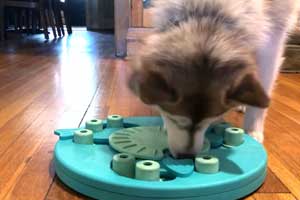 If you're in a hurry, check out our top choice NINA OTTOSON. See the latest pricing on Amazon / Chewy
Getting a mind-stimulating toy for your dog will keep your dog occupied and help with their development throughout the day. Dogs are smart animals, and for them to live healthy and happy lives, they need to be continuously active and stimulated.
With most pet owners having to leave their dogs by themselves for hours during the day, dog toys can help keep them occupied before you return. You need more than a simple chew toy. That is why we made a list of the best mind-stimulating toys for dogs to keep your furry friend entertained.
Best Engaging Toys for Dogs in 2022 – Buyer's Guide
Dogs can get bored as fast as people do, so it is crucial to have the right toys for them to have fun all day. With the right toy, your furry friend can stay active and reduce the risks of health conditions like being overweight.
It might seem simple to select a toy from the store, but there are many factors you need to take into account. You can consider some of these tips before you decide on a specific toy for your dog.
Size
The size of the toy matters because your dog will be playing with it all day. You should know the size of your dog's mouth before buying a specific toy. It should not be too small that the dog can swallow, and it should not be too big either.
Dogs do not enjoy playing with too big toys, and they might destroy them. They should be large enough to carry but not small enough that they can accidentally choke on them. Consider your dog's size while choosing a mind-stimulating toy they can enjoy.
Squeaker Safety
Most dogs will attack items that make too much noise, like squeaky toys. They can be excellent to keep your dog busy, but that is until they destroy it entirely and it doesn't squeak anymore.
While other dogs enjoy biting down on these toys, some will tear them apart, so you have to keep an eye on them. If your dog likes tearing into toys, watch them so they don't chew on the speaker, which can be very dangerous.
Variety
Dogs are possessive about their toys, but they also like some variety in their games too. To keep your dog from getting bored, rotate their toys every day so that they can have different options. This way, they can stay entertained and active all day long.
Dog Personality
Dogs have different personality traits. Some are playful, while others are shy and timid. You need to take into account your dog's personality type before choosing a dog toy.
If your furry friend is active and likes to chew on stuff, you shouldn't get him a cuddly toy. Shy and anxious dogs may not like squeaky toys because of the noise they make. Take time to find out what your dog loves first before making a decision.
Age of the Dog
Your puppy's energy level will change with time, so you need to be prepared when they have bursts of energy. Between 10 weeks and one year, your puppy is very playful and full of life. They need to be always active due to their high energy levels.
During their teething period, your puppy needs soft toys that won't harm them. As they grow older, they can play with more challenging toys. Soft toys are also suitable for senior dogs to stay occupied.
Different types of Mind Stimulating Dog Toys
There are different types of toys you can get your dog to keep them active. After considering their age, personality, and what they like, you can choose from various toys. Here are some common types of toys you will find today.
Balls
Most dogs love balls. They love chewing on them and playing fetch with balls most. The size of your dog's mouth determines the size of the ball you should get for them. It has to be the right size so that they don't swallow it by accident.
Squeak Toys
Squeak toys will ensure your pup is having fun all day long. Some dogs love noisy toys because it intrigues them while other dogs are aggressive and tear apart squeaky toys. If your dogs like chewing their toys, you should keep an eye on them if you decide to buy a squeaky toy.
Discs
Retrieval toys are excellent to keep your dog active and wear them out. Some dogs may prefer discs, while others may prefer retrieval toys shaped like balls. These toys are great for playing fetch and building a lasting relationship with your pet.
Food Dispensing toys
If you regularly leave your dog at home for long periods, this toy can help keep them occupied while feeding them too. They offer added mental stimulation depending on how difficult it is to release the treats. Dog treats are the best motivation to keep your dog mentally active.
Rope Toys
These toys are made of rope, which is excellent for playing different games with your pet. You can add it to the toy collection so that they aren't bored with the same toys. You can play fetch or tug of war with rope toys.
QUICK OVERVIEW
Best Mind Stimulating Toys for dogs at a glance
Best Mind Stimulating Toys for Dogs – Reviews
The ideal mind-stimulating toy for your dog is one that suits their needs and keeps them entertained to improve their learning abilities. We made a list of the best dog toys you can buy today to keep them mentally fit.
1. VANFINE (Best Squeaky Chew Toy for Dogs)
Type: Indestructible Toy | Material: Rubber
This chew toy is indestructible and tough for dogs to play with all day. It comes in a classic red color and the perfect size for dog chewing. With a unique design, your dog will not want to let go of this toy. For dogs that love squeaky toys, this rubber material toy will be fun for them.
It has a squeaker, which makes it more engaging for your pets. It will keep your dog occupied the whole day, keeping them happy and healthy. It provides mental stimulation because you can play fetch with it and help release the dog's pressure.
This toy is beef-flavored to satisfy your dog's chewing needs. It is made of high-quality materials that will ensure they last long, even with aggressive dogs. They are great for reducing destructive behaviors like chewing shoes, socks, and sofas.
PROS
High-quality and long-lasting dog toy for aggressive dogs
It provides mental and physical stimulation for your dog.
This chewy toy is beneficial for your dog's teeth.
It is excellent for squeaky loving dogs.
Made of natural rubber to be extremely durable
CONS
This toy can be too loud for some households.
It is not sturdy for heavy chewers.
2. Monster K9 (Best Chew Ball for Dogs)
Type: Indestructible Ball| Material: Rubber
For pet parents with aggressive and large dogs, this is the perfect toy to get.  This dog toy is ideal for high-energy dogs who need the challenge to keep them occupied. It is fun for dogs that like chewing to keep them busy when you are gone. This chew toy is durable to last much longer than the regular dog toy.
This ball toy is the ideal size and weight for throwing because it is slightly larger than a tennis ball. The heavy-duty design can withstand chewing and long-distance throwing for dogs that love fetch. It is built with safe and non-toxic materials to be safe for dogs
PROS
It is safe and non-toxic.
It keeps your puppy entertained for hours.
This ball lasts much longer than other dog's toys.
CONS
Not suitable for heavy chewers
The ball makes noise on hardwood floors.
Leaves orange debris everywhere
3. Nina Ottoson (Best Puzzle Toy for Dogs in 2022)
Type: Puzzle Game | Material: Plastic
Get this stimulating dog toy to keep your pet entertained all day long. It is excellent to reduce boredom and keep your dog mentally and physically engaged. This game gives your dog a fun way to enjoy their day and get treats too.
To enjoy this game, fill it with treats and watch your dog unlock it by twisting the little bones.  It features six compartments for you to place treats. Easily clean this dog toy with soap and water before adding more goodies. This game offers at least half an hour of mental activity, which is essential for your dog's health.
This is a fun game because it challenges and feeds your dog at the same time. It is ideal for beginners with a non-slip base to keep sliding away from your puppy. They also help reduce destructive behaviors by exercising their mind and bodies.
PROS
This game helps reduce your dog's destructive behavior.
It is perfect for feeding your dog when you are away.
They exercise your dog's body and mind with the challenges.
This game helps reduce weight problems by determining the number of treats.
CONS
It is not durable enough for aggressive dogs.
Some dogs might end up chewing the plastic bones.
4. SNiFFiz SmellyUFO (Best Treat Dispensing Dog Toy)
Type: Treat Dispensing | Material: Rubber, plastic
If you want to keep your dog entertained with treats while you are away, this is the ideal treat-dispensing toy. This interactive toy for dogs is the perfect mind stimulates food game for both small and large dogs.
This toy attracts the dog's attention to keep them busy using fun movements and the smell of treats. Your dog will chase and roll because of the tempting aroma of treats. This keeps them physically and mentally active for them to relax when you aren't home.
This game will stimulate your dog's brain by helping them learn and improve their problem-solving skills. It has an adjustable opening to make mealtime fun and straightforward. This game is sturdy and safe with no sharp edges so that your dog is protected.
PROS
The game has a large capacity to hold up to 9oz.
It has unpredictable movements that will keep your dog entertained with distractions.
The treats are motivation to keep the dog mentally active and exercise.
You can quickly fill this toy by pouring treats into the opening.
It makes mealtime more enjoyable.
CONS
It is noisy on the hardwood floors.
You have to disassemble the toy when you need to wash it.
5. PetDroid (Best Interactive Ball Toy for Dogs)
Type:Motion activated Ball | Material: Plastic
This toy is the perfect ball to buy for your pet. It is an interactive automatic moving ball for your dog to enjoy the whole day. This hands-free toy is ideal for pets to play with by themselves when you have to leave them. You can also automatically turn it off.
Your dog can get the mental and physical exercise that they need while you watch. It features a rechargeable battery to power the ball continuously for five hours. Your dog can play with this ball for two days without you having to recharge it again.
This ball will keep your puppy busy, and it is ideal for small dogs too. It features additional accessories like a mouse tail to make it more enjoyable for your puppy. The large capacity battery has a low power consumption.
PROS
This ball can last hours on a full charge.
The motion activation keeps your dog mentally and physically active.
It is USB rechargeable, which is more convenient.
Durable and long-lasting toy for dogs
Dogs can play with this ball by themselves.
CONS
It can be noisy for some homes.
The dog can quickly lose or destroy the fur tail.
BEST Toys for Dogs to Keep Them Busy in 2022
In summary, you have to consider your dog first before choosing the toy that will keep their mind stimulated all day. Your dog will be having fun while you watch them chase after a motion-activated ball. Consider your dog's age, mouth size, and personality before choosing the dog toy.
All these toys mentioned above have their benefits in keeping your dog mentally and physically active. They help keep your puppy busy and help with their brain development. Your dog doesn't have to be bored while you are away at work.  Choose one that you know your dog will love so that they can have fun even when you are not there.