6 Best Window Blinds for Dogs in 2022 & How to Prevent Chewing
Not a substitute for professional veterinary help. Learn more,
When you purchase through links on our site, as an Amazon and Chewy Associate I earn from qualifying purchases. Learn more.
Dogs stimulate when they see anything outside; therefore, using windows blind is the best option. But many pet owners complain that their dogs destroy these window shades. As pet parents, you might have already known; these furry friends can mischief sometimes. However, that does not mean that you should leave it the same way. Stopping your dog from such behavior is essential to keep the things in your house safe.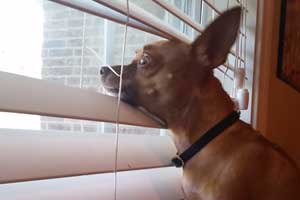 Pillows, shoes, and remote controls are the favorite things for dogs to chew, but when they are alone, due to separation anxiety, it's quite normal for dogs to attack the window blinds as well.
We have compiled a list of the best window blinds for dogs, along with a buyer's guide. You'll also learn how you can prevent your dog from chewing, so let's get started!
Best Windows Shade for Dogs in 2022
Reasons why dogs destroy window blinds
Although it might seem awkward to new dog owners, tearing the window blinds in the house is a common issue. However, most owners get confused in finding out the reason.
Why does a dog tear a window blind?
Of course, this question makes sense. So, let's discuss the reasons.
✔ They suffer from separation anxiety: 
 If you go out leaving your dog at home and come back with the window blind destroy, it is evident that your dog suffers from separation anxiety. Dogs are loyal and affectionate, and they cannot bear being alone for long periods.
As they get frustrated from loneliness, they need to find a way to clear their aggression. In this case, the window blind might be an item in the house for the dog to attack, especially when they hear something outside.
So, the dog will start chewing the window blind to relieve its stress.
It would be best to leave the dog inside the crate while going out to avoid this behavior. When your dog is crate-trained, it will feel secure inside even when you aren't home. However, it is mainly a good idea for small and medium-sized dogs. 
Putting the favorite chew toys of your dog inside the crate is also a good option. The dog will keep chewing the toys to relieve its anxiety.
✔ They see other animals out of the window:
Dogs usually like staring outside the window when bored. If your dog is aggressive or of territorial nature, you will notice that it starts to bark whenever it sees other animals outside.
This aggressiveness can also cause your dog to tear the window blind into pieces. Some dogs might also do such things when they see other dogs, humans, or animals, including cats, squirrels, etc.
Although you cannot stop your dogs' aggression, the only thing you can do is to use a preventive measure.
You can also make the window completely opaque, so the dog doesn't see outside. Another idea is to stop your dog from looking out while other dogs or people are there.
You can also use a protective barrier that can prevent the dog from reaching the window blind.
✔ They like chewing:
Many dogs, especially puppies, like to chew a lot. For this purpose, the window blind might be an attractive thing for the dog to chew.
So, it is better to give some chew toys to the dog to prevent this behavior. You also need to ensure that the dog is not suffering from anxiety during this behavior.
Check out this funny video from Waggle TV that shows how a dog has destroyed the window blind; it's hilarious!
How to choose the best window blinds for dogs?
Here are a few things you might need to consider while choosing the best window blinds for your dog.
✔ Cordless Blinds:
Cordless blinds are the most stylish and safe window blinds for dogs. Some shades might have the cord hidden at the back, while others will have no cable at all.
Some dogs get intrigued by the cord hanging from the window blind, and they start pulling it. It can destroy the while window blind. The dog might also chew the line, which can result in a severe health issue.
✔ Material Quality:
One of the significant reasons why window blinds get damaged is that they have cheap materials. Even if your dog is a puppy, its small teeth will easily tear the window blind apart.
As with aggressive dogs, you might not even find the window blind there anymore.
You can find some dog-proof window blinds, but there are only a few in the market. However, you can find many blinds with durable fabrics. Hard plastic or PVC is one of the most robust materials.
As the primary purpose of window blinds is to block light, you have to make sure they are adequately thick and robust.
✔ Vertical blinds:
Vertical blinds are available in a variety of materials and sizes.
Cordless vertical blinds allow dogs to slip through easily, so fewer chances of the dog can destroy them. With the other blinds, dogs can stick their head through, and when they move back, the blind will fall into its place.
Frequently asked questions
How do I stop my dog from chewing the window blind?
Some dogs like to chew continually. You can stop this behavior by giving chewy toys to your dog. Also, make sure that your dog has easy access to them all the time so it can satisfy its desire by chewing the toys. You can also use anti-chew sprays.
How does vinegar stop dogs from chewing window blinds?
Vinegar or sour apple spray is one the most common methods to prevent dogs from reaching certain things. Dogs hate the smell of vinegar, while it feels neutral to humans. So, even a light vinegar spray on the window blind will keep your dog away.
Do cordless blinds work well for dogs?
Cordless blinds are safe to use if you have dogs or small children in the house. They look stylish and provide a clean look to the room. Also, dogs cannot destroy the blind if they catch the cord. So, cordless window blinds are safe and easy to use.
Are wooden window blinds better for dogs?
Yes, many dog owners use wooden window blinds in their houses. These blinds are hard to chew, and they also give an elegant look to the home.
Why do dogs chew window blinds when alone?
Dogs who suffer from separation anxiety will chew the window blinds to relieve their stress. The best way is to make your dog do exercise before leaving the house. The dog will become exhausted and won't have enough energy to chew the blinds.
Best windows blind for dogs at a glance
Design: Cordless
Material: Polyester
Available Colors: 5
Design: Corded
Material: Bamboo
Available Colors: 1
Design: Cordless
Material: PVC, Steel
Available Colors: 1
Design: Cordless
Material: Polyester Blend, Plastic, Steel, Fabric
Available Colors: 8
Design: Cordless
Material: Fabric
Available Colors: 14
Design: Corded
Material: Bamboo
Available Colors: 1
Best Window Blinds for Dogs (Our Top Picks)
1. Achim Home Furnishings (Best Cordless Windows Blind for Dogs)
Design: Cordless | Material: Polyester | Available Colors: 5
The Achim Home Furnishings cordless window blind consists of robust polyester. The cordless design makes it safe for children and pets. The cellular pleats also ensure a complete shade and total privacy.
The installation process of the window blind is easy, and they look great in the house.
The blind does not block the natural light from coming inside the room.
It provides a pleasant feeling while sitting in the room on a sunny day outside.
You can easily lower the top portion of the blind and open the window from the top as well.
The blinds are sturdy and easy to use.
These cellular pleated shades are a decent value for the price and less expensive than others of this category.
The simple and crisp appearance of the window blind adds an elegant look.
This window blind is not of the perfect quality. However, it can last for a year or so.
2. ALEKO (Cheapest Wooden Window Blinds for Dogs)
Design: Corded | Material: Bamboo | Available Colors: 1
The ALEKO BBL39X64BR bamboo roman window blind is the best to install in your window if you have dogs at your home. In this window blind, the bamboo material is the best alternative to plastic, which dogs can quickly destroy.
These window blinds take less than five minutes to install.
Their measurement is accurate, and they entirely cover the window from top to bottom.
They give a super-stylish and elegant look to the room.
This window blind is the best choice for people who want to stay close to nature.
The dogs cannot eat or chew the robust wooden material.
It acts as an excellent shield for light.
The lock system might be inefficient.
It can get mold in moisture.
3. US Window And Floor (Another Great Cordless Windows Shade for Dogs)
Design: Cordless | Material: PVC, Steel | Available Colors: 1
The white window blinds from US Window and Floor are made from high-quality PVC material. It makes them robust and blocks the harmful rays of the sun from reaching the house. The blinds also have several sizes for various windows.
The cordless design of this window blind makes it safe for dogs.
They are super-easy to lift, and you need almost no effort to pull them down.
The installation process is also simple.
They provide a nice and sturdy look to the room.
The blind is long-lasting, and the materials are of high-quality.
This brand offers its window blinds at a lower price than others.
The slats and smooth, and the blind has no texturing.
They are very easy to clean and maintain.
The cordless design is not much efficient.
4. CHICOLOGY (Premium Quality Dual Layer Window Blind)
Design: Cordless | Material: Polyester Blend, Plastic, Steel, Fabric | Available Colors: 8
The cordless window blinds from Chicology feature a blend of different materials. These are polyester, plastic, fabric, and steel.
This combination makes them great for living rooms, and especially for those who have dogs 
This window blind is lightweight and stylish.
It adds a sophisticated look to the room, blocking sunlight and ensuring privacy.
They are easy to use, and you can also leave them open in-between.
They are also easy to install.
These zebra blinds consist of high-quality materials.
The blinds are lightweight and thick.
The rolling mechanism is efficient.
The window blind is narrower than advertised.
They might not last long if used carelessly.
5. SUNFREE (Best Blackout Cordless Window Shades for Dogs)
Design: Cordless | Material: Fabric | Available Colors: 14
The SunFree Mocha cordless window blinds offer a curtain-like look in window blinds. The upper surface feels like cloth and has a silver coating at the back, which efficiently blocks the sunlight.
So, this elegant window blind is ideal if you have dogs at home, as they won't be able to chew them.
This window blind perfectly blocks the light.
They keep the room cooler, and you can feel the heat they keep out by standing close to them.
Although the blinds are thin, the silver coating efficiently blocks the light and heat and ensures your privacy.
The cordless design makes them functional and easy to use.
They can also move side to side on the track for the right positioning.
They roll away easily and give a nice look.
The screw quality is not good.
They make the room a lot darker.
6. TJ Global (Best Bamboo Roll Up Window Blind for Dogs)
Design: Corded | Material: Bamboo | Available Colors: 1
The TJ Global roll-up window blind is made from high-quality bamboo. They give a natural look to the house while blocking the harmful sun rays from reaching the room. The sturdy look makes them great for people who have dogs in their homes.
You can install this window blind in about 3 minutes.
The drawstring is robust and easy to pull.
The bamboo blocks the light and provides pleasant warmth in the house.
It has a nice and subtle finish.
The quality is impressive, and this window blind is a great value for the money.
It is easy to roll up and roll down.
It comes with no valance. So, the pulley and hardware are visible.
The cord for rolling up the blind comes separately without any instructions. You will need YouTube to learn it.
Top Rated Windows Blinds for Dogs in 2022
Dogs love to chew window blinds, and if you install new and expensive ones in your house, seeing your dog destroying them is a miserable condition. Using an anti-chew spray or providing chew toys are some tips that can help you prevent the dog from chewing window blinds.
Thank you very much for visiting this site! Did you find this article helpful, or have any questions? Please feel free to comment below; we will get back to you shortly.
Medical Disclaimer: The contents of the Two Dog Zoo website, such as text, graphics, images, and other material contained on this site ("Content") are for informational purposes only. The Content is not intended to be a substitute for professional veterinarian advice, diagnosis, or treatment. Always seek the advice of your veterinarian with any questions you may have regarding the medical condition of your pet. Never disregard professional advice or delay in seeking it because of something you have read on this website!
Two Dog Zoo is supported by its audience. When you purchase through links on our site, as an Amazon and Chewy Associate I earn from qualifying purchases. Learn more.