Positive reinforcement is one of the most popular and successful methods for dog training, and treats are an essential tool for that. The "high value" treats aren't those that are expensive; it's the value your dog places in each food reward.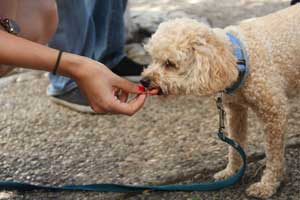 If you're in a hurry, check outour top choice FULL MOON. See the latest pricing on Amazon / Chewy.
However, the most common food that most dogs extremely like, such as pieces of chicken, freeze-dried bison, and peanut butter, can be considered high-value treats. These treats are usually freeze-dried, moist, extra smelly, and something your dog doesn't oftentimes get except the training sessions. In this post, we will discuss the best high-value treats for dogs in 2022.
Special dog Treats for Training in 2022
You can use these delicious treats to praise your dog's behavior and motivate him to do it again. There are many events when you should use these special dog foods, such as: when uncovering a brand-new behavior or praising for an instant response to a hint. Think of high-value treats as giving "A+++" for behavior and training.
Keep in mind; you shouldn't give the higher fat food to your dog as it can cause an upset stomach or pancreatitis.
We have divided the review section into two parts; you can jump to your favorite section by clicking the below links.
QUICK OVERVIEW
Best high-value treats for dogs at a glance
Best High Value Treats for dogs in 2022 – Reviews
Best Non-Veg Dog Treats in 2022
Whether you're looking for chicken, beef, pork, duck, or lamb meat for your pooch, you can find the top-rated non-veg & healthy dog treats in this category.
1. Good 'N' Fun (Best Triple Flavor Dog Treat for Dogs)
Dog loves meat, and Good 'N' Fun wing is one of the best high-value treats for dogs. This food is delicious and riched with protein that improves your dog's health.
If your dog is a chewer, this treat could be a great option. It's made with real chicken and twisted with delicious pork hide and rawhide flavor.
Good 'N' Fun dog treats are available to purchase in large quantity which is the best value for money.
2. Full Moon (Best High Value Treats for Dog Training)
Unlike the previous product, these treats are ideal for dog training because they can be cut into small pieces easily, which lasts longer.
Full Moon treats are human grade; therefore, the quality is excellent. Moreover, it's made of just 4 simple ingredients and doesn't contain corn, wheat, or soy.
You can choose from chicken or beef flavor, and it's available from 6 – 24 ounces size.
3. Farmland Traditions (Premium Quality Jerky Treats for Dogs)
This dog treat is only prepared with the chicken breast and vegetable glycerin which makes him so special. The product is is made in the FDA-resistered, state-of-the-art facility in the southeren california.
You can use Farmland Traditions dog treats for training as they can be easily sliced into smaller parts. You dog will enjoy these rich flavor treats and learn new bahavior quickly.
Overall, if you're looking for high value dog treats for your dogs, Farmland Traditions might be a vaiable option.
4. Bil-Jac (Best Value Dog Treats for Training)
Bil-Jac dog treats are chicken flavored and specially formulated to support skin and coat. If you're looking for higher quality chicken treats for your dog in an affordable price, you can go with Bil-Jac.
The special thing about Bil-Jac product is, every purchase you make it will supports America's VetDogs train, and provide assistance dog to veterans and active duty personnel with disabilities.
These treats are already formed into smaller pieces which is ideal for puppies or rewarding your dog during training.
5. Cadet (Best Duck Dog Treats for Training)
Cadet dog treats are made of real duck breast, and available in resealable package to preserve freshness. As compared to the other dog treats, this product is also a great choice at this meager price.
This package includes the three pack each of 28 ounces. This healthy dog treats contains high protein which is a vital nutrient for dogs. Overall, Cadet could be a good option if you are looking for duck food for your dog.
6. Bellyrubs (Another Great Treat for Dog Training)
Bellyrubs dog treat is available in three flavor chicken, beef, and lamb liver. This product is freeze-dried and comes with 100% natural ingredients.
If you're looking for your dog training, these treats might be a good option as it's already come in small pieces. The bags are resealable, which maintains the freshness without the need for refrigeration.
The best parts Bellyrubs dog treat is easy to digest as it doesn't contain any harmful chemicals, preservatives, additives, coloring, dyes, enhancers, or fillers. This product is available up to 5 pounds large pack from a small 4-ounce pack. Moreover, this product is also made in the USA.
7. Purina Beggin (Cheapest Bacon & Cheese Treat for Dog Training)
Purina Beggin is another viable option if you're looking for a delicious treat to train your dog. This product is enriched with the taste of cheese and bacon, which will make your dog nut. On top of that, compared to other brands, you're getting more quantity at a very lesser price.
However, this product is quite cheaper than others, but it still has the highest rating, which is surprising.
Best Veg Dog Treats in 2022
Non-veg isn't the only option when we talk about nutrition. If you don't want to feed your dog non-veg treats, you can check out these dog treats.
1. Old Mother Hubbard (Best Non-Veg Natural Dog Treats)
Old Mother Hubbard's crunchy is one of the best options if you're looking for luscious veg treats for your dog training.
This dog food is prepared with apples, carrots, sweet potatoes, and oats; that's why it's vegetarian and provides a natural taste. The biscuits are bone shaped and oven-baked; therefore, it's ideal for training.
Old Mother Hubbard is offering many flavors with different sizes of biscuits. Moreover, it's available in different quantities.
As compared to the other non-veg products, you're paying quite less and still getting a nutrition-riched treat for your fido.
2. Wholesome Pride (Premium Quality Sweet Potato Treats for Dogs)
Wholesome Pride sweet potato is another fantastic vegan food for your dog training. It's a single ingredient food made of dehydrated sweet potato, which provides higher nutritional value to your dog.
Sweet potato is a good source of fiber, vitamins, and minerals. Overall, if you're a nature lover, then Wholesome Pride dog treat might be the right option for your pets.
3. Buddy Biscuits (Another Alternative Veg Dog Treat)
Buddy Biscuits dog biscuits are made of whole grain and indulge in peanut butter. These crunchy dog treats are the favorite of most dogs.
This dog food only contains four ingredients whole wheat flour, peanut butter, canola oil, and mixed tocopherols (as preservative). That's why it is one of the safest and healthier options for your dog.
Buddy biscuit is affordable and made in the USA product; therefore, it's worth trying if you're looking for veg options.
Best High Value Veg & Non-Veg Dog Treats in 2022
Best Non-Veg Dog Treats in 2022
Best Veg Dog Treats