Either you have a mischievous buddy or marking specialist who exactly knows where to act for maximum destruction; that's why you're looking for the best no marking spray for dogs. However, there are several efficient urine odor and stain removers available that can extricate you from that problem, but what if your pooch marks the same place again. If you want to change this annoying behavior of your canine, an anti-marking spray could be a perfect option.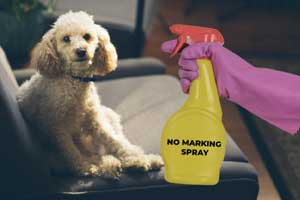 If you're in a hurry, check out our top choice ANGRY ORANGE. See the latest pricing on Amazon.
But how to choose an effective spray as there are lots of options in the market? Don't worry; we have tested 17 no marking spray, and it will help you to found out which one is worthy of your precious money. So, let's get started!
Best Dog Repellent Sprays of 2022
Dogs aren't less than children, and they also misbehave, and sometimes they won't obey you, which is entirely normal. A no marking spray is a perfect tool here; it can help you to teach your dog that he isn't doing something right, and it needs to be corrected. Some mischievous dog pee on sofa or carpet, and it will continue because they have marked it as their territory.
Before using the no-marking spray, you should clean your all home first with enzyme cleaners, which we have already discussed in this article. An enzyme cleaner will neutralize the odor and stain completely. It will also help you might also need to purchase a UV torch to identify the hidden spots in your home.
How does a no-marking dog spray work
As you know, dogs are highly sensitive to odors, and they don't like certain smells. Anti-marking or no marking sprays for dogs comes with those particular smells that dogs hate the most. When you apply that spray on anything, that obnoxious scent deters or repels dogs from doing certain behaviors. You can also use an anti-marking spray for your chewer pup; it will help you to correct his behavior.
Why do dogs urine mark
Whether it's about marking a car wheel or furniture inside your home, dogs assume that peeing on something will mark it as their territory. However, there are several other reasons – why do dogs urine mark.
Unfamiliar object or people: If you have bought anything new such as furniture, carpet, or even you have a visitor, these situations might trigger a dog to urine mark. It is especially true it any new object is carrying the scent of another animal.
Not spayed or neutered: Reproductively active Dogs tend to urinate more than neutered or spayed counterparts because of hormonal changes.
Anxiety: It is another reason behind a dog's marking behavior, which is linked with unfamiliarity. The presence of a new object in the home, such as furniture, luggage, or conflict with other animals, or fear of alone can trigger a dog to urine mark.
Signify Dominance: As I said in the starting, dogs usually mark any object to establish his dominance. When a dog finds the smell of another dog's scent, he tries to cover it up with his urine.
How to curb urine marking behavior in dogs
First of all, you have to neutralize the marking area with an enzyme-based cleaner, so your dog doesn't won't recognize it again, and probably won't pee on it.
You have to train your dog with pee pads. When your dog starts using the pee pads properly, then you can move it slowly outside. If you have a senior dog, you can use this pee pad and train your dog to use the bathroom inside the home.
In some cases, this behavior might be linked to anxiety; and you need to consult your vet. Your dog might need some medication.
If your dog becomes too excited after seeing another dog or people, then covering the windows and door with opaque material might be helpful.
If your dog pees on the wrong location, then you shouldn't punish him. Rather than you have to use the positive reinforcement methods to change this behavior, try to teach him commands such as "go to the spot" if he obeys then treat him. Gradually, he will start to listen to your command and won't mark everywhere.
General FAQs regarding no marking sprays
What scents deter dogs from peeing?
The citrus is considered one of the most hated scents for dogs, and it's being used in the no marking spray and urine remover.
Will vinegar stop dogs from peeing?
Yes, vinegar smell isn't pleasing for most dogs and can be used as a deterrent.
What scent do dogs hate the most?
However, the citrus scent comes at the top when we talk about the dog-repellent. Some other scents that dog don't like:
1. Ammonia
2. Vinegar
3. Mothballs
4. Rubbing Alcohol
5. Chilli pepper
Does lemon juice stop dogs from peeing?
Mix a little lemon juice in water, and spray it on the area where you don't want to let your dog pee. Lemon is another excellent repellent for dogs.
Which essential oils are helpful for dog urine smell?
We have written a dedicated post on this topic; you can read it here.
QUICK OVERVIEW
Best anti-marking spray for dogs at a glance
Best No Marking Sprays for Dogs in 2022 – Reviews
1. ANGRY ORANGE (Best No Marking and Odor Eliminator Spray for Dogs)
Angry Orange is filled with the power of real oranges; this urine odor eliminator not only ideal for removing stubborn stains or smell but also avoids your dog from marking the same spot again. The citrus scent is unpleasant for dogs, and this product is taking advantage of that.
Whether you want to stop your dog from peeing on the floor, carpet, or sofa, this product is ideal for all situations. This product is safe and easy to use around your pet, and you don't need to mix anything, you can spray it directly on the affected areas or where you don't want urine marking.
This product is also available in 1 Gallon refill pack, which is offering exceptional value. If you're looking for a no marking spray for dogs, Angry Orange is one of the great options, which is an efficient odor and stain remover as well.
PROS
Safe for pet
Made from oranges
Cleaner and deterrent
Available in large volume
CONS
2. The Company of Animals (Best Pet Corrector Spray for Dogs)
These pet corrector sprays are ideal for dog barking or any unwanted behavior, which includes marking habits as well. Unlike the other deterrent spray, you have to use it when your dog tries to urinate on something that you don't want to let him do.
This product produces a "special" type of hiss sound, which mimic the natural warning sound that dogs and cats make. When you use this spray on around your pet, it let him know that he isn't doing something right, and it needs to be corrected.
One thing that I don't like about this product is, it's quite expensive, and especially considering it's just a can which is filled with air. On the other hand, it's quite useful for training purposes; you can change your dog's annoying behavior such as barking, barking, or digging.
Keep in mind; it's just a training tool. Therefore, it has nothing to do with smell or something like that. If you want to repel your dog from marking on any specific object, you have to choose other sprays that we have mentioned in this article.
PROS
Best for training
Safe and easy to use
CONS
3. Nature's Miracle (Best Value No Marking and Stain Remover Spray for Dogs)
Natura Miracle is a cheaper alternative for Angry Orange. This stain and odor remover spray also works as a dog repellent, and stop your dog from marking the same spot twice.
As compared to the other product, Nature's Miracle is offering a quite reasonably priced no marking spray, even if you choose its 1 Gallon pack it's won't cost you very much.
This dog no marking spray comprises natural dog repellent scent, which is not only effective but also quite safe.
Apart from the dog deterrent quality, this product can permanently remove stains and odors that your pooch has previously left. Overall, Natura's Miracle is one of the best anti marking sprays for dogs, which is also quite effective in dealing with stubborn stains and nasty smell.
PROS
Natural dog deterrent
Eliminates stains and odor
Appealing price
Safe for pets
CONS
Some dogs might get used to its smell
4. PetSafe (Best Motion Activated Dog Deterrent and No Marking Spray)
This product is unique, it doesn't require any training, and it's automatic. This motion-activated dog repellent is battery-operated and can keep your pet away from a particular location.
This unit is divided into two parts, one which has electronics and the second is a refill which can be replaced easily. The spray is odorless and keeps your pet away without any harm as it doesn't have any harmful chemicals.
If you're looking for a product that should restrict access to your pet to any room or areas without harming them, it might be the best option. The thing that I don't like about this product is the very high price. Otherwise, it's quite an innovative product which can help you to train your pet.
Mind you, this product is battery-operated, and you'll need 4AAA batteries. This motion-activated dog repellent can work within 3 feet range; I think it's enough for our work.
PROS
Odorless and harmless spray
Motion-activated
Best for training
Portable can be used anywhere
Ideal for both dogs and cats
CONS
5. Bodhi Dog (Another Good Anti Marking Spray for Dogs)
Bodhi Dog no marking dog spray is contented with the clove oil, peppermint oil, and thyme oil, which makes this product pet safe and a natural deterrent. As its name suggests, NOT HERE SPRAY, it will curb your dog behavior and stop him for urine marking. Moreover, it ensures that your dog should not mark the same place again.
Using this spray is simple, just open the cap, and spray on the area where you don't want to let your dog pee. You don't need to add anything, and it can be used outdoor and indoor.
Bodhi Dog no marking dog spray is available in 8 Oz, and 32 Oz volume, the large bottle is much cost-effective, and you can go for it.
PROS
Safe for pets, no harmful chemical
Cost-effective
Restricts dogs from remarking the same place
CONS
Might be less effective on some dogs
6. Lambert Kay (Cheapest No Marking Spray for Dogs)
While lambert Kay dog repellent spray is cheaper but not in the performance, it is one of the most effective products out there. Whether you want to stop your dog from marking the furniture, flowers, or beds, this training spray could help, and its smell can last up to 24 hours.
This product is odorless, which won't cause any problem to humans and do the job silently; you have to just apply it to the object that you want to make safe.
As compared to the other product, Lambert Kay' is offering a large bottle of dog repellent at a low price.
PROS
Flavorless
Effective and easy to use
Cheapest in the market
CONS
Need to apply daily for best results
Best Dog Deterrent Spray in 2022