Mulch is not only useful for plants to provide protection and keep the soil moist, but also it is considered one of the best bases when creating a D.I.Y. dog poop area. After all, it's affordable, natural, and available easily. Some mulch might be unsafe for dogs or cause some health problems; there are some factors that you should keep in mind before purchasing; this is what we are going to talk about in this post. Moreover, we will also discuss – what is the best mulch for the dog poop area. So, let's get started!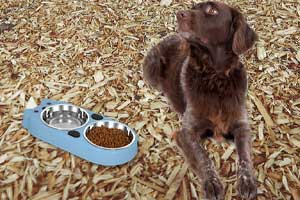 If you're in a hurry, check out our top choice KAYTEE RED CEDAR. See the latest pricing on Amazon / Chewy.
Best Mulch for Dog Potty Area in 2022 – What Should Consider
When a dog lacks in nutrients, then it might chew mulch; however, sometimes there is no reason behind it. It doesn't matter our dog is going to eat that mulch or not, but we have to make sure it's not toxic, which is undoubtedly crucial. 
Which mulches are not safe for dogs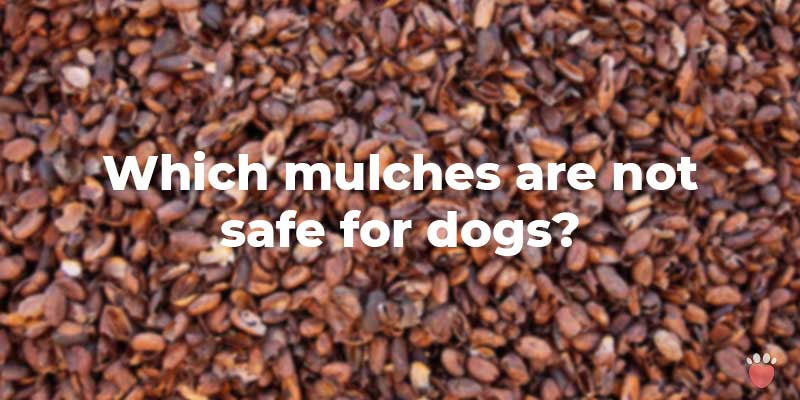 There are some popular mulches that are dangerous to dogs, and you should avoid them at any cost. These mulches could be poisonous and cause allergies and even gastrointestinal obstruction when consumed.
Cocoa mulch: Theobromine chemical is considered very dangerous for a dog, which is found in the cocoa mulch. However, it's widely used in gardening for a long time, but you should avoid it if you have a pet.
Pine needle mulch: This mulch could also be harmful to dogs when consumed as it can cause intestinal obstruction or damage to the stomach lining. Doesn't matter which mulch you're choosing, make sure it doesn't have big chunks because animal love to chew whenever they are alone or get bored.
Which mulch should we choose for dog's yard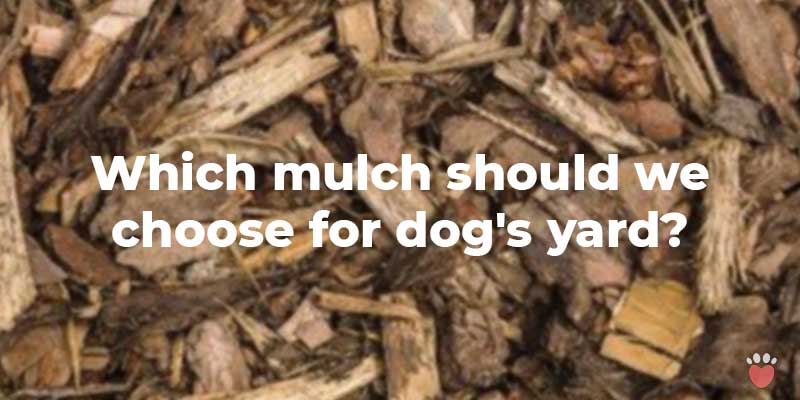 Cedar mulch: Cedar mulch is being used in the gardening for a long time, and it's one of the best mulches which is popular among dog owners. Additionally, it is considered a bug repellent, which could be beneficial for pets. The best thing, in case, if your dog swallows it, then there won't be any problem as it's digestible. However, it's always a good idea to choose a mulch with smaller bits.
Cypress mulch: It is another popular mulch which is being used in the landscaping and safe to use in the dog's area.
Pine mulch: Mulch of pine bark is helpful in plant growth as it retains the moisture and aide in every climate change. When used for dog bedding, it could be immensely beneficial because of its absorbent quality and soothing nature. Keep in mind; you should avoid the pine needle mulch as I said above, it could be harmful.
Untreated wood mulch: You should always choose the mulch, which is processed with chemicals and dye. The dyed and chemical contained mulch is not only harmful to the environment and nature but could be unsafe for your pet.
What about rubber mulch, is it safe for dogs
Rubber mulch doesn't smell like woods or other mulches, and your dog might not want to chew it, but it's still unsafe. However, rubber mulch is very durable and lasts for years, but as it potentially dangerous for your dog; therefore, you should avoid it. If your dog swallows the rubber mulch, it can cause gastrointestinal obstruction.
General FAQs regarding the mulch
Can eating mulch hurt my dog?
It depends on which mulch we are talking about. Yes, it's true, some mulches could be dangerous for dogs if they swallow them. Our veterinarians recommend the mulches we have listed here, and you can use them without any problem.
What kind of mulch is bad for dogs?
The cocoa bean is the most dangerous mulch for dogs, and you should avoid it. We have already discussed this question above in detail.
What kind of mulch keeps bugs away?
Cedar and Cypress mulches are considered bug repellents; you can use them in your dog's area as they are safe.
Is black mulch dangerous?
Typically black mulches are made of recycled tires, and they contain zinc, benzene, and other potentially toxic substances. Yes, they are indeed dangerous for dogs. In case if your dog swallows it, it can cause a gastrointestinal obstruction as well.
Is brown mulch safe for dogs?
Brown rubber mulch might be 100% non-toxic, but we don't recommend using them in the dog area because it still potentially dangerous if your dog swallows. We can't predict that our dog is going to eat it or not; therefore, it's always safe to use natural mulches.
Now let's have a look at our top recommendations for the safer mulch to use in the dog's poop area.
QUICK OVERVIEW
Best mulch for dog area at a glance
Best Mulch for Dog run and Kennel – Reviews
1. Kaytee (Best Red Cedar Mulch for Dogs Bedding)
Kaytee is offering high-quality cedar bedding for pets, and you can use them for your dogs as well. This mulch is available in soft shavings, which is quite comfortable for animals, it's perfect for using in the potty area. 
Cedar mulch is well-known for its moisture-retaining quality and widely used in gardening. If you're using it for a dog bedding, it helps to make your dog's area warm in winter and cold in summer.
Kaytee is offering 100% pure cedar bedding, and there is no chemical involved, which makes it safe for dogs. Moreover, the cedar wood is highly absorbent; therefore, it can also control the urine's odor. Kaytee is probably the best mulch for the dog poop area.
PROS
High-quality cedar shavings
Convenient for pets
Highly absorbent and reduces the odor
Long-lasting smell
No dust
Great value
CONS
Might be harmful to small animals such as a hamster
2. Wood Smith USA (Best Cedar Chips Mulch for Dog Yard)
Another excellent option for your dog bedding, the Wood Smith USA cedar chips mulch is a 100% natural, which is safe for dogs. This product is long-lasting, highly absorbent, and bugs repellent, too; therefore, it's a fantastic option for dog urine or poop area.
This product isn't less than a boon for plants as it can hold moisture quite efficiently, which is useful for your dog bedding as well. The appealing fragrance of cedar not only curb the urine smell but also absorb it.
Whether you want to use this mulch for a dog run or control urine smell in the kennel, it would be a great option.
The best thing this mulch is digestible; therefore, if your dog might chew or swallow it, then there won't be any problem. On the other hand, if you're purchasing a rubber mulch (that we don't recommend), you have to be aware as it can cause gastrointestinal obstruction.
PROS
Long-lasting mulch
Odor control and bug repellent
100% natural product
Safe for dogs
CONS
3. Woodchucks Wood (Best Value Cedar Wood Shavings Mulch for Dog's Urine)
A great alternative to our above recommendations, Woodchucks is offering a quite decent quality cedarwood savings at an appealing price. This mulch is coming in the curls and shaving format, which ensures maximum comfort to your pet, however, might need to replace a bit quicker than chips.
As cedar wood considered bug repellent; therefore, it will keep moths and ants away from your dog area. Moreover, due to its moisture retention quality, it can keep your dog's bedding cool and stay warm in cold weather, on the other hand.
The wooden mulch is 100% biodegradable, which is safe for the environment and pets. Unlike the rubber mulch, it doesn't have any harmful chemicals or dyed, which could be dangerous to dogs.
PROS
Soft shavings and curls
Pleasant smell
100% natural product, no harmful chemical or dye used
CONS
Might need to replace a bit quicker than chips
4. Cedarcide (Best Cedar Granules for Dogs Poops Area)
Cedarcide is one of the most popular brands which offer natural products for pets and humans. They are offering high-quality cedar granules that can be used for plants or dog bedding.
These cedar granules are 100% natural and accompany long-lasting smell, which will keep fleas, ants, mites, and mosquitoes away from your dog. The best part, as they are granules; therefore, they are perfect for dog bedding.
As compared to the other brands, you're getting a large bag that can cover up to 3500 sq. ft. Cedarcide cedar granules are one of the best bedding for dogs kennel, which repels mites, ants, mosquitoes, and ticks and keeps your pet safe.
PROS
High-quality product
Long-lasting smell
Bug repellent
Small granules for convenient
Reasonable price
CONS
Not ideal for small animals
5. Pet's Pick (Cheap and Best Cedar Mulch for Dog's Urine)
As you google "best mulch for dog area" or something like that, chances are you'll see this product. Pet's Pick is also a safe and effective product for the dog's bedding and odor control. The best thing, Pet's Pick is offering the cheapest cedar mulch; you're getting almost 2 – 3 times of product at the same price, which is incredible.
If we talk about the quality, which is fantastic while considering its price, it's a long-lasting and natural product. These are cedar chips, and you can use them for gardening or pet's bedding.
PROS
Natural quality
Long-lasting smell
Bug repellent and comfortable
Best value
CONS
A less absorbent than previous mulch
6. Rio Hamza Trading (Good Pine Bark Mulch for Dog's Poop Area)
While pine needle mulch considered unsafe for pets, but on the other hand, Pine Bark Mulch is quite beneficial for dog's bedding. Due to its moisture-absorbent quality and captivating smell, it's being used by many dog owners for their pet's bedding.
Pine bark smell not only captivating but also help in keeping the bugs away. Rio Hamza Trading pine mulch is fan dried, which helps to curb moisture and smell of urine.
Overall, apart from the cedar mulch, it can also be considered as an ideal option for dog bedding.
PROS
Natural and pet friendly
Fan dried
Can curb odor and moisture
Bug repellent
CONS
7. Kaytee (Best Pine Bedding for Dog's Area)
Compared to the previous mulch, Kaytee is offering much finer quality pine mulch for pets. Moreover, it's dust-free to ensure safety for your dogs.
Kaytee pine dog bedding is soft and ideal for small animals as well. This 100% biodegradable product is also useful in repelling some insects. However, it's not much absorbent as compared to the previous products and might not last much longer, but it ensures maximum comfort to your pets.
PROS
Comfortable and cozy
A fresh scent that lasts longer
No dust
CONS
8. Small Pet Select (Best Aspen Bedding for Dog's Yard)
This Aspen bedding isn't only ideal for small pets, but also, you can use it for dogs. As compared to cedar and pine, its smell is not that strong; moreover, it's not a bug repellent, but it's excellent bedding for pets.
There is no additive or dyed used, and it's 100% aspen shavings made from the logs. As compared to the cedar or pine, it's also an excellent absorbent and ideal for your pet urine area.
It's a perfectly fine aspen bedding designed for pets to ensure a safe and cozy bedding experience. The price of this product is slightly higher, but while considering safety, it's understandable.
PROS
Soft and fine bedding
Good absorbent
Recyclable and compostable
100% natural aspen shavings
CONS
Best Mulch for Dog bedding in 2022