If your dog bite, bark too much, or chew/eat everything, getting a suitable muzzle for your buddy can help you to avoid these annoying behavior problems. Moreover, a muzzle comes in handy when you're grooming or bathing your pet. But which muzzle should we choose as there are plenty of options available?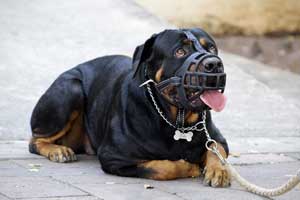 If you're in a hurry, check out our top choice BASKERVILLE MUZZLE. See the latest pricing on Amazon / Chewy.
Lucky you, because we have done extensive research and found the best muzzles for your dog in 2022. Whether you're looking for the best muzzle for dogs that eat everything, bite, chew, bark, eat rocks or just need a smooth one for grooming your pet, in this post, all of your questions will get answered. So, let's get started!
Best Muzzles for Dogs in 2022 – Buyer's Guide
Why Dog Muzzles are Essential?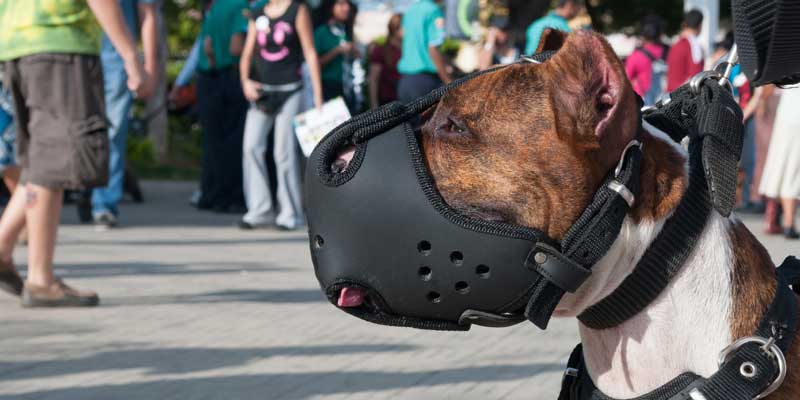 We can't deny from this fact that some dog owners refuse to use dog muzzles no matter what. They think that a muzzle can hurt the dog, or it's ferocious and abusive. But in reality, there is no single reason to avoid dog muzzle entirely. As Dr. Tony Johnson, DVM who explained in this beautiful article, why dogs should always be trained for muzzles. They said, any calmest or most even-tempered dog or can bite if provoked by a stranger when they aren't feeling well. Moreover, you don't need to quarantine a pet who has bitten someone.
However, a muzzle isn't always necessary, but some veterinarians and trainers say that in some instances, dogs may be unpredictable. Even the calmest and gentlest dog becomes aggressive when they are injured or having a fear of aggression.
According to the professional dog groomers, if a dog isn't trained adequately for accustomed to grooming may bite when we groom them against their will. In some medical conditions such as a tumor, any friendly canine can turn into a dreaded beast and can bite.
Apart from that, some specific so-called "dangerous breed" are required to be muzzled according to some country's law when they aren't on their owners. No matter what, it's like your dog will need to wear a muzzle at some point in life.
The Types of Dog Muzzles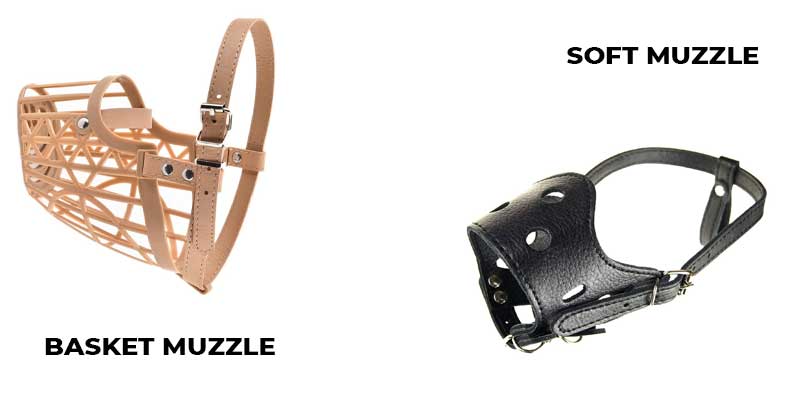 There are mainly two types of muzzles, and you have to choose the right one while considering the safety and effectiveness of your dog.
Basket muzzle – Basket muzzles considered the cruelest or less humane, but the opposite is true. Basket muzzles are more comfortable than soft muzzles when they fit correctly because the dog's mouth isn't being held closed. Most designs allow dogs to eat, drink, or pant, even some styles come with slits along and you can also give them some large treats such as sliced hot dogs. The basket muzzles are available in leather, plastic, wire, or even rubber material; therefore, it's crucial to choose it according to your dog.
However, there won't be any difference in the comfort if you have chosen a right fit muzzle, but a large dog or aggressive canines can break a delicate muzzle made from plastic. Therefore, you have to choose according to your dog.
Soft Dog Muzzle – Soft dog muzzles may look like they are the most comfortable, but they aren't, even in some cases, they the most dangerous. Soft muzzles are made from fabric such as nylon, mesh, or leather, and it wraps around your dog's mouth and holds it closed. This design is less comfortable as your dog won't able to pant; that's why it's hazardous. You might already know, panting is the canine version of sweating; therefore, a soft muzzle shouldn't be used in hot weather and for a longer time. You've already understood that a soft muzzle won't allow eating and drinking as well, and you won't be able to give him treats during a training program, which is quite essential.
However, both muzzles can accomplish the same goal if you have chosen the right and appropriately adjusted, but basket muzzles are much comfortable than soft muzzles.
How to Measure Your Dog for a Muzzle?
It doesn't matter which muzzles you have chosen if it doesn't fit correctly, then it would be uncomfortable for your dog or, in some cases, even useless. If the muzzle is too loose, it won't work as it supposed to. If the muzzle is too tight, on the other hand, your dog might face problems in breathing and panting. Now take looks at the below steps to know how to measure your dog for a muzzle, and ensure the right fit. It's quite simple and easy to do.
Measure the length of your dog's snout: Use a tape measure and measure from the down tip of the snout to the eye line (the line from his snout that is between the eyes).
Measure the circumference of his snout: Start from the top of your dog's snout and wrap the tape around his cheeks and come back to the top of the snout.
Measuring for Strap Length: Measure from the eye line to the back of your dog's head behind the ears to find out the required length of the strap.
Measure the neck circumference: Simply wrap the tape around his neck and measure the neck circumference.
Please take this measurement accurately and note it, as it's quite a crucial step before deciding the best muzzle for your dog. You can watch this video to understand how to measure your dog for a muzzle.
However, it's a good idea to purchase a muzzle from the local store, but if you have accurate information, you can buy online without any issue. As compared to the local stores, the online prices are generally lower, and you get lots of options to choose from.
Here we have reviewed some top-rated muzzles for pets, so let's have a look below.
QUICK OVERVIEW
Best Dog Muzzles at a glance
Best Muzzles for Dogs That Bite or Bark in 2022 – Reviews
1. Baskerville Ultra Muzzle (Best Muzzle for Dogs That Bite or Eat Everything)
Type: Basket | Material: Rubber | Size: All sizes
Made from the high-quality rubber material, the Baskerville dog muzzle is the best option if you want optimum safety and comfort for your dog. The rubber is shaped into the basket, which snug fit to your canine's jaw and disable it from biting. The best part, your dog can still drink, breathe, and pant properly, even it allows eating treats, which is perfect for training sessions.
The strapping is used in this muzzle is made from a soft material, which ensures maximum comfort. The muzzle is available in two colors, black and tan, along with six different sizes; therefore, it can fit almost any dog.
This Baskerville Ultra Muzzle is one of the best seller product, which is loved by lots of pet owners. However, this muzzle is quite durable and almost perfect for most dogs, but it might break if you have a dominant or large dog. In such a case, I would recommend an even robust muzzle with steel or leather, which I have reviewed below.
Overall, the Baskerville Ultra is one of the best muzzles for dogs in 2022, which can restrict your dog from biting or eating junk, and still allow all facial features such as drinking, breathing or panting to ensure safety.
PROS
Available in six sizes and two colors
Very comfortable and durable rubber quality
Allows breathing, panting, eating, and drinking
One of the best stable and snug fit muzzles that don't slide.
CONS
A large dog might break it
2. Good Boy Gentle Muzzle (Best Muzzles for Dogs That Bark)
Type: Soft | Material: Neoprene | Size: M, XL, XXL
If you want to restrict your dog from barking or chewing and not interested in attaching a football net on your dog's face, you can consider the Good Boy Gentle Muzzle Guard. The best thing about this muzzle is, it comes with Soft neoprene padding, which can make your dog feel quite comfortable and do its work.
This muzzle not only restrain your dog's ability to bite, chew but also it can stop barking. Your dog can still drink water, breathe, or pant properly. However, this muzzle is quite soft and comfortable, but I would again remind you not to use these types of muzzles for a longer time, as I said in the buyer's guide. The Basket muzzle is a better option is you accept it.
Good Boy muzzle is available in three sizes – medium, large, and extra-large, along with the blue and pink color options. Another exciting thing about this muzzle is, it's quickly wearable as it comes with high-quality buckles. Moreover, you're getting the adjustable option for the strap, which ensures a perfect fit.
Altogether, the Good Boy is probably the best soft muzzle for dogs that bark or bite/chew everything. The comfort level is pretty good; therefore, your dog won't have any problem with wearing it.
PROS
Soft neoprene padding provides excellent comfort
Available with three sizes and two colors
Allow drinking, breathing or panting
Quickly wearable and adjustable with buckle design
CONS
3. Canine Friendly (Best Muzzle for Short Snout Dog)
Type: Short Snout | Material: Nylon | Size: S, M, L, XL
Regular muzzles are usually molded to a shape, and it was quite challenging for the dog owners who have a short snout dog, but it's not anymore. However, nowadays, there are several manufacturers making muzzles for those unique dogs, but Canine Friendly is one of the best brands that is offering a reliable and durable muzzle. This short snout is made out of soft nylon material and comes with breathable mesh. Therefore, you don't need to worry about the comfort of your dog.
Canine Friendly muzzle is available in four sizes and two colors, and you can choose as your dog. It comes with adjustable buckles, which not only provides more flexibility but also saves time.
When we talk about the control, this muzzle won't let your down. Whether you're visiting a vet or grooming your dog, this muzzle is the best option for short snout dogs that prevent biting. The best thing, your dog can lick water and breath properly when the muzzle is on. Additionally, there won't be any disturbance in the vision as the muzzle mesh webbing has adequate spacing.
It is probably the best muzzle because it won't slide even when your dog try to shake it off. Whether you're visiting your vet, grooming, walking your dog, or just want to prevent it from chewing, this muzzle serves the purpose.
PROS
Available in four sizes and two colors
Made with soft nylon material and black mesh for max convenience
Adjustable sliding straps and buckles
Allow breathing, panting, and licking water
CONS
Some dog might find it annoying as it covers the whole face
Sizing runs a bit small
4. CollarDirect Pitbull (Best Leather Muzzle for Large Dogs That Bark, Chew, or Bite)
Type: Basket | Material: Leather | Size: Large
Carved out of the leather and crafted with hands, the CollarDirect muzzle is a very durable and comfortable option for large dogs. The rugged leather design might look a bit tough, but it provides the utmost ease to your dog. It restrains your dog from biting, barking, or chewing. You can also use this muzzle when grooming or walking your dog as it won't create any problem when worn for a long time.
However, this model I have listed is only available with a large dog and has a single color option, if you're looking for medium size or more color options you can check out another CollarDirect leather muzzle. This design comes more than just a blunt black color; it offers several options – pink, brown, grey, or chestnut brown. With the two adjustable straps, you can make some adjustments which provide more flexibility
As compared to the silicon or plastic muzzle, leather is considered as more durable; it's especially recommended for large dog breeds. If you're looking for a durable, robust, and comfortable muzzle for your large dog, the CollarDirect would be the great option in 2022.
PROS
Highly durable pure leather and handmade muzzle ensure high durability and excellent comfort
Proper ventilation, and allows drinking
Adjustable straps
Available in five colors and two sizes
CONS
No eating while the muzzle in on
5. BRONZEDOG (Best Wire Muzzle for Large Dogs That Bite)
Type: Basket | Material: Steel and Leather | Size: Large
While this muzzle might seem less humane, but the opposite is true; it's one of the most comfortable muzzles. The BRONZEDOG muzzle is made out of durable, lightweight steel and has soft leather padding, which won't hurt your dog even when worn longer. Four adjustable straps allow proper fitting and ensure more comfort.
There is lots of space for ventilation, which is helpful when the dog is panting and breathing. If you have a large and dreaded dog, then you should buy a durable muzzle like it because the plastic or other material won't last long. The better thing about this muzzle than the previous leather muzzle is, you can feed your dog water or treats, and it still restricts him from biting or eating from the ground.
If you have a large or extra-large dog, it's always a best practice to use a proper muzzle. Because any dog might exhibit unpredictable behavior anytime, and it's your responsibility. Some people might think it's unfair muzzling a dog, but it's ok and safe as the professionals suggest.
BRONZEDOG muzzle comes with robust build quality and supreme comfort. Moreover, it won't restrict the essential facial movements such as breathing, drinking, panting, or eating, which is excellent. There is one problem, this muzzle is only available limited sizes, and you can check out the BRONZEDOG store to find a smaller version.
PROS
Supreme durability with steel mesh and leather padding
Highly comfortable and safe
Four adjustable straps
Allow eating, drinking, panting, and breathing
Prevents from biting and eating from the ground
CONS
Only available in limited sizes
6. Dogs My Love (Best Leather Cage Basket Muzzle in 2022)
Type: Basket | Material: Leather | Size: Large
This muzzle must be used sparingly on dogs only in particular situations such as – your dog may bite any person or dog. This muzzle totally eliminates the risk of biting but also block feeding and drinking facility. If your dog requires some off-leash activities such as running or playing, this basket type muzzle is the best option.
Dogs My Love muzzle is crafted from real leather and riveted for better strength; also it allows panting and breathing easily. In terms of fitting, the Dogs My Love has done the best job, with the attached adjustable straps, the muzzle will always remain in place even if your dog tries to remove it.
However, this muzzle doesn't allow eating or drinking, but there is a plus side – your dog won't be able to eat any junk of the ground. It's quite helpful for those dog owners whose dog has the habit of picking or eating dirt or even feces – in parks or public places.
PROS
Made from durable and high-quality leather
Allows breathing, and panting
Prevents biting and eating junk
Fantastic and comfortable fitting with adjustable straps
CONS
Doesn't allow drinking or eating
7. REDLINE K-9 (Premium Real Leather Muzzle for Dogs in 2022)
Type: Basket | Material: Latigo Leather | Size: S, M, XL
REDLINE K-9 muzzle is made from the latigo leather, which makes this muzzle able to withstand moisture and provide more flexibility and durability. Moreover, unlike the previous muzzle, it's available in three sizes, which will probably fit your dog.
This muzzle is not only highly durable but also provides a smoother wearing experience to your dog. For ventilation, there are plenty of holes given, which make breathing and panting effortless. However, as it's a basket muzzle for dogs that bite or eat everything on the ground; therefore, if you want to feed your pet, you have to remove it.
In terms of design, this muzzle might look a bit shabby, but there is no compromise in the durability, and you can use it for almost any potential aggressive dog breed.
REDLINE K-9 muzzle promises the paramount durability and utmost comfort; it's a must-have tool for any aggressive dog breed.
PROS
Latigo leather muzzle ensures paramount durability
Satisfying comfort
Available in three sizes
Control your dog from biting
CONS
Not allows drinking or eating
Best Dog Muzzles of 2022
As I have discussed several types of muzzles, and I hope you have selected an ideal for your pet. One crucial thing I want to tell you, never muzzled a dog for a long time if it doesn't have proper ventilation. That's why I mostly recommend a basket muzzle; they provide maximum comfort; even some of them allow eating and drinking along with adequate breathing and panting facility.
Additionally, if you have a highly aggressive dog, then always choose a muzzle with robust material such as leather cage or wire, never trust on plastic or other materials as they break sometimes.
Again as you know, before purchasing a muzzle, measure your dog's snout accurately. That's it if you still have any questions you can comment below without any hesitation, we will get back to you quickly.
Thank you very much for reading!