In the unfortunate incident that you or your pet gets sprayed by a skunk, you want the last thing for that smell to linger. Going through this incident is not fun, so you need to get rid of the smell quickly.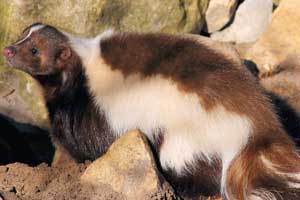 If you're in a hurry, check out our top choice, NATURE'S MIRACLE. See the Latest Pricing on Amazon.
Skunks have become pretty standard today, so you should be ready if your dog or house is sprayed by one. The awful stink can last for up to six weeks if you don't take care of it on time. For your poor puppy, you will need to do more than just let them sit outside for a while.
Luckily, today there are ways you can de-skunk your dog without having to use harmful products. Getting rid of the skunk smell requires immediate action, and you can get shampoo or spray that will remove the odor quickly. In this post, you'll know how you can choose the best skunk odor remover for dogs and make your fido smell great again. Moreover, you can also check out our top-rated recommendations.
Best Skunk Odor Remover for Dogs in 2022 – Buyer's Guide
Types of Skunk Odor Removers​
Depending on your preference and what your puppy is comfortable with, you can either get shampoo or spray odor remover. With skunks being everywhere these days, you need to be prepared to deal with them.
There is a wide variety of skunk odor-removing products available today. Most of them come in either shampoo or spray form. Shampoo odor removers can easily are ideal use during bath time, and you will be pleased with the results.
Sprays are also faster and more reliable when you want to get rid of the skunk smell. They work well to eradicate odors and not just cover them up. They are easier to use anytime you need them. They are versatile too if your dog has sat on the sofa or left the stink anywhere else.
How to Use Skunk Odor Removers on Dogs?​
While every experience with skunks is different, the smell always lasts way too long for comfort. If you want to get rid of the smell, you need to act as fast as possible. Firstly, you need to make sure that you follow all the instructions when you buy the product.
After taking into account all the instructions, put on some protective clothing. These items can include some gloves and old clothes. Next, apply the shampoo or spray to your dog's coat and rinse after. When you finish, rinse the dog for a more permanent effect.
What to Consider When Choosing Skunk Odor Removers for Your Dog?​
Once you know what your dog needs, it becomes easier to get products that are best suited for them. There is much more to consider before buying a spray or shampoo odor remover for your pet. Here are some essential considerations to make.
Allergies
Dogs are sensitive, so you should know any allergies your pet might have to certain ingredients. Make sure to check the ingredients on the bottle before buying the odor remover. Allergic reactions can be very harmful to dogs. You can try a patch test on the dog's coat to check for any harmful effects.
Dogs Coat
Some dogs have double fur coats, while others have fine silky hair. For white-colored dogs, you should make sure that the spray or shampoo does not affect the color. You should also consider issues like dry coat and insects before choosing a specific odor remover for your pet.
Dog's skin Sensitivity
An essential factor to consider is your dog's skin. Dog's have delicate skin types, so you should find out whether your puppy has oily, dry, or normal skin. Using the wrong kind of shampoo or spray to remove the skunk odor can harm your dog. Shampoos with ingredients like aloe vera have a cooling effect on your dog's skin.
Frequently Asked Questions
How long does it take to remove the skunk smell from a dog?
If left unattended, your dog can be stinking for up to three weeks. Using a quality skunk odor remover like shampoo or spray can help eliminate the smell much faster. Some odor removers can also remove the scent from carpets and other household items.
Are home remedies safe for removing the skunk smell from dogs?
Some myths about using home concussions like tomato juice to remove skunk smell are not helpful to your dog. Some of these remedies can be harmful to your dog's coat and color. Only used tested and approved products to eradicate skunk scent.
What are the side effects of a dog getting sprayed by a skunk?
Skunk odor is not harmless. Aside from the smell, dogs can ingest the scent, which is disgusting and dangerous for them. Side effects include tummy trouble and eye and mouth ulcers.
QUICK OVERVIEW
Best skunk odor removers for dogs at a glance
Best Skunk Odor Nuetralizers for Dogs in 2022-Reviews
With a large number of skunk remover products to choose from today, it can be very overwhelming. That is why we made a list of the best skunk odor removers you can use to have your dog smelling fresh again.
1. De-Skunk (Best Skunk Odor Neutralizer Shampoo for Sensitive Pets)
Type: Shampoo | Size: 32 Ounces
This shampoo is the best shampoo for accidents like skunk sprays. This skink odor remover breaks down and dissolves the oils that carry the skunk scent. It can get rid of that foul smell and is safe to use on your pet. It is gentle on your puppy's coat, and you don't have to worry about it irritating their skin while you wash them.
Use this shampoo as soon as you can to remove the skunk smell. You can apply it from the dog's head to the tail while massaging it into their coat. Leave it for around 3 minutes, then rinse thoroughly before repeating. The quality products ensure the skunk smell is gone fast.
PROS
It does not irritate the dog's skin.
This shampoo works better than homemade odor remover solutions.
With the instructions, it is easy to use.
The shampoo leaves the dog's coat smooth and shiny.
CONS
The shampoo doesn't remove the odor altogether.
You might have to wash your dog repeatedly to get rid of the smell.
2. Skunk-Off (Best Budget Skunk Odor Remover Shampoo for Dogs)
Type: Shampoo | Size: 8 Ounces
Get this 8-ounce bottle of dog shampoo to get rid of that awful skunk smell. It works well to remove skunk odor and safe for your dog to use. This cost-effective option is more practical and budget-friendly to use when your dog gets sprayed. This product is easy to use and versatile to use in your home too.
It leaves a long-lasting and fresh fragrance, so you forget all about the skunk odor. The shampoo reaches the root of the smell to eradicate it. With the easy-to-follow instructions, you will have your puppy smelling fresh in no time.
PROS
The shampoo is straightforward and easy to use
It leaves a pleasant and fresh fragrance.
Versatile to use on different surfaces
It is an affordable skunk odor remover.
CONS
You might have to use it repeatedly before the skunk odor wears off.
3. Nature's Miracle (Most Effective Skunk Odor Eliminator for Dogs)
Type: Liquid | Size: 32 Ounces
This formula contains skunk neutralizing properties to get rid of that skunk odor fast. It doesn't just cover up the foul smell. It gets rid of it to get your puppy smelling pleasant again. It works fast to remove all traces when applied.
This odor remover is sufficient even for dogs that ran into skunks a month ago. It is ideal to have in hand in case of any emergencies. If you follow the steps, your nose and dog will be thank you.
Nature's miracle odor remover is safe to use around kids as long as you store and use it according to the given instructions. When removing the odor, apply it, wait around 5 minutes and then finish with a pet-friendly shampoo. It also removes skunk odor from carpets and clothing.
PROS
It is efficient in removing the skunk odor.
It works fast to remove the foul smell from your dog.
The formula removes the skunk smell and doesn't just ask it.
This odor remover is safe to use on a dog's coat and skin.
CONS
You need to use it with a quality de-skunk shampoo.
4. Van Den Heuvel's R86 (Best All-Purpose Odor Remover)
Type: Powder | Size: 20 Ounces
This powerful odor eliminator works fast to remove the skunk smell from your dog. It is biodegradable and non-toxic to use when a skunk sprays your dog. You can easily combine it with other products to have your pet smelling better without worrying about side effects.
It will not leave any lingering fragrance or perfume smells either. With the natural ingredients, it is safe to use for pets. You can mix it with water or add it to the shampoo while washing your dog.
The Van Heuvel odor eliminator features natural ingredients to work immediately and eliminate odor within half an hour. It ensures that the scent will be gone, and it won't harm the environment either. It also has a light fragrance that leaves your dog smelling great.
PROS
It is sufficient to remove skunk odor in minutes.
This odor eliminator is non-toxic and safe for the environment.
The natural ingredients help eliminate the skunk odor.
It leaves your pet smelling fresh and clean.
CONS
It only covers up the skunk smell and doesn't completely get rid of it.
The scent wears off, so you need to use it regularly.
5. Nature's Miracle (Best Odor Neutralizer Shampoo with Conditioner)
Type: Shampoo with conditioner | Size: 32 Ounces
This pet stain and odor remover are excellent for removing skunk odor from your dog. It is ideal for getting rid of the unpleasant smell and acts as a deodorizer for long term odor control. This shampoo and conditioner rinses easily and leaves your pet's fur soft.
You can get it in a wide variety of odors to cleanse and condition the skin and coat of your pet. It is a great value product for odor control. You don't have to worry about it leaving your dog's skin dry or itching.
The Oatmeal ingredients found in this formula soothes and hydrates your puppy's skin. It works well when your pet has sensitive skin. The shampoo also enhances your dog's hair softness to keep it cleaner for much longer. With a pleasing honey sage scent, your dog will smell great all day.
PROS
The shampoo leaves your dog smelling great and fresh.
It is fast-acting to eliminate the skunk odor.
This product is cost-effective to use frequently.
Ideal for dogs with sensitive skin without drying them out
CONS
It does not have good conditioning properties.
6. PetPost (Best Natural Skunk Odor Remover for Dogs)
Type: Shampoo | Size: 16 Ounces
With this bad-smell killer, you can get your puppy smelling fresh in a few hours. This product is the most effective odor eliminator to use on pets. It doesn't just cover up the smell. It locks with it and eliminates it permanently. You no longer have to wait for weeks to get rid of that scent.
This effective shampoo is sure to leave your pet feeling happy and healthy. Start by rinsing your dog first, shake it, and then apply it while massaging it into the fur. It creates a rich lather to spread on your dog's coat quickly.
Please keep it away from your dog's sensitive eyes to avoid injuries. You can repeat it as frequently as you need to until you get the smell out. It is safe to use on your dogs, and with just a few uses, you can get the scent out.
PROS
This shampoo is more effective at getting rid of the skunk smell.
The shampoo leaves your dog's coat feeling soft and smooth.
The fragrance is pleasant and not too strong.
It is made with natural ingredients to be safe for pets and the environment.
CONS
The bottle size is too small for large dogs.
Best Skunk Odor Eliminator in 2022
For pet parents who get frequent skunk visits, you might want to consider getting a skunk odor remover. They are excellent for getting rid of the skunk smell as soon as the skunk has sprayed your dog.
Sometimes dogs never learn, and you might need to clean them over and over again. Make sure to consider quantity, price, and your dog's preference before choosing the best skunk odor remover to use on them. With one of these products, you will have your dog smelling fresh again.