Best Sardines for Dogs & How to Choose
Not a substitute for professional veterinary help. Learn more,
When you purchase through links on our site, as an Amazon and Chewy Associate I earn from qualifying purchases. Learn more.
Sardines aren't just tasty treats for your dogs, but also they offer tremendous benefits such as immune-boosting, healthy heart, and anti-inflammation. These small fishes are enriched with omega-3 fatty acids, vitamin B-12, calcium, niacin, iron, potassium, magnesium, zinc, phosphorous, and Coenzyme Q10 (CoQ10). If you're looking for the best sardines for dogs, then you're on the right page. We will discuss what should be avoided when choosing sardines for your dog and how to feed them.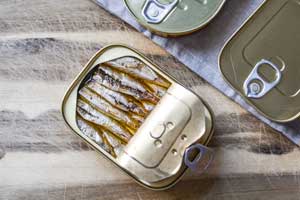 Best Sardines Fishes for Dogs
Despite having small in size and slightly smelly, sardines are still fantastic food to add to your dog diet?
Why your dog needs these small fish in his diet?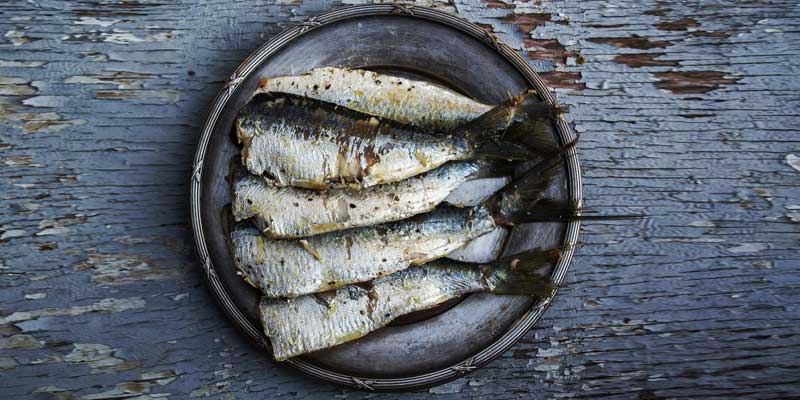 Sardines are an abundance of essential nutrition, and they are quite advantageous for humans or animals. There are several reasons to add these small fish into your dog's diet. For instance:
Heart health: With the presence of vitamin B-12, sardines promotes cardiovascular health. Moreover, DHA and EPA found in these small fishes are super helpful for overall heart health.
Brain and eye health: Some studies show that sardines support cognitive health in aging brains because it contains DHA. A study conducted on puppies found that DHA improves cognitive learning and motor skill during the development stages.
Immune support: Omega-3 fatty acid and Coenzyme Q10 have many health benefits, including reducing inflammation and improving the immune system.
Helpful in Arthritis: According to the research, Omega-3s found in the sardines reduce arthritis symptoms.
Apart from that, sardines provides lots of benefits to dogs, such as kidney health, and relieves allergies. Now let's look at how you should choose the sardines to ensure safety and maximum benefit to your pet.
How to choose the best sardines?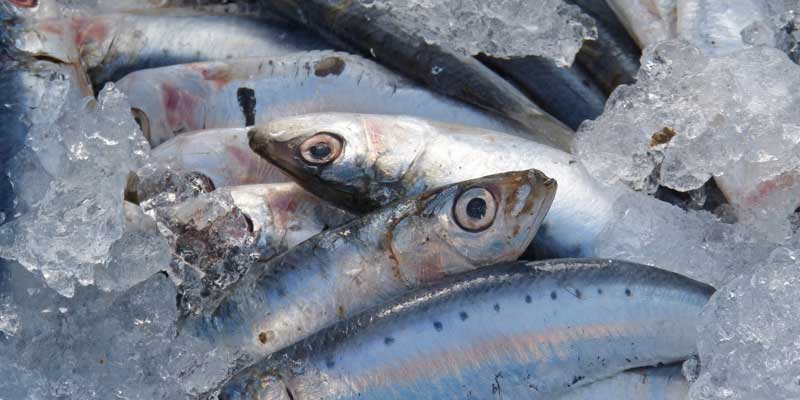 First of all, you should check the package's ingredients before purchasing sardines and look for the lowest-sodium option available. It would be best if you avoid sardines slathered in the sauce or oil, such as mustard, ketchup, etc. You should also not choose the sardines packed with sunflower, soy, corn, safflower, or other Omega-6 rich oils. You should use the entire sardines can within two days after opening.
Wild-caught sardines are the best choice, and make sure they are coming with just water in the package. Another word of caution, you shouldn't feed sardines to your pet daily, and too much fish can form crystals, especially in cats.
How to feed the sardines to your dog?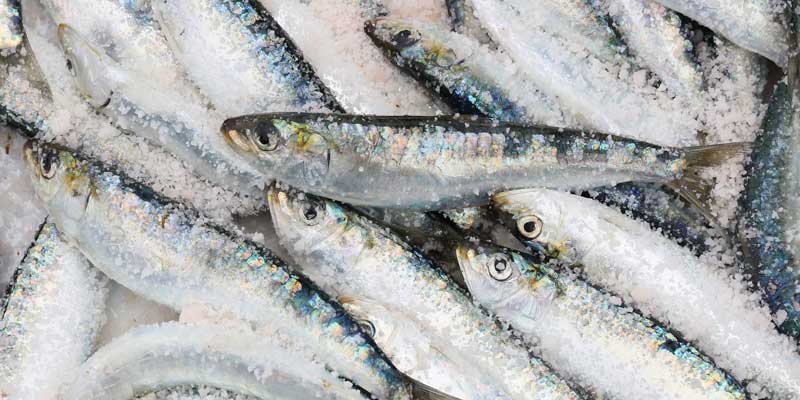 One small piece of sardine contains about 25 calories and 175 mg of omega-3 fatty acids, which can be a quite weighty treat for dogs. You can cut sardines into some small pieces to cut the calorie. However, for large dogs, you should give feed them accordingly.
You don't need to worry about the small fishes' bones as they are safe for dogs and cats. However, you can cut them into smaller pieces for more convenience.
It would help if you gradually started feeding with small amounts of sardines to your dogs as it can upset the stomach in the starting. You can also follow this cooking recipe by Patricia Jordan, DVM; it could be helpful.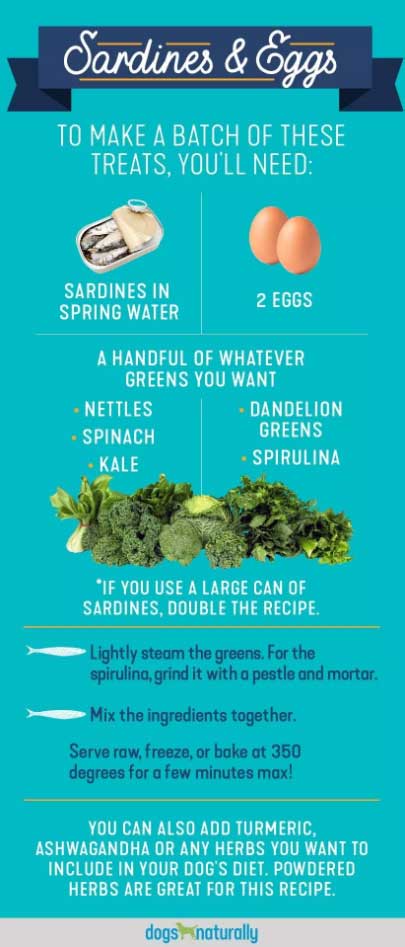 Best rated sardines for dogs at a glance
Size: 12x 4.4 Ounce Packs
Type: In water
Size: 12x 4.42 Ounce Packs
Type: In water, skinless and boneless
Size: 12x 3.75 Ounce Packs
Type: In water
Size: 12x 4.37 Ounce Packs
Type: In water
Size: 12x 4.25 Ounce Packs
Type: In water
Size: 90 gram Packs
Type: Dried
Size: 18x 3.75 Ounce Packs
Type: In water
Best Small Fishes for Dogs in 2022 - Reviews
1. Wild Planet (Best Sardines for Dogs with Low Sodium)
Wild Planet is one of the reputed brands when it comes to seafood. They offer different types of wild-caught fishes such as yellowtail, mackerel, and sardines. This sardine's package is coming with water, and there is no salt added. Moreover, this product is gluten-free and provides maximum beneficial nutrition.
The best thing about Wild Planet sardines is that it offers a meager sodium amount compared to other brands, and it's a salient reason to recommend this product.
Wild Planet sardines are harvested in the north pacific with sustainable methods, healthy for the earth and you. Whether you want to use these sardines or feed to your pet, it's a safe and high-quality product.
Wild Planet sardines are available in 4.4-ounce packs; therefore, you don't need to worry about getting them rancid. Comparatively, these sardines are slightly costly, but if you're looking for a quality product, you won't regret it.
Low in sodium
Wild-caught
Pure sardines in water
2. Connetable (Best Skinless and Boneless Sardines with Low Sodium)
Connetable is another premium quality product available at an affordable price. The best thing, these sardines are boneless and skinless; therefore, you can feed them directly to your pet without any issue. 
Connetable sardines are wild-caught and packed in water to ensure quality. While considering the price, product quality is seriously fantastic. The only issue is, it's slightly higher in sodium.
This product is gluten-free, and hand packed to ensure higher quality. Moreover, packing used for these small fishes is easy to open BPA-free.
Skinless and boneless
Great value for money
Wild-caught and packed in water
3. King Oscar (Premium Quality Sardines for Dogs)
King Oscar is also one of the top brands in the seafood industry. The reason I have put the Wild Planet on top because of the low sodium value; otherwise, you're getting better quality sardines in this pack.
Unlike other brands, King Oscar offers more fishes per pack, which is excellent. Moreover, there is no preservation added, and you're getting 100% pure sardines.
King Oscar sardines are available in several flavors, but pure in spring water specimen is perfect for dogs. Moreover, they offer certified recyclable aluminum cans packaging with easy-open pull-rings to preserve freshness and quality.
King Oscar wild-caught sardines are slightly pricier, but the quality is certainly top-notch.
Maximum sardines in one can
Wild-caught 
Best quality 
Slightly higher sodium percentage
4. Season (Best Value Sardines for Dogs in 2022)
If you're looking for budget-friendly small fishes for your fido, you can consider the Season brand. They are offering gluten-free and wild-caught sardines for a reasonable price.
Their product doesn't contain any harmful chemicals; however, the sodium amount is slightly higher. It offers 7% sodium per serving, whereas Wild Planet sardines (1st recommendation) only contain 3%. 
The best thing about Season Sardines is the price, which is comparatively quite lower than other brands. If you're looking to add some healthy treats into your pooch's diet at an affordable price, you can consider these small fishes.
Wild-caught natural
Gluten-free
No BPA in can lining
Quality might be a bit lower
5. Ocean Prince (Cheapest Sardines in Water with Low Sodium)
Ocean Prince sardines are probably the cheapest option in 2022 if you're looking for small fishes for your dog. The package contains 12 cans of 4.25 ounce. Moreover, you're getting pure sardines in water only that provides higher nutritional value. The best thing, it has only 4% of sodium, which is good for dogs.
These sardines are wild-caught, which is good for the environment. Moreover, the cans used for packing are BPA free. However, the quality isn't better than the other sardines that I listed above, but you're getting a decent value for the lowest price.
For this lower price, you can also check out the Crown Prince Sardines, which is also a cheaper product with a low sodium percentage,
Wild-caught sardines
Low sodium
In water
Cheaper
Nothing to say at this low price
6. Granville (Best Dried Sardines for Dogs)
Granville sardines comes without preservatives or chemicals; they are the perfect treat for dogs or cats. These small fishes dried with the natural process to preserve its quality.
As compared to the other sardines brands, this product is costly. However, these are dries fishes that provide more nutritional value in small quantities.
Granville Island sardines are available in a 90 gram pack, and it's an approved product by the Canadian food inspection agency.
Higher nutrition value
Approved product 
Naturally dried
7. Brunswick (Another Good Option at Reasonable Price)
Brunswick sardines are also a viable option in 2022; the best thing you're getting 18 cans instead of 12 cans almost at the same price as the other brands, at least for now when I am writing.
If we talk about quality, it's pretty decent. Brunswick sardines are packed in pure spring water and provides natural and pure taste. There is no salt or oil added, which is perfect for feeding dogs.
Overall, while considering the price, this product worth a shot.
Great value for money
Packed in pure spring water
Fishes are slightly bigger than other brands
Best Rated Sardines for pets in 2022
Thank you very much for visiting this site! Did you find this article helpful, or have any questions? Please feel free to comment below; we will get back to you shortly.
Medical Disclaimer: The contents of the Two Dog Zoo website, such as text, graphics, images, and other material contained on this site ("Content") are for informational purposes only. The Content is not intended to be a substitute for professional veterinarian advice, diagnosis, or treatment. Always seek the advice of your veterinarian with any questions you may have regarding the medical condition of your pet. Never disregard professional advice or delay in seeking it because of something you have read on this website!
Two Dog Zoo is supported by its audience. When you purchase through links on our site, as an Amazon and Chewy Associate I earn from qualifying purchases. Learn more.