For dematting a dog's hair, along with a detangler spray, you'll also need a dematting comb. A dematting spray only loosens the knot and mats; ultimately, you'll need a dematting tool such as a comb to clear them up. Even if your dogs don't have any tangling or mats, it's always a good idea to brush their hair regularly.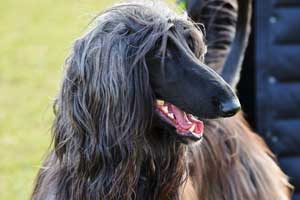 If you're in a hurry, check out our top choice PAT YOUR PET. See the latest pricing on Amazon.
In this post, we are going to talk about what you'll need to know when choosing the best comb for matted dog hair. Moreover, we have recommended some top-rated dematting comb of 2022, so let's check them out!
Best Brush for Matted Dog Hair in 2022
Brushing and grooming is an essential part of caring for a dog, and you have to do it regularly. A bit of negligence can turn a canine coat's tangles and knots into mats, which could be hard to manage. Fortunately, with the help of detangler sprays and grooming tools, you can easily make your dog's hair fabulous again. That's where dematting combs come in handy; you can remove dead hair from your pooch's coat, or clear those stubborn mats that were demolishing your dog's charming.
How to choose the best dematting comb for my dog?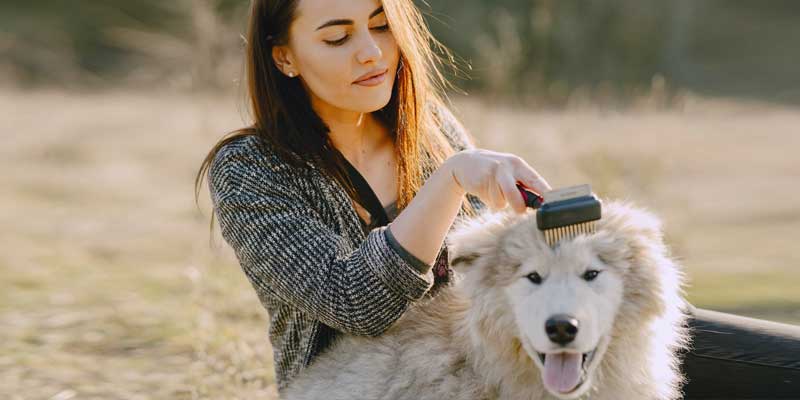 Choosing a detangling comb mainly depends on your dog's coat and length. However, the mats are typical in the long-haired breeds such as Yorkshire, Collies, Maltese, Bichon Friesen, etc., but dogs with short hair can also develop knots and mats. So, which type of comb should we choose as per our dog breed:
Short-haired breeds: For dogs with short hairs such as Dobermans, Labrador Retrievers, or pugs, the bristle brush is considered ideal, it can help you to deal with your dog's loose hair, or spreading the natural oil. These dog breeds usually don't develop the knots or mats, and they don't require more than 2-3 times brushing in a week.
Long-haired breeds: Yorkshire Terrier, Silky Terrier, and Maltese, etc., these dog breeds with long and silky hairs require a fine-toothed and slicker brush. Some kinds, such as Shih-Tzu, may also need bristle brush along with fine-toothed comb because they have a soft and long double coat. Apart from that, for longer coat breeds with an undercoat such as Chow Chow, Great Pyrenees, and Kuvasz, a slicker comb with wide-tooth works best. If you have a long-haired breed, then usually 2-4 times brushing is ideal to avoid tangling and matting. In some cases, you may need to use some other dematting tools such as shampoos and spray for maintaining your dog's coat.
Curly hair breeds: These dog breeds have a higher potential of getting mats and knots easily, Bichon Frises, Poodles are perfect examples of that. For these dog breeds, a comb isn't enough to prevent tangling and matting; you have to add a detangler spray and shampoo into your dog's routine. You can consider a slicker brush or comb, but the rake is a much better choice if your dog already has a matted coat. Rake comes with sharp teeth that are designed to cut through the mats or knots easily. If you have a curly four-legged friend, then you might need to groom your pet much frequently, perhaps daily, to maintain a healthy coat.
Thick-haired breeds: Dog breeds such as Malamutes and German shepherds have thick fur, and they require a rake to remove any undercoat dirt or loose hair.
Remember, for an effective dematting, a comb isn't enough. You will also need to use a detangler spray to loosen those knots and mats.
We have already written are article on best dematting spray, you can also read it. Now you know how to choose the best detangler comb for your dog. Let's come to the next step, which is – how to use a detangler comb?
How to use a dematting comb?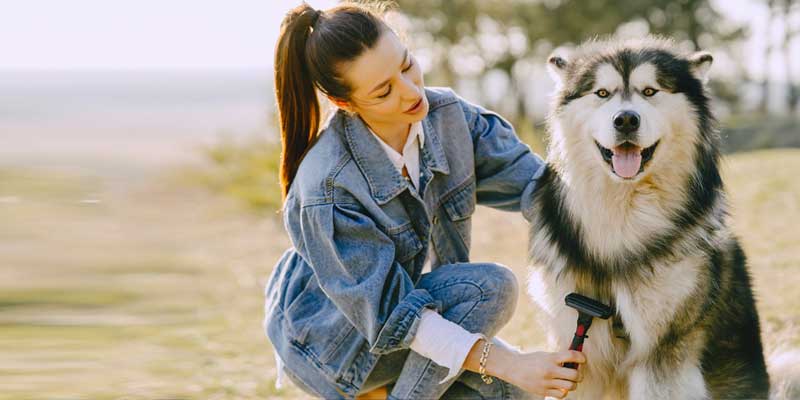 Before running the dematting comb, you have to use enough detangler spray to make the area damp. It will take a little bit of time to loosen knots and mats, especially if they are stubborn and twisted.
Now use a dematting comb that we have recommended, if you're dealing with dogged mats, a rake would be the best. Hold the base of a tangle, and move the brush/comb from the loose mats to the worst affected area. The sharp teeth of the rake should cut out the mats or knots; if not, split the hair into vertical parts and work with small pieces. Lastly, shave the tangled part, you can use a scissor or electric clipper to do this job.
General FAQs
Is matted hair painful for dogs?
Matted hair not only painful for dogs but also can cause some infection if the skin tear-out. In severe cases, matted skin can cause restrict blood flow and cause hematomas.
Should I shave my matted dog?
If the mats are quite complicated and twisted, then shaving is the only option, and you might need to hire a groomer. The problem with shaving is, especially with the double-coated dogs, it can expose your dog to a higher risk of overheating, sunburn or skin cancer.
Should I cut my dog's matted hair?
Please do not try to cut the dog's matted hair, as they are quite hard, and you might even harm your dog's skin accidentally. You should use a detangler spray and dematting brush; you might also need a professional's help if the mats are complicated.
Do dog groomers wash or cut first?
It's always the best practice to wash your dog before grooming. You can use detangler shampoos or spray to ease your work.
What dog breeds should not be shaved?
Usually, double-coated dog breeds shouldn't be shaved, for instance: Golden Retrievers, Aussie, Shepherds, Newfoundlands, Shelties, and Bernese Mountains.
Why do dog groomers shave the belly?
There are some areas of a dog's body that likely to get pests and parasites; it includes armpits, tail, ears, neck, belly, and face. That's why dog groomers shave these parts to prevent infest.
QUICK OVERVIEW
Best dog dematting combs at a glance
PAT YOUR PET

RECOMMENDED

Type: Rake, dual-sided
Teeth: 9 and 17
Ideal for: All coat type

View at Amazon
GOPETS

PREMIUM CHOICE

Type: Rake, dual-sided
Teeth: 12 and 23
Ideal for: All coat type

View at Amazon
PET REPUBLIQUE

BEST VALUE

Type: Rake, dual-sided
Teeth: 12 and 23, other model available
Ideal for: All coat type

View at Amazon

View at Chewy
MIU COLOR

CHEAPEST OPTION

Type: Rake, dual-sided
Teeth: 6 and 11
Ideal for: All coat type

View at Amazon
RUBOLD

Type: Rake, dual-sided
Teeth: 9 and 17
Ideal for: All coat type

View at Amazon
MARS COAT KING

MOST DURABLE

Type: Rake
Teeth: up to 30, other model available
Ideal for: All coat type

View at Amazon
FURMINATOR

ADJUSTABLE

Type: Rake, adjustable
Teeth: 16, other model available
Ideal for: All coat type

View at Amazon
ANDIS

BEST STEEL COMB

Type: Comb
Size: 7 1/2″ and 10″
Ideal for: All coat type

View at Amazon
POODLE PET

Type: Comb
Size: N/A
Ideal for: All coat type

View at Amazon
FOUR PAWS

BEST FOR CURLY HAIR

Type: Comb, Pin
Size: N/A
Ideal for: All coat type

View at Amazon
SAFARI

BEST FOR LONG FUR

Type: Comb, serrated blades
Size: N/A
Ideal for: All coat type

View at Amazon

View at Chewy
Best Comb for Matted Dog Hair – Reviews
1. Pat Your Pet (Best Dematting Comb for Dogs in 2022)
Type: Rake, dual-sided | Teeth:  9 and 17 | Ideal for: All coat type
Pat Your Pet is offering outstanding quality dematting comb, which can smoothly go through the stubborn mats and knots. The best thing, this tool has two heads, one has 9 teeth, which is useful for dematting, and the second with 17 teeth can help you to deal with your dog's shedding problem.
The inner teeth of this brush are highly sharp that can cut the complicated mats quickly and make your canine's coat untangled and smooth. On the other hand, the outer part of the blade is roundly designed so it won't hurt your dog. Moreover, it's made of robust stainless steel, and it's rust-free.
Surprisingly, this dematting tool comes at the most competitive price, which is another reason that we like it. However, this dematting rake is ideal for medium to large dog breeds, but if you're looking for even more powerful and durable tool, then you can consider our next recommendation.
2. GoPets (Premium Quality Dematting Comb for Dogs with 2 Sided Rake)
Type: Rake, dual-sided | Teeth:  12 and 23 | Ideal for: All coat type
Durable like a rock and smooth like butter, GoPets is a premium quality dematting comb and rake that can effortlessly vanish mats and knots from your dog's coat without hurting him. The build quality of this product is just outstanding; it comes with a durable and thick non-slip silicone gel handle. Unlike the previous tool, you're getting 12 and 23 teeth with both-sided design that is perfect for fixing the tangling, mats, knots, and shedding.
With the highly sharper teeth, precise grip, and versatile design, this tool can make your dog's hair care painless. It good to mention here, it's always a best practice to apply detangler spray or similar product before using any dematting or detangler brush; it would make the grooming process more comfortable. The product quality is undoubtedly impressive, but it's slightly costly as well.
3. Pet Republique (Best Value Dematting Comb for Dogs in 2022)
Type: Rake, dual-sided | Teeth: 12 and 23 | Ideal for: All coat type
Pet Republique tool is another excellent quality dematting tool that you can consider for your pet. With the durable and ergonomic handle and 12+23 tooth design, you can effectively tackle your dog's matted hair and shedding problem.
This tool comes with the rounded outer edges; those are safe for your pet skin, while the sharper inner blade can take care of the complicated mats and knots. Even your dog has sensitive skin; this tool won't harm him. As I said, this tool is also helpful for your dog's shedding problem because it comes with dense 23 teeth on the other side.
In terms of durability, you're getting more than you're paying for. Pet Republique is backed with stainless steel teeth and sturdy ergonomic handles, which ensure a long life. Overall, it's a well-priced product with decent build quality and effectiveness.
4. MIU COLOR (Cheapest Detangling Comb with Two-Sided Rake)
Type: Rake, dual-sided | Teeth: 6 and 11 | Ideal for: All coat type
MIU COLOR dematting comb is the cheapest option that we found so far, and it comes with surprisingly good quality and two-sided rake. However, the teeth count is less than other products, but you won't be disappointed in the build quality or performance. This cheaper dematting tool is featuring 6+11 teeth make it a versatile tool for working with mats and sheds. It's compatible for all sizes pets and can remove loose hair, mats snd tangles easily.
This brushing cum dematting tool comes with a durable & non-slip handle to ensure a comfortable grip and efficient working. While the provided eyelet makes it easy to store, clip, or hand. Additionally, this product is available in blue and yellow colors.
Altogether, if you're looking for a bargain, MIU COLOR detangler comb might be the best option that doesn't compromise the features drastically.
5. RUBOLD (Another Considerable Dematting Tool for Dogs)
Type: Rake, dual-sided | Teeth:  9 and 17 | Ideal for: All coat type
While in terms of design, this product may look like the previous MIU COLOR, but it's a serious quality dematting brush/comb which ensures maximum safety and hassle-free coat care of your dog. RUBOLD dematting tool is designed with 17+9 precision teeth that make dog's hair caring a piece of cake. It makes detangling, de-shedding, brushing and dematting easy and straightforward.
When you're dealing with stubborn mats its 9 teeth side will do the job, while 17 teeth side is ideal for de-shedding and thinning. Whether you have a puppy or dog with sensitive skin, you can use this product on any dog without any hesitation. The best thing about the RUBOLD tool is it comes with a full money-back guarantee if you're not 100% satisfied, it's a big commitment.
6. Mars Coat King (Most Durable Dematting Tools for Dogs)
Type: Rake | Teeth:  up to 30 | Ideal for: All coat type
If you're looking for the most durable and long-lasting grooming or dematting tool for your pet, Mars Coat is probably the best choice. However, it might seem a bit old school tool, but in terms of functionality and efficiency, it won't let you down.
The best thing it's available with several teeth configurations, you can choose from 8 teeth to 30 teeth model as per your requirements. Whether you want to trim out the dead hair or wish to unravel & demat your dog coat, this tool can do it efficiently.
This product comes with a wooden handle and tempered high-grade stainless steel blades that entrust the supreme durability and longer life. However, you have to spend a bit more than other products for the Mars Coat King dematting tool.
7. FURminator (Fantastic Dematting Comb with Adjustable Feature)
Type: Rake, adjustable | Teeth:  16 | Ideal for: All coat type
If you have different types of dogs in your home and looking for a universal dematting tool, FURminator could be a viable option. This tool comes with an adjustable edge design and can be used for all coat types. It has an extender button on the top, which allows you to change the teeth length, and a tab lock button on the side keeps them in place.
This product is not only versatile but also quite robust and durable. It accompanies a non-slip handle with scratch-resistant stainless steel teeth. The product can remove mats, tangle, knots, and dead hair out of the coat. Moreover, it's rounded corner design won't affect your dog's skin in any way.
Whether we talk about the durability, features, or price, FURminator is one of the best dematting tools of 2022.
8. Andis (Best Steel Comb for Brushing, fluffing, and Dematting)
Type: Comb | Size: 7 1/2″ and 10″ | Ideal for: All coat type
Andis steel comb is designed to finishing and fluffing the dog's coat, but it's also useful in removing tangler, mats, loose hair, and dirt. It is the most simple tool with no-frill and durable design. Moreover, it's quite lightweight and won't hurt your hand when using it for a long time.
This steel dematting comb comes with two sides, one side with dense and finer teeth is ideal for fluffing and brushing, while the coarse teeth side is perfect for dealing with mats and tangles. All teeth are roundly designed, that doesn't hurt your dog's skin and provides a comfortable grooming experience.
Apart from the dematting or brushing, this tool is ideal for stimulates skin and follicles. You can also use this as a calming tool for your puppy.
9. Poodle Pet (Another Fantastic Steel Comb for Dogs Matted Hair)
Type: Comb | Size: N/A | Ideal for: All coat type
Poodle pet comb is slightly different than the Andis grooming tool; it has a non-slip handle, which allows better gripping. Moreover, it has a dual-action design with short and long teeth; therefore, it's perfect for detangling, removing knots, and eliminating the matted hair.
This comb backed with stainless teeth; they allow efficiently working with mats and tangles. However, this product is valid on mats and knots, but if you're dealing with stubborn and twisted matted hair, you have to consider a rake tool.
10. Four Paws (Best Dematting Brush for Curly Hair Dogs)
Type: Comb, pin | Size: N/A| Ideal for: All coat type
Four Paws dog is one of the best dog brushes for curly hair, and it's ideal for medium and long hair as well. This budget grooming tool not only suitable for dematting, or detangling but also it's a fantastic de-shedding comb as well. This brushing tool is supported with stainless steel pins; those are cruel enough for clearing up the matted hair and still safe for your pet's skin.
If you use this tool regularly on your dog, it can reduce the mats and make your canine's coat healthier. Four Paws brushing comb is quite useful for curly dog hair; it's probably the best pin brush for sheepadoodle and similar dog breeds at the budget price.
11. Safari (Best Dematting Brush for Long, Matted Dog Coat)
Type: Comb, serrated blades | Size: N/A | Ideal for: All coat type
Safari tool is specially designed for coarse or long matted coat, and suitable for medium to longhaired dogs. This product is offering serrated stainless steel blades; so it can comb out more tangles, knots, and mats effortlessly. But don't worry, the tip of the bladed is rounded; it won't harm your dog.
The blades are reversible and suitable for left or right-handed people equally. Additionally, it has a soft steel handle, which makes brushing and grooming more enjoyable. If you have a long hair breed, it could be the best fur brush for your dogs.
As compared to the other brands, safari is offering a decent product for a great price; it's another reason for considering it.
Best Detangling Dog Brush/Comb of 2022