Turkey Tail mushroom has colored rings that look like a turkey tail, so it's called by this name. However, Its scientific name is Coriolus Versicolor and also know by several other names such as Kawaratake, Krestin, Yun Zhi, and many more. Usually, the turkey tail mushroom grows on the dead logs all around the world. This fruiting body of the fungus is filled with several beneficial compounds such as Beta-glucans, polysaccharopeptide (PSP), and polysaccharide-K that are very useful for dogs.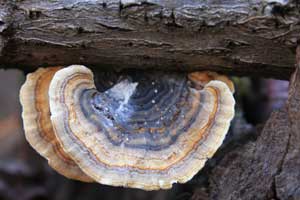 If you're in a hurry, check out our top choice HOST DEFENSE. See the latest pricing on Amazon.
In this post, we will talk about the best turkey tail supplement for dogs since they are available in different types (fruiting body, hot water extract, and Mycelium). Moreover, we will also discuss the advantage of the turkey tail supplement and how to use it.
Best Turkey Tail Supplement for Dogs
Yun Zhi is a traditional drug that formulates with the Turkey tail mushroom. Turkey tail mushroom is being used in many Chinese primitive medicines for centuries; it has many uses such as immune-boosting, energy enhancement, reduces phlegm, and clear dampness.
If you're looking to buy the turkey tail supplement for your dog, there are several types available, and you have to aware of that.
Types of turkey tail mushroom supplements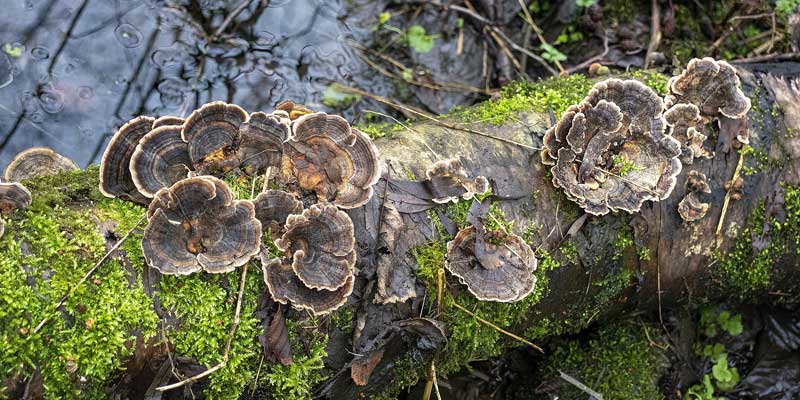 Fruiting body
When the entire body of the turkey tail mushroom is dried and powdered, it's called the fruiting body supplement. This raw type of mushroom could be harmful to your dog as it can irritate the liver.
Mycelium
Mycelium is the root part of the turkey tail mushroom, and it's usually grown in grains. Sometimes it's called a "full-spectrum" mushroom. It's worth mentioning here; naturally, Mycelium has a lower amount of beta-D-Glucans; therefore, if mycelium supplement contains higher beta-D-Glucans, then it's from external sources, not plant-derived.
Hot Water Extract
It's the most common method of preparing turkey tail medicines; even most studies have done only with the hot water extract. Unlike the Mycelium that only contains 5 – 7 % Beta-glucans, in hot water extracts, this number is 30 – 40%. Moreover, the cell wall of the turkey tail mushroom isn't indigestible to dogs; therefore, the hot water extraction method makes medicine safer to eat.
Now let's talk about the benefits of turkey tail mushroom for dogs.
Advantages of turkey tail mushroom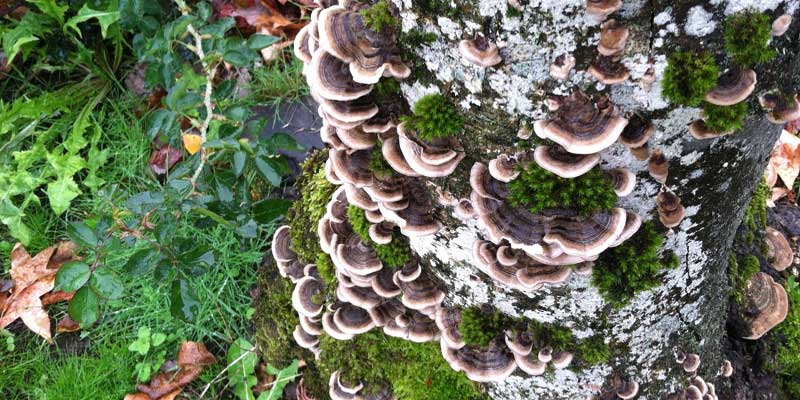 Immune support
Turkey tail mushroom contains the beta-glucans that improve the immune system along with IgE antibodies. Moreover, beta-glucans help protects viruses, parasites, fungi, and bacteria and make your canine's health better.
Fights Yeast
Turkey tail mushroom considered as anti-fungal along with fighting yeast. It feeds beneficial bacteria colonies to dogs that help the immune system to deal with yeast.
Urinary and digestive health
Turkey tail supplement effectively reduces the inflammation in the digestive, respiratory, and urinary tract. Moreover, it also induces the growth or activity of beneficial microorganisms as it's good prebiotics. These bacterias help boost the immune system as they reduce the inflammation and produce the vital vitamins and fatty acids in your dog body.
Phytonutrients
Turkey tail mushroom contains phytochemicals, protocatechuic acid, catechin, and phenolic compound gallic acid that boost the overall health of your canine.
How to give turkey tail mushroom to your dog
It would be best if you didn't feed the raw mushroom to your dog as it can irritate the liver. You can give mushroom to your dog between meals; if your dog finds its taste a bit unpleasant, then you can mix it with bone broth or kefir.
Turkey tail mushroom is a versatile food that could be a great addition to your dog's daily diet.
QUICK OVERVIEW
Best turkey tail supplements for dogs at a glance
Best Turkey Tail Supplements for Dogs in 2022 – Reviews
1. Host Defense (Best Turkey Tail Capsules for Dogs)
Type: Capsules | Size: 60 and 120 count
Host Defense turkey tail supplement is gluten-free and made from the certified organic and US grown mushrooms. It's a safe and natural product to boost your dog's digestion and immune system.
Host Defense turkey tail capsules packs are available in the 60 and 120 counts; you can choose as per your requirements. This product is rich in polysaccharides, glycoproteins, ergosterols, triterpenoids, and other beneficial nutrients.
To ensure natural quality Host Defense is using activated and freeze-dried mycelium.
If you're looking for the best quality turkey tail supplement for your dog, host defense is probably the best choice; however, it's a bit expensive.
2. NatureBell (Best Value Turkey Tail Capsules for Dogs)
Type: Capsules | Size: 180 count
As compared to the previous supplement, NatureBell is offering Turkey tail capsules at a very affordable price. Don't worry; these capsules don't contain soy, GMO, gluten, and dairy ingredients that make them extremely safe.
This product is also made in the USA and tested for quality and safety by 3rd party lab. The best thing about this NatureBell capsule is it contains a fair amount of polysaccharides despite having a lower price.
3. Double Wood Supplements (Another Good Option for Turkey Tail Mushroom Capsules)
Type: Capsules | Size: 120 count
Double Wood Supplements is also offering good quality and safe turkey tail supplement in the capsule form. This product is grown in the USA and ensures higher and natural ingredient value.
In the one serving of 2 capsules, this product is offering 1000 mg organic turkey tail mycelium. Along with the boosting of the immune system and digestive system function, turkey tail is considered a powerful antioxidant.
Double Wood Supplement is offering 120 capsules in this pack, which provides more value. Overall, if you're looking for the turkey tail supplement for your dog at an affordable price, you consider this product.
4. Canine Matrix (Best Turkey Tail Mushroom Powder for Dogs)
Type: Powder | Size: 100 and 200 gm
Canine Matrix turkey tail powder is available in the 100 and 200 gm pack. A 200 gm jar can provide up to 100 serving for a 50lb pet, while 200 serving for a 25 lb pet.
Canine Matrix mushroom powder is USDA certified; it's organically grown in a state-of-the-art facility in Carlsbad, California. Therefore, you don't need to worry about product quality.
You're getting 100% pure turkey tail mushroom supplement at a reasonable price, and this product is recommended by veterinarians as well. This mushroom powder can be easily mixed in your dog meal, broth, or kefir easily, if your dog doesn't like its taste.
This turkey tail mushroom is an excellent additive to your dog diet to boost the immune system and over health. However, you should consult your vet first before feeding any product to your pet; it doesn't matter how "organic" or "natural" it is.
5. Real Mushrooms (Another Quality Turkey Tail Supplement for Dogs)
Type: Capsules | Size: 90 and 200 count
Family-owned and operated Real Mushrooms is one of the best brands when it comes to mushrooms supplements. It's a 100% organic quality product that doesn't contain starch, mycelium, or grain.
As compared to the other brand, this product offers>30% beta-glucans, which provides better results. Real Mushrooms products are scientifically verified for the active compounds.
No doubt, this product is slightly costly than its competitors, but you're getting a still good value as it's an authentic product with higher nutritional value.
6. NaturVet (Best Chew Turkey Tail Supplement for Dogs)
Type: Chews | Size: 60 and 120 count
If your dog doesn't like the taste of turkey tail mushroom, then you can try out these chews. It isn't a completely Turkey Tail supplement, it contains Reishi, Shitake, and Maitake mushrooms extract as well, which down its beta-glucans percentage.
However, if you want to include something healthy into your dog diet, these chews are very useful. The best thing they don't taste bad.
Along with boosting immunity, these chews support the overall health of pets. NaturVet chews are available in the 60 and 120 counts.
7. BulkSupplements (Best Value Turkey Tail Powder for Dogs)
Type: Powder | Size: 100 gm to 5 kg
If you want to use a turkey tail supplement for your dog a long time, you can consider the BulkSupplement; it's an affordable and authentic product.  It's available up to a 5 kg bulk pack that provides excellent value.
BulkSupplement turkey tail mushroom powder is free of sugar, soy, gluten, dairy, or additives. It's a 100% pure organic product that contains natural ingredients.
Please consult your vet first before using this powder for your pet as its dosage varies according to the size and weight.
Best Turkey Tail powder, capsules, and chews for dogs