Just like us, dogs also experience teary eyes when their eyes irritate, or there are allergens in the air. Tear stains are quite common in dogs, especially if you have a Shih-Tzu, Maltese, or any dog breed with white or light color fur. The Porphyrin is the compound that is found in the dog's tears or saliva, and it forms some reddish-brown blemish below the dog's eyes. In some particular dog breeds, this stain can also be found on the dog's feet.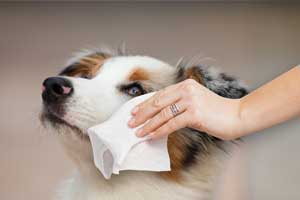 If you're in a hurry, check out our top choice POGI'S GROOMING WIPES. See the latest pricing on Amazon / Chewy.
While the stains don't affect your dog, but they can be unsightly, and they can't vanish with just water. That's why you need the best wipes for dog tears stain. However wipes aren't the only solution to clear the stain, you can also use liquid, paste, or powder as well, but are they equally effective or useful, this is what we are going to talk about in this post. Not only just wipes, which is undoubtedly the best option for on-the-go use, but we have also tested different types of dog's eye stain remover and curated this list for you. So, let's find out!
Best Dog Tear Stain Removers in 2022 -Buyer's Guide
Types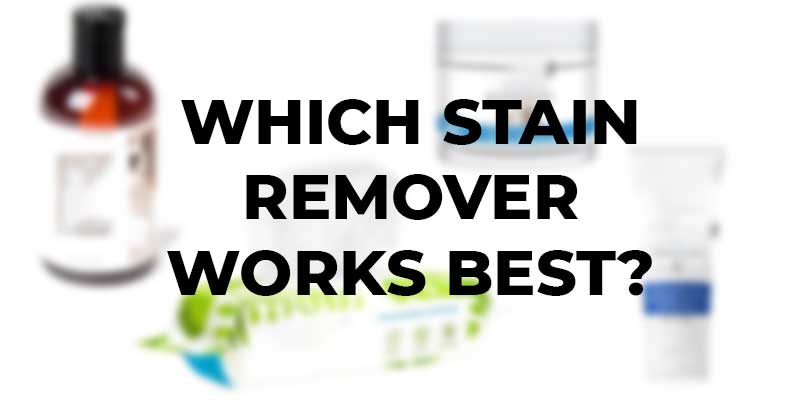 There are tons of dog eye stain removers available in the market, but we can divide them into four main categories.
Liquid
It is the most common formula to deal with the dog eye stains. They are straightforward to use, but it can make a mess. You have to apply the liquid stain remover to a cotton pad, tissue, or a cloth and wipe over the tear stains. Undoubtedly the liquid eye stain remover is very effective as it is the most concentrated, so you don't have to apply excessively to get results.
Paste
The paste formula doesn't make a mess as it won't drip, but it could be challenging to spread on a squirming dog. Paste stain removers are ideal for dogs with sensitive or irritated skin.
Powder
Power tear stain removers aren't efficient like the liquid or paste formulas, but they are good at preventing future stains as they reduce moisture around your dog's eyes. They can also enhance the performance of other stain removers when they're used together.
Wipes
Wipes are the easiest and highly convenient solution for removing the stains by far. They are cotton squares or pad saturated with the liquid formula that can work equally efficiently as the liquid and paster formula. However, you may need to use two or more to clear stain properly. The best thing about them is, you can use them anywhere without any problem.
Ingredients That We Should Consider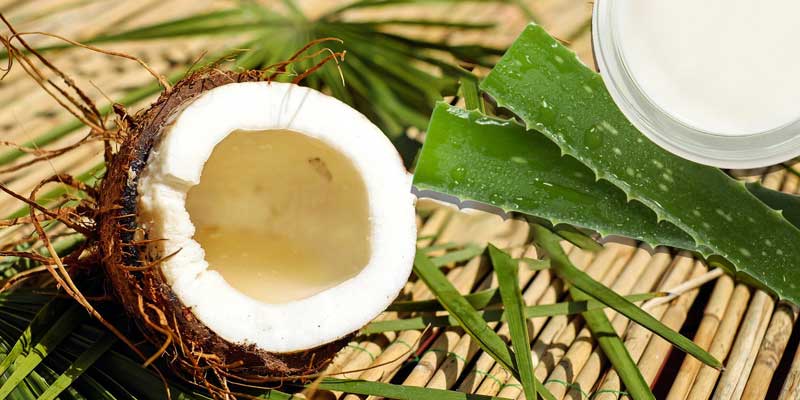 After you know which formula is the best for your dog stain, now you have to check out the ingredient of the product. It's not just about stain removing; you have to consider your dog safety as some stain removers come with harmful chemicals. So, what you need to look for.
Water: It is the most common base for dog tear stain removers.
Minerals: Natural ingredients that can remove the stain gently without harming your dog.
Glycerin: With glycerin, the stain remover can be applied easily, and it eliminates any dried residue beneath your dog's eye.
Plant-based Oils: Plant-based oils help soothe your dog's skin, and lock the smoothness.
Boric acid: It's an antiseptic that won't irritate your dog's eye.
What about Fragrance
Some people are under the impression that fragrance-free stain removers are the safest. While it's right at some point as there is no additional chemical inside the stain remover formula. However, if a stain remover is indulged in any natural or organic scent, then there won't be any problem.
Beware of Harmful Chemical
Before purchasing a stain remover for your dog's eye, read the label carefully as some harmful chemicals such as bleach, parabens, or other artificial additives can generate severe problems when prolonged used.
How to Use the Dog Tear Stain Removers
However, all the usage instruction you can find on the product, and it varies according to the product as well. In general, if you're using a liquid stain remover, use a cotton ball or pad and saturate it with the liquid, and gently wipe around your pet's eye. Pay attention to highly tear-stained areas.
On the other hand, the wipes are the most straightforward to use, just take a wipe and gently rub on the affected area.
Keep in mind, don't overuse the product, perhaps once daily or every other day is sufficient.
While considering all the above factors and discussing with our veterinarian, here are some of the safest and effective dog stain removers of 2022. In addition to the wipes, I have included some top-rated liquid stain removers that work best as per our testing. So, let's take a look at them!
QUICK OVERVIEW
Best dog's tear stain remover at a glance
BIGA

BEST VALUE

Wipes
6 x 8 inches
Pack of 300 and 600 counts

EARTH RATED

Wipes
8 x 8 inches
Pack of 100 and 400 counts

View at Amazon
PUPMATE

Wipes
7.9 x 6.3 inches
Pack of 100, 200, and 300 counts

View at Amazon

POGI'S

RECOMMENDED

Wipes
8 x 9 inches
Unscented / scented
Pack of 100, 120, 240, and 400 counts

View at Amazon
View at Chewy

PETKIN

LARGEST

Wipes
7 x 11 inches
Pack of 100 and 400 counts

View at Amazon
View at Chewy

BOOYAH

PREMIUM CHOICE

Wipes
7 x 8.3 inches
Pack of 140

View at Amazon

TROPICLEAN SPA

BEST VALUE LIQUID

Liquid
Available in 8 Ounce, 1 Gallon, and 2.5 Gallon

View at Amazon

EYE ENVY

BEST IN LIQUID

Liquid
Available in 2, 4, 8, 16, and 32 Ounce

View at Amazon
Best Wipes for Dog Tear Stain in 2022 – Reviews
1. BIGA (Best Value Pet Wipes for Dog's Eye Stains)
Type: Wipes |  Size: 6 x 8 inches | Available in: Pack of 300 and 600 counts
BIGA Wipes are fragrance-free natural organic wipes for dogs, which can be used on eyes, face, paws, ears, or butt as well. Each pack comes with 100 fresh wipes with a size of 6 x 8. You can either choose a pack of 3 or 6, which is an excellent value as compared to the other brands.
The wipes are free from parabens, alcohol, fragrances, chlorine, or other harmful chemicals; therefore, it is viable for dogs with sensitive skin as well. Moreover, the wipes are durable and soft, and your pet will love it.
Whether you're on a beach trip, traveling, or camping, these wipes are super easy to bring with. The best part, the company is promising hassle-free 30-days money-back guarantee, which is incredible.
Overall, the BIGA wipes are one of the best wipes for clearing dogs tear stain, which doesn't cost too much.
PROS
Best values wipes
No harmful chemical or fragrance
Big, durable, and soft wipes
Available with Aloe Vera
CONS
Might be small for some large dog breed
2. Earth Rated (Best Plant-Based Wipes for Dogs Tears Stain, 99% Biobased)
Type: Wipes |  Size: 8 x 8 inches | Available in: Pack of 100 and 400 counts
The Earth Rated wipes are 99% biobased, and USDA certified; you can use them on several parts of a dog's body, including eyes, paw, face, or foot. The natural ingredient such as shea butter, aloe vera, and chamomile keep your dog's fur soft and luxurious while smelling fresh. These wipes are parabens, sulfates, and alcohol-free; therefore, you can use them on the most sensitive puppies.
Along with the adequate softness, these wipes are quite durable and able to stand up for puppy sharp nails. Not only for daily use, which is quite common, but these wipes are also ideal for post-surgery when regular baths aren't an option.
The Earth Rated wipes come with portable packaging, which is perfect for traveling or on-the-go use. Moreover, with the hard plastic and closure, it keeps your wipes extra damp even for long opening.
PROS
99% biobased, plant-based wipes
Natural Shea butter, Aloe Vera, and chamomile keep your dog's fur soft
Good smell
No harmful chemical
Large and durable
CONS
Sometimes more than one wipes come out while pulling
3. PUPMATE (Best Pet Wipes with Vitamin E and Fresh Aloe Vera)
Type: Wipes |  Size: 7.9 x 6.3 inches | Available in: Pack of 100, 200, and 300 counts
Enriched with natural ingredients such as fresh Aloe Vera and Vitamin E, the PUPMATE wipes are another viable option for pet wipes; however, they are slightly pricier than the previous pick.
These wipes are equally ideal for cats and dogs; you can use them on body, paws, feet, butt, or eyes. You can also use them as bath wipes. PUPMATE wipes are alcohol-free and 100% biodegradable. If you have a hypoallergenic dog, you can use these wipes without any problem.
The wipes size is almost the same as the BIGA wipes that we discussed in the starting. Moreover, it also comes with 100 wipes packaging and with a plastic closure, and you can easily carry them in your bag.
PROS
Natural ingredient and Vitamin E
Extra moist enhance the effectiveness
Ideal for dogs and cats
Versatile use can be used on body, butt, feet, paws or eyes
CONS
Packaging could be better
4. Pogi's (Overall Best Wipes for Dogs Eyes Stain)
Type: Wipes |  Size: 8 x 9 inches | Available in: Pack of 100, 120, 240, and 400 counts
Whether we talk about the size, moisture level, or safety, the Pogi's dog wipes are the best. You can either choose unscented or green tea leaf scented versions, both come with Aloe Vera, Vitamin E, and Hawaiian Awapuhi, which not only ensure deep cleaning but also preserve the softness of your pet.
The Pogi's pet wipes can be used on eyes, paws, bodies, or bums; you'll get perfect results every time. These wipes are comparatively larger than all wipes, and yet it's ideal for traveling; it can fit well in your doggy day bag or vehicle.
If you care about the environment, these wipes are the right choice as they made from 100% of the harvested bamboo fiber. Additionally, you don't need to worry about any harmful chemicals such as parabens and alcohol, as it's entirely a natural product.
The packs are available with the 20 wipes each, which is a smart design as they don't lose moisture. Moreover, the package which has 100 counts comes with a resealable design.
Pogi's wipes are crafted in Nordic Swan, ISO 9001, GMPc, BCR, GMP, and EPA certified facility; therefore, they are hypoallergenic for even the most sensitive pets.
If we talk about the 400-count super-duper pack, which comes under 50$ and lasts for more than 4+ months, it's a viable price.
PROS
Comes with Aloe Vera, Vitamin E, and Hawaiian Awapuhi
Made from 100% sustainably harvested bamboo fiber – Earth-friendly
Hypoallergenic, no harmful chemical
Extra-large and thick wipes
Resealable packs
CONS
Some users reported, sometimes more than one wipes come out
5. Petkin (Longest and Thickest Wipes for Dogs Tears Stain in 2022)
Type: Wipes |  Size: 7 x 11 inches | Available in: Pack of 100 and 400 counts
My previous pick is probably the best option, and it can fulfill the requirements of almost any large dog. But in some cases, if you need even more extensive and thicker wipes for your pooch, the Petkin might be the right option in 2022.
Whether you're looking for quick touch-ups in between baths, wipe muddy paws after walking, have a senior pet that is difficult to shower, or just want to clean the eye stain your pet the Petkin Pet wipes are for you.
Filled with the freshness of natural ingredients such as Aloe Vera, organic oat extract, and Vitamin E, these wipes soothe your pet's dry, itchy skin. These wipes also come with resealable plastic cover, which makes them perfect for on-the-go use.
The only thing that stands these wipes apart from the crowd is size, and thickness, which makes them more useful. As compared to the smaller wipes, you'll require somewhat less number of wipes, which is indirectly a money-saver.
PROS
Largest and thickest wipes
Veterinarian approved and comes with organic oat extract, vitamin E, and Aloe Vera
Ideal for different body parts including sensitive eyes
Comes with a lid design
The natural vanilla coconut scent
CONS
6. Booyah (Premium Hypoallergenic and Natural Wipes for Dogs)
Type: Wipes |  Size: 7 x 8.3 inches | Available in: Pack of 140
Booyah wipes are planet-friendly as they made from the renewable bamboo, the bamboo grasses can grow back in as little as 3-4 months. There are no harsh chemicals present in these premium wipes; they are free from alcohol, chlorine, paraben, BPA, the no-toxic formula is ideal for dogs or cats with sensitive skin.
Unlike other wipes, booyah wipes come in a secure dispensing container, which only allows pulling one wipe at a time. The wipes aren't the largest one, but they are sufficient for almost all dogs. As I said, they are Hypoallergenic because they crafted in a Nordic Swan, ISO 9001, GMPC, BCR, GMP, and EPA certified facility.
The price of these wipes is somewhat higher than other wipes, but you're getting durable and highly damped wipes with thoughtful container design.
PROS
Efficient container design
Durable, thick wipes with adequate size
Completely organic product and earth-friendly
No harmful chemical
CONS
Best Dog Tear Stain Remover in 2022 – Reviews
These are some of the top-rated wipes for dogs' tears stain in 2022, and hopefully, you have found a perfect one for your pooch. If your dog has some stubborn stains, then sometimes it might be hard to clean them with just wipes. In this case, you can additionally purchase a liquid solution, which is perfect for use at home and can provide faster results. While if you're outside, you can take some wipes with you, which is more practical, as you know. As I said above, I will add some other solution for dog tears stains apart from the wipes, and here they are.
1. SPA by TropiClean (Best Value Tear Stain Remover for Pets)
Type: Liquid | Available in: 8 Ounce, 1 Gallon, and 2.5 Gallon
SPA by TropiClean comes with a mild coconut cleanser and blueberry, which can clean your dog's beard or tears stain faster and effectively. The best thing, it doesn't contain any harsh surfactant or detergent, which may harm your pet's skin and lighting the hair.
It is one of the best dog tear stain cleansers we found so far, and want to recommend it. As compared to the other liquid stain remover, it comes at a very reasonable price.
PROS
No harsh chemicals
A refreshing blend of ingredients that soothes and coat the skin
Pleasant smell
Ideal for dogs and cats of all skin types
CONS
Might be a little bit messy
2. Eye Envy Tear Stain (Best Tear Stain Remover Solution for Dogs in 2022)
Type: Liquid | Available in: 2, 4, 8, 16, and 32 Ounce
Recommended by breeders, professional groomers, and vets, the Eye Envy is the best dog tear stain remover of 2022. It comes with non-irritating formula and 100% natural ingredient, which can be applied directly to the affected area. The natural ingredients can fight bacteria that cause unsightly, smelly tear stains. As we have tested this product on different dog breeds and it works perfectly.
This product doesn't have any harmful chemicals such as parabens, peroxide, bleach, steroids, or antibiotics; that's why it's safe for all ages. It's a made in USA product with human-grade ingredients.
The price of this product is undoubtedly higher, but you don't need to compromise in terms of your dog's safety, and you'll get the desired results.
PROS
Recommended by professionals
100% natural and non-irritating formula
Made in the USA with human-grade ingredients
Faster results
Available with different volume
CONS
Best Wipes and Liquid Stain Remover for Dogs Eyes in 2022
Undoubtedly there are lots of stain remover products available in the market, but you have to ensure there is no harmful chemical inside. We have only listed those products that are safe according to our testing. Keep in mind, if your dog has an existing medical condition, you have to consult your vet first before using any product. Thank you very much for reading!