Not all dogs are born with an innate ability to swim. Some breeds, such as the English Setter, Irish Water Spaniel, and Newfoundland, take to water like ducks. Others, however, end up sinking like rocks, unless they're well-trained.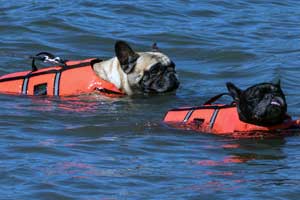 If you're in a hurry, check out our top choice OUTWARD HOUND. See the latest pricing on Amazon / Chewy.
Whether your dog is a natural swimmer or requires a bit of training, swimming is a superb activity for pups. Not only does it help them get the much-needed exercise, it also builds their muscle strength and boosts their agility.
If you plan to take your dog swimming, you must drape them in a swim vest. This piece of gear keeps them safe by helping them stay afloat. Looking to buy a life jacket for your pooch? Here's everything you need to know about the best swim vest for dogs.
Best Life Jacket for Dogs – Buyer's Guide
What is a Dog Swim Vest?
Dogs' swim vests are not any different from those that we, humans, use. These are garments that you put over your pup's chest to enable them to float when they're in the water.
To serve this function, these safety jackets are designed using buoyant fabrics. The majority of these swim vests also come with a grab handle and D-ring for attaching a leash.
What to Look for In a Dog Swim Vest?
Buoyancy
A swim vest's primary function is to help your furry friend stay afloat. So buoyancy is an important aspect. In that regard, the life jacket should comprise polypropylene foam or similar material that makes it buoyant. Check whether it's buoyant enough for your dog's weight.
Size
The second most essential feature to consider when getting your pooch a swim vest is its size. The right size will ensure that your dog floats freely. It's why every brand includes its own sizing chart in their life jackets.
When determining the right size for your pup, consider not only his weight but also his body shape and height. You might also want to check what other buyers have to say about the vest's fit. At times, the sizing runs too small or too big.
Material
The material used to design a given swim vest determines how well it functions as well as its durability.
You'll find the majority of canine safety vests being made of nylon or vinyl on the exterior, then the interior will consist of flotation material.
Remember to check whether the materials feel comfortable against your dog's sensitive skin too. You don't want to choose a fabric that will scratch or bruise his skin.
Lastly, it should be brightly-colored; red, orange, and pink are the most common color options. This way, even if your pooch gets lost swimming in open water, you'll be able to spot him with ease.
Frequency of use
Although it's not as important as size or material, the frequency of use is another aspect you should think about. Besides, this might actually save you on cost. If you rarely take your pooch for a swim, then a basic swim vest that doesn't have all the bells and whistles is fine.
But, if your dog loves to get his paws wet, consider spending a little more on a premium-quality vest that you can take on a boat ride.
Adjustability
The last thing you want is to spend a chunk of money on a swim vest that ends up not fitting your pooch. To avoid this, invest in one with a high level of adjustability. The buckles, straps, and Velcro are nice-to-have features that enable you to fine-tune its fit.
Safety mechanisms
Even if your dog is a professional swimmer, their safety should be a priority every time you take them for a swim. Therefore, ensure you look for safety features in the swim vest.
Grab handles, designed to help you retrieve your dog from water, are a good example. A leash attachment loop is another safety feature you should consider. This one lets you attach a leash; hence, keep your dog within a specified area.
It's also advisable to purchase a swim vest equipped with a front floatation pad. The purpose of this is to keep your dog's head above water, which can come in handy in case he becomes fatigued or incapacitated.
FAQs about Dog Swim Vests
Are dog swim vests necessary?
Even though there aren't any hard facts on incidences of dogs drowning, it's better to be safe than sorry.
If you go on a boat ride with your pooch, they can leap off easily or lose their footing when your watercraft gets rocked by a tide or wake of another vessel. When this happens, your dog may accidentally fall into the water. You should not assume that they can swim their way out, so it's important that you drape them in a swim vest for such occasions.
Water accidents don't occur on boat rides only. If your dog loves to swim in rivers, lakes, or even your pool, there's every possibility of such accidents happening. To prevent them, ensure that your dog always has his swim vest on to keep them afloat and safe.
Which dogs should not wear swim vests?
Technically, a swim vest should be draped over dogs when you're taking them for a swim. But, there are certain classes of canines that should never go for a swim; hence, there's no need to buy a swim vest for them.
Dogs that have flat noses, barrel chest,s and short legs, such as pugs and bulldogs should not be allowed to swim. If taken for a swim, they can easily suffer heat exhaustion and drowning.
Similarly, dogs diagnosed with epilepsy, and those with a history of seizures shouldn't be taken swimming either. These canines are better off playing frisbee on the beach.
QUICK OVERVIEW
Best  Life Jacket for dogs at a glance
Best Swim Vest for Dogs in 2022 – Reviews
1. Outward Hound Dog Life Jacket (Best Overall)
Available sizes: XS – XL | Available colors: 3
If you're looking for a swim vest that strikes the perfect balance between pricing and features, the Outward Hound Life Jacket is your best bet. It has a mid-range price, yet it has so much to offer.
For one, it's available in three vibrant colors: green, red, and orange. The radiant colors with reflective accents make it incredibly easy to spot your dog when they're swimming.
It also comes in different sizes, starting from extra-small to extra-large. It means you can find a fitting vest regardless of whether you have a small, medium, or large dog breed.
Aesthetics aside, we also love that this vest features a functional design. It's equipped with dual-grab handles, which make it easy to rescue dogs in distress or to restrain them when they're swimming.
Another key highlight of this swim vest entails its ripstop construction. A woven fabric made of nylon, ripstop is not only resistant to tearing, it also provides excellent buoyancy.
PROS
Made of ripstop fabric, which makes it highly buoyant
Comes in vibrant colors for better visibility
Available in an array of sizes
CONS
The size-to-weight recommendations are not accurate
2. ZippyPaws Adventure Life Jacket (Best Budget)
Available sizes: XXS – L | Available colors: 1
If you're not looking to spend much, or have multiple dogs whom you're buying swim vests for, the ZippyPaws Adventure Life Jacket makes the most economical sense. It's affordable, yet it doesn't skimp on any functions.
One thing we like about this life vest is that it caters to all sizes of dogs. Its size runs from XX-small- which is perfect for a lap dog- to X-large, ideal for a large dog breed. Plus, it comes in a bright red color, which enhances visibility.
Another feature we love in ZippyPaws is that it keeps your dog safe. It's designed using dense foam panels, which are sure to keep your mutt floating when they're in the water.
PROS
Built-in handles make it easy to pull your dog from water
Comes in a variety of sizes
Dense foam panels provide maximum flotation
CONS
Only available in one color
3. Kurgo Surf n' Turf Life Jacket (Best Multipurpose)
Available sizes: XS – XL | Available colors: 1
If you're looking for a swim vest that your dog can wear on land and in water, the Kurgo Surf n' Turf is just what you need.
It's a durable jacket that functions well both as a raincoat/ winter jacket and a safety vest. In other words, it can protect your pooch from weather elements, such as rain and extreme cold; and also offer buoyancy when you take your pup for a swim.
This multi-functional life jacket is available in five different sizes: X-small through X-large. However, it's only available in red. The good news is, this is a bright color, so you'll be able to spot your dog easily. To further enhance visibility, the safety vest includes a thin trim of reflective fabric.
Kurgo Surf n' Turf also comes equipped with two handles, making it easy to retrieve your dog from the water. There are also 2 metal D-rings at your disposal, in case you want to attach a leash.
PROS
Multipurpose; doubles up as a raincoat and swim vest
Lightweight; meaning it does not weigh down on your pooch
D-rings for convenient leash attachment
Handles for easy retrieval when necessary
Reflective trim improves visibility
Backed by a lifetime warranty
CONS
More expensive compared to other swim vests
4. Queenmore Dog Safety Vest (Best Design)
Available sizes: XS – XXL | Available colors: 3
Put some style on your pooch by getting them this stylish safety vest by Queenmore. The best part is, it comes in multiple bright colors, which makes it easy to keep tabs on your dog when they're in the water. You can choose from Fuschia, grey, and pink.
The nifty construction of this safety vest is another impressive feature. It's made from a combination of oxford cloth and polyethylene foam, resulting in a fabric that is secure, comfortable, and 100% waterproof.
Better yet, the underbelly is reinforced with mesh lining, which contributes to the vest's breathability.
This dog's swimming vest also sports a durable grab handle and a D-ring for leash attachment. Plus, the nylon straps are adjustable, enabling you to fit it snugly on your pooch.
PROS
Has an elegant design
Available in multiple sizes and colors
Includes a grab handle and D-ring for easy leash attachment
Equipped with foam to keep your dog floating safely in the water
CONS
Adjusting the nylon straps is a little difficult the first few times
The quality of the fins and handle can be improved a bit more
5. HAOCOO Dog Life Vest (Most Buoyant)
Available sizes: XXS – XXL | Available colors: 9
Integrated with pearl cotton foam and fitted with a float at the front, the HAOCOO Safety Vest is one that you can rely on to keep your dog's head above water.
And, unlike other swim vests that we've reviewed, this one comes in a bigger range of sizes; XXS through XXL. It means you can find a vest that fits the very tiny lap dogs as well as giant breeds like Doberman Pinscher. Now, in case your pooch is between sizes, the manufacturer recommends going for the larger size.
Another thing that makes this swim vest stand out is its design. If you're passionate about aqua life, you will like the aquatic-themed elements incorporated in some of the life vests. Specifically, the pink-colored one has a mermaid tail while the grey-colored is shaped like the dorsal fin of a shark.
For security and a snug fit, the life jacket is equipped with an adjustable belt. There's also a heavy-duty D-ring, which offers convenience for dog owners who would like to attach a leash.
PROS
The pearl cotton foam and front float offer great buoyancy
Includes some cute tail designs in various styles
The belt is fully-adjustable with reflective elements for visibility
Grab handle, which includes a leash attachment
CONS
The sizing chart can be misleading
BEST Life Jacket for Dog Safety in 2022
A swim vest is a must-have feature if you like to take your pooch swimming. It enables them to stay afloat, which can really help in case they become too tired or incapacitated.
Prior to purchasing this gear, there are a couple of features you should take into account. These include buoyancy, size, material, adjustability, and frequency of use.
One dog swim vest that seems to check each of these boxes is this version by Outward Hound. It comes in vibrant shades of red, orange, or green. It has a front float to keep your dog's head above water. It's also equipped with top handles, for easy retrieval.