Before you pack things up to take your dog to enjoy the sun, make sure his skin is protected. Dogs, especially those with white furs, are more susceptible to sunburns. Dogs' ears and abdomens can also be severely affected by the sun, so ensuring they are well protected should be a top priority.
If you're in a hurry, check out our top choice GERRARD LARRIETT; check price at Amazon.
With these measures, you can significantly lower your dog's risk of getting sun-related complications and medical issues. Sunscreens help protect dogs from sunburn, but the wrong type could also harm your dog's skin.
You can try out waterproof sunscreen without any harmful materials that could cause harm if ingested by your dogs. The best dog sunscreens have natural ingredients, and we made a list to help you choose the one that will suit your dog best.
BEST SUNSCREEN SPRAY AND BALM FOR DOGS IN 2021
What to Consider When Buying the Best Sunscreen for White Dogs?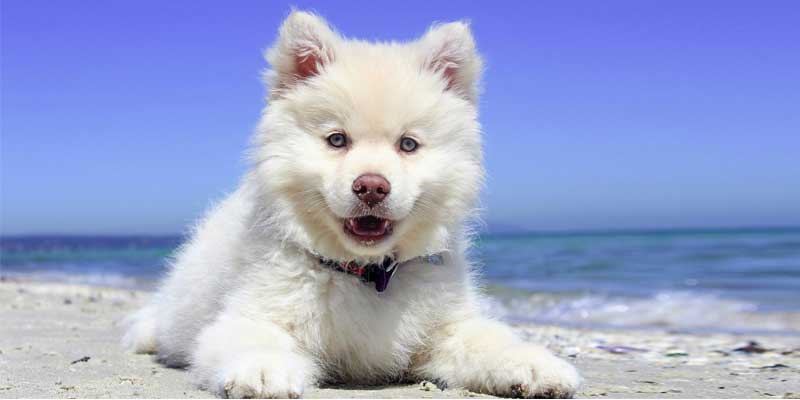 Firstly, you shouldn't use your sunscreen on your dog; that won't work. The sunscreen you get should be made specifically for dogs, or else it could make your dog sick. Aside from the amount you will be paying, here are some more considerations to make when buying dog sunscreen.
Ingredients 
You need to make sure the ingredients found in the sunscreen you buy are safe to apply on the dog's skin. Naturally, your dog will end up licking themselves, so natural ingredients are safer if they end up ingesting them as long as the sunscreen does not contain ingredients like zinc oxide that is harmful to dogs.
Waterproof 
It will be hard enough trying to get your dog out of the water once they get in. To make sure your dogs are protected while having fun in the water on a sunny day, you should buy waterproof sunscreen. It will offer your dog protection while they swim, and you can also apply it again when needed.
Type of Application
There are different ways to spy sunscreen on your dog. The method depends on your dog's preference, size, and the type of sunscreen you got. Other products today can be sprayed onto your dog or applied too. If you intend on using it on larger dogs, liquid options are more suitable. It would be best if you are always gentle and keen to notice any allergic reactions to the product.
Dog Sunscreen Safety Tips for Dogs
When applying sunscreen on your dog, make sure to concentrate more on the noses, bellies, and ears. These areas are more susceptible to sunburn because of the thin fur. You should apply the sunscreen on the dog 20 minutes before leaving the house.
When out in the sun, ensure your dog has enough water to avoid getting heatstroke. You can keep the dog under a shade when they get tired and needs to rest. If the dog ends up playing in the water, you can reapply it as frequently as necessary.
If you see red or flaking skin on your dog that is warm to the touch, it could be sunburn. The best immediate action would be to take the dogs out of the sun and into some shade. Applying aloe vera or a cool compress will help ease their discomfort. You might have to take them to the vet for treatment if the sunburn is severe.
Frequently Asked Questions
Do dogs need sunscreen?
Yes, they do. All dogs need sunscreen, especially white ones. Just like human beings, dogs also get burned from too much exposure to the sun. The parts most susceptible to sunburn are the ears, the groin, nose, and thin fur areas. Sunscreen will help reduce the chances of sunburn and skin diseases.
What kind of sunscreen is safe for dogs?
The safest type of sunscreen for dogs is one with natural ingredients and made especially for dogs. Ensure that the sunscreen does not contain any harmful toxins like zin oxide. These ingredients are detrimental to your dog when they ingest them. The sunscreen should be waterproof and have quality SPF(Sun protection factor).
Can I put aloe vera on my dog?
Yes. Aloe vera is soothing when applied to a dog's skin for different issues. It helps with burns, bites, and scrapes. The healing properties are beneficial for dogs and help them recover faster.
Do white dogs get sunburned?
Yes, they do. Sunburn affects white dogs more severely because they tend to have fairer skin beneath their fur. This amount of hair puts them at a higher risk of sun damage than dog breeds with thicker coats. However, all dogs have sensitive areas that are more prone to sunburn that you should keep being cautious about, like their belly and ears.
Can you put baby sunscreen on dogs?
No. You should not use the baby's sunscreen on your dogs. Some ingredients you find in a baby's sunscreen, like zinc oxide, are harmful to dogs. The best choice would be to buy dog sunscreen.
QUICK OVERVIEW
Best sunscreen for white dogs at a glance
EPI-PET

FOR LIGHT SKINNED PETS

Type: Spray
Features: UVA/UVB protection, conditioner, and non-greasy/oily

View at Amazon
View at Chewy

WARREN LONDON

MOST SOOTHING

Type: Spray
Features: UV  protection, moisturizer, and non-greasy/oily

View at Amazon
View at Chewy

MY DOG NOSE IT

BEST FOR NOSE

Type: Balm
Features: UVA/UVB protection, and moisturizer

View at Amazon
View at Chewy

GERRARD LARRIETT AROMATHERAPY PET CARE

WITH VITAMIN AND ESSENTIAL OIL

Type: Spray
Features: UVA/UVB  protection, moisturizer, aromatic and non-greasy/oily

View at Amazon

BODHI DOG

NATURAL

Type: Spray
Features: UV  protection, natural ingredients, moisturizer, and non-greasy/oily

View at Amazon
Best Sunscreen for White Dogs- Products Reviewed
After making all these considerations and knowing how to apply sunscreen to your dog's skin safely, you can choose from this list of good-quality sunscreens. These are some of the best dog sunscreens you can get for your pet today.
1. Epi-Pet (Best Sun Protector Spray for Light Skinned Pets)
Type: Spray | Features: UVA/UVB protection, conditioner and non-greasy/oily
This veterinarian-developed sunscreen is perfect for dogs to protect their skin from the sun. The Epi-pet Sun protector treatment includes well-known sunscreen ingredients that condition and covers your dog's coat under the sun. You can apply this sunscreen by spraying it onto your dog at any angle. It is suitable for preventing sunburns, especially for light-skinned pets.
With this dog sunscreen, your dog can also avoid the pain and discomfort that comes with sunburns. It will protect them against any developments of skin tumors like melanomas and carcinomas. The pleasant fragrance also aids in aromatherapy to help your dog relax. This is an excellent sunscreen to keep your dog protected when playing in the sun.
PROS
The solution is non-greasy for a more painless application process.
This sunscreen works as a conditioner for the dog's coat and skin.
It is sufficient to protect your dog from the sun.
The sunscreen protects from UVA and UVB rays.
The formulation is safe and quick-dry.
Epi-Pet treatment is ultra-water and ultra-sweat resistant.
CONS
It may not be safe for all dog breeds.
2. Warren London (Best Soothing Sunscreen for Dogs)
Type: Spray | Features: UV  protection, moisturizer, and non-greasy/oily
Keep your dog protected from the harsh effects of the sun with this aloe vera sunscreen. The Warren London Dog sunscreen contains four ounces of gel sunscreen with a pleasing citrus scent. You can use this sunscreen all year round to defend their sensitive skin from harsh UV rays. Spray this sunscreen on your dog's coat or rub it onto their nose.
The aloe vera will provide relief for dry and itchy skin on your dog. This sunscreen also works as an excellent sun lotion to soothe their snout too. It is easy to use only by applying a thin layer to your dog's coat, and it dries in seconds. Your dog will be happier playing under the sun and swimming with this sunscreen.
PROS
This sunscreen is excellent at preventing dryness and cracks on a dog's skin.
It offers complete protection to your dog's coat and skin from harsh UV rays.
The aloe vera ingredients help soothe and keep the dog's skin moisturized and hydrated.
A light coat of this sunscreen is enough to offer hours of protection to your dog.
This sunscreen is non -oily and dries in seconds after application.
CONS
The scent can be too intense for some dogs to stand.
You might have to reapply more often than other sunscreens.
3. My Dog Nose It (Best Balm Sunscreen for Dog's Noses)
Type: Balm | Features: UVA/UVB protection, and moisturizer
This clear-colored sun protection is excellent for protecting your dog's noses from harsh sunlight that can cause cracking and sunburn on their nose. My Dog Nose It balm is water-resistant that makes it suitable when going to the beach or swimming. With natural ingredients like coconut oil and Carnuba wax, your dog will get relief from its dry, cracked paws and noses. This balm moisturizes dry, cracked noses and reduces the risk of skin irritation.
You don't have to worry about this sunscreen's safety because it contains natural ingredients that are safe even when accidentally ingested. You can apply this on their nose, belly, and ears to protect the sensitive skin in that area. It is suitable for different dog breeds with thin or no coats. For dogs with light-skinned eyelids and noses will benefit from this balm because of its protective qualities.
PROS
The natural ingredients in this sunscreen make it safe for pets.
With this balm, you can prevent the nose's dog from fading.
This balm soothes your dog's snout and offers them relief.
It is water-resistant to offer protection to your dog when swimming and at the beach.
The snout balm is suitable for dogs of all breeds.
CONS
The application can be a challenge because of the consistency.
4. Gerrard Larriett Aromatherapy Pet Care (Best Vitamin & Essential Oil Sunscreen)
Type: Spray | Features: UVA/UVB  protection, moisturizer, aromatic and non-greasy/oily
Your dog will enjoy this deep moisturizing sunscreen with natural ingredients like flax protein, purified water, and lavender extract. The 8 ounces of Vitamin & Essential Oil sunscreen help heal your dog's skin and prevent permanent skin damage. The combination of jojoba oil, olive oil, and lanolin moisturizes the skin and coat of your dog while keeping their nose dry.
The spray is light compared to heavy creams to protect your dog from harsh sun rays. With a beautiful scent, your dog will not keep licking or sneezing after application. It is paraben-free, so you don't have to worry about the sunscreen containing too many toxins that can be dangerous when dogs lick the applied areas. This sunblock provides UV blockage to reduce your pet's chances of getting skin cancer or peeling snouts.
PROS
This sunscreen is moisturizing without being too sticky.
It offers protection against harsh sunlight.
The pure ingredients in the sunscreen are lick safe for dogs to use.
This spray goes on lightly without being too thick, like creams and waxes.
The fast-drying sun protection will restore the health of your dog's skin.
CONS
It can be too itchy for some dog breeds.
5. Bodhi Dog (Best Natural Sunscreen for Dogs)
Type: Spray | Features: UV  protection, natural ingredients, moisturizer, and non-greasy/oily
Get this Bodhi natural moisturizing sunscreen to protect your puppy the next time they go out. This safe skin conditioner is suitable for all breeds to keep them protected from harmful UV rays. It will protect your pet's skin and coat with dog-friendly ingredients. It reduces the chances of skin irritation and sunburn when exposed to the sun.
The non-greasy formula makes application easier for you and your dog. It not only protects but also moisturizes your dog. This sunblock is specifically suitable for white dogs or dogs with thin fur, short fur, or no fur at all. If you apply on to the sensitive areas like the nose and ears, you can protect them from sunburn discomfort.
PROS
The application of this sunscreen is more comfortable with the non-greasy formula.
There are no harmful ingredients like zinc oxide and alcohol to be safe for dogs.
It is perfect for the outdoors because it protects your pet from the sun's harsh rays.
This sunscreen moisturizes your pet's coat and skin.
The spray dries very quickly after application.
CONS
You might have to use a considerable amount to cover all your dog's sensitive skin.
Best Sun Protection Balm, Cream, and Spray for White DOgs
Choosing the perfect sunscreen for your dog can be overwhelming when you have to consider the ingredients, mode of application, and safety for your dog. Using the right kind of dog sunscreen will help prevent skin damage on your dog and heal sunburns. They can have hours of fun outdoors or at the beach with the right kind of sunscreen.
Dogs with white fur are more likely to get sunburns than other dogs. To prevent skin diseases and other health complications, apply sunscreen on sensitive areas of your dog. Focus on the ears, belly, and nose. Depending on your dog's needs, you can get the most soothing and protective sunscreen for your furry friend to enjoy.